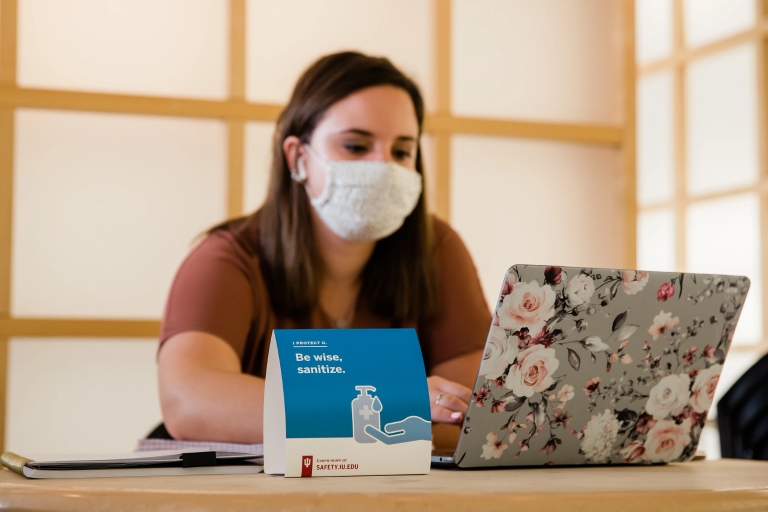 While some things have come and gone through the COVID-19 pandemic, one thing that hasn't changed – and most likely won't – is the emergence of Zoom and other virtual methods of conducting coursework and meetings. In a world where screens bombard us, everyone's screen time has skyrocketed as multiple gatherings every day are held virtually.
The time spent in front of the screen can lead to many issues, including fatigue, distractions, disorganization and much more. But what exactly is Zoom fatigue, and how can it be combated?
"Some symptoms of Zoom fatigue that you might experience include feeling wiped out after a Zoom session, or finding yourself doing other things while you're in a Zoom session instead of paying attention to what's going on," said Beth Nolen, a senior IT education specialist at IU Bloomington.
"I usually participate in one or two Zoom meetings per day," said Rachel Knierman, a junior visual communication design major at IUPUI. "It depends on the class and the projects my classes are doing, but I manage to stay focused during Zoom calls by getting in enough physical activity like running or walking either before all my meetings or in between lectures."
Physical activity is key for those who have a full slate of Zoom meetings on their schedule. Eric Teske, director of health and wellness promotion at IUPUI, has seen an increase in references to Zoom fatigue by his wellness-coaching clients since the pandemic started.
"Between calls, physically leave the room to get a change of scenery," Teske said. "Take a walk around the block or do 10 pushups. Use this bonus time to check in on your pet, child or roommates. If you have back-to-back meetings with nowhere to go, let the group know you plan to be attentive but would prefer to turn off your camera so that you can stand up and stretch without causing a distraction."
Teske also believes that strategies may need to be reevaluated.
"I think our natural tendency is to try to figure out what we can add to the situation to fix it," he said. "We have a bias toward adding and piling on rather than reducing or letting things slide. Some try to squeeze a meditation app into their existing schedule, or try to multitask while on calls by opening more windows on their computer."
"When you are feeling stretched, stuck, smothered or burned out, the solution isn't necessarily what you can add, but what you can change. We coach our clients through a change process that puts all options on the table, which might include reducing, setting boundaries, building in breaks, minimizing the window or choosing not to attend optional video chats."
And while strategies can be changed, the reality is that there will still be Zoom calls to attend. Knierman has made a point to block out all the distractions with a specified workspace that is neat and orderly.
"I have a small desk that is clutter free and has all the resources I need to study," she said. "The less I need to move around my house to find something, the more focused I am. I grab any snacks or water I'll need in the time period I'll be sitting, and I wear headphones to block out any extra noise."
It takes personal effort to fight Zoom fatigue. Try some of these solutions to break up the monotony of consistently being attached to a screen and detach yourself from technology in the moments that you can.