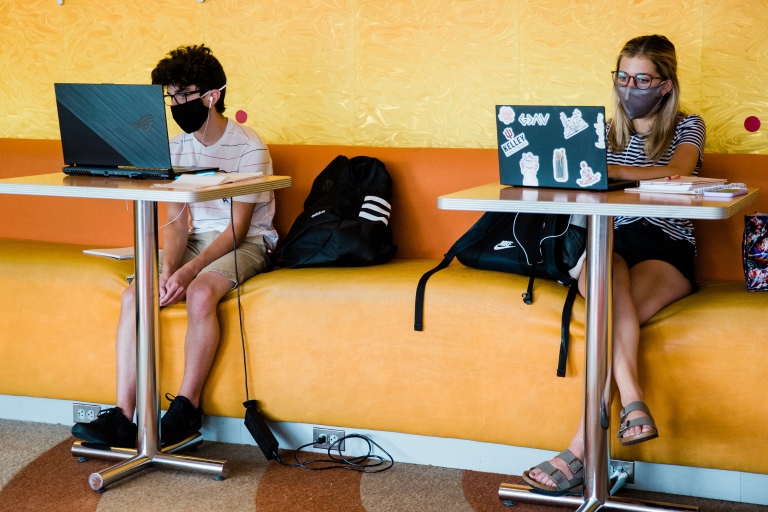 Ever on the rise, technology has become even more important in our world over the last six months. For some students, working technology poses a problem, but IUPUI recently committed $500,000 of its institutional CARES Act funding to assist students facing technology challenges.
Over 700 students have already applied for assistance with the costs of a device, other necessary equipment or internet service. The funds are available for undergraduate and graduate students who are eligible for Title IV funds.
"Student Advocacy and Support was regularly contacted by students who had issues with internet connection, who were having to share a single device with other family members or who had inadequate computer devices to accomplish needed work in the new virtual environment," said Ty Davis, assistant dean of students and director of student advocacy and support.
"Additional funds to support technology needs will make the difference in the success of many of our students in their coursework and will contribute to increased persistence and retention."
Students who are not eligible will automatically be considered for other institutional emergency grant aid. Financial aid administrators from the Office of Student Financial Services will complete a confidential review of the application within two business days, and students will be notified by email if they are eligible for this funding.
"Since the application process opened up a few weeks ago, we have already seen an incredible response from students requesting these funds," said Boyd Bradshaw, associate vice chancellor for enrollment management and chief enrollment officer. "This reaffirms the challenges many of our students have with reliable technology, and I am appreciative of this opportunity for our students.
"I would encourage students who are in need to apply as soon as possible due to the number of responses we have already received, as funds are limited."
"In this new normal that we find ourselves navigating, it is almost impossible to complete the tasks of being a student in a virtual environment without good internet, reliable technology and the relief of stress associated with not having what is necessary to get the work done," Davis said. "I believe that this new financial assistance is a big win for our students and am excited for those who will be able to take advantage of this opportunity."
Students can apply now online.