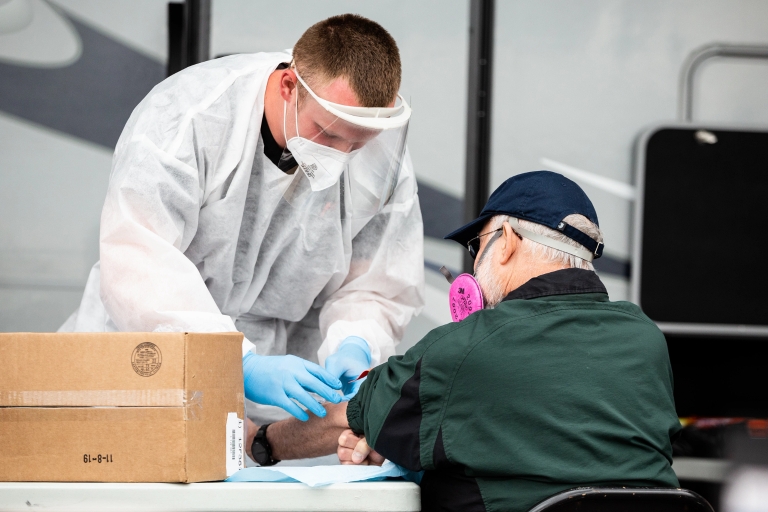 INDIANAPOLIS – Statewide testing for the third phase of a collaborative COVID-19 study by the Richard M. Fairbanks School of Public Health at IUPUI and the Indiana Department of Health begins Sept. 29.
Phase 3 study participants will include individuals age 5 and older who were selected randomly. Invited participants received a text message, a phone call and a postcard notifying them of their selection and encouraging them to schedule testing at a designated walk-up testing site.
This is the first time the study has included children.
"The addition of younger children will establish the first known prevalence rate of COVID-19 in school-age children," said State Health Commissioner Dr. Kris Box. "This will expand our knowledge of COVID-19 in Indiana and contribute valuable information to schools and communities as they make important decisions about youth-focused activities."
Participants will be tested regardless of symptoms, and those age 12 and older will be asked to provide both a nasal swab and a blood sample. Children between ages 5 and 11 will only be tested with a nasal swab.
The nasal swabs will be tested for active viral infection, while the blood samples will be tested for antibodies that indicate previous infection. Individual test results are confidential and will be available to participants on a secure website or via text, phone call or email once complete.
"Results from the first two phases of testing have assisted Indiana in making prudent decisions and have simultaneously generated much new knowledge about the disease that the CDC frequently quotes," said Nir Menachemi, professor and Fairbanks Endowed Chair in the Fairbanks School of Public Health and principal investigator on the study. "This third phase of testing will continue to help our state leadership make important, complex decisions necessary to protect all Hoosiers."
Random-sample testing is a scientific approach that allows researchers to more accurately assess how the novel coronavirus has spread in Indiana without having to test everyone.
Testing for the third phase of the study will occur Sept. 29 through Oct. 3, with 30 testing sites available for the main phase of the study and six supplemental sites planned for Oct. 4 and 5. Testing will occur in Allen, Cass, Delaware, Elkhart, Franklin, Gibson, Grant, Hamilton, Hancock, Harrison, Hendricks, Howard, Johnson, Knox, Kosciusko, Lake, LaPorte, Lawrence, Marion, Monroe, Owen, Perry, Scott, Switzerland, Tippecanoe, Vanderburgh, Vigo, Wayne and Wells counties.
Those selected to participate can visit the state department of health's website to register.
The fourth and final phase of the study is planned for April 2021.