One thousand four hundred and fifty projects. Sixty-six months of planning, implementation and execution. Eight priorities. One university.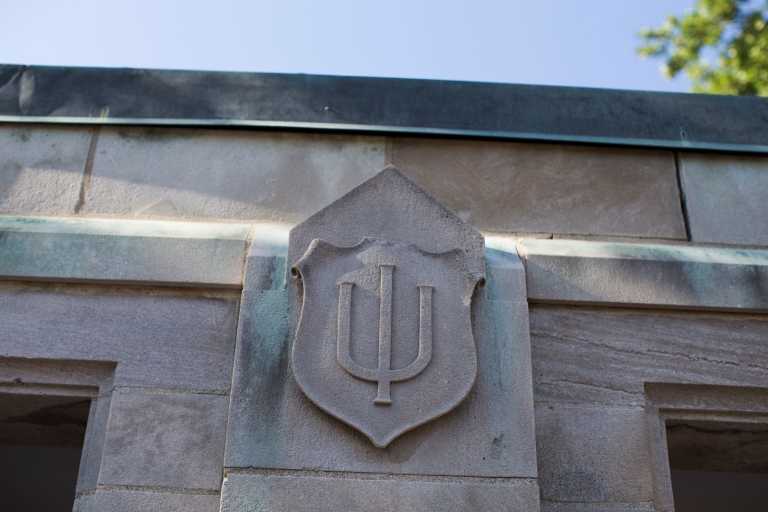 These numbers illustrate the enormous scale of Indiana University's Bicentennial Strategic Plan, which was brought to conclusion during IU's Bicentennial Year commemoration of the first two centuries of its rich history and its contributions to the state, nation and world.
The numbers also underscore IU's unwavering focus – in nearly every key area of the university – on building on its past accomplishments to meet the challenges of its third century. These areas include providing an affordable and accessible education, ensuring successful student outcomes, transforming the university's academic structure to best support the needs of students and leading employers, catalyzing its vast research enterprise, and ensuring healthier Hoosier communities.
The IU Board of Trustees heard a concluding report on Thursday on the successful completion of the university's Bicentennial Strategic Plan from Executive Vice President for University Academic Affairs John Applegate and IU professor Michael Rushton. The board approved the plan in 2014 and heard a midpoint update during its December 2017 meeting.
"As we close our Bicentennial Year, it's time to take stock of the unprecedented outpouring of energy, talent and creativity involved in the implementation and execution of Indiana University's strategic plan," IU President Michael A. McRobbie said. "This plan provided a framework to ensure IU's leadership in student success, research and scholarly excellence, and service to our communities, and as a driver of economic development for all of Indiana. The volume, breadth and diversity of work undertaken as a result of this plan attest to its enormous relevance and reach. We have built a strong foundation for IU's enduring strength, one that will keep IU on the course of greatness in this third century."
Applegate said the COVID-19 pandemic has only highlighted the rapidly changing environment that universities like IU must navigate.
"The fundamental purpose of the Bicentennial Strategic Plan – building the foundation for IU's third century – has never been more relevant or more critically important than it is today," he said. "The enduring transformation in response to the plan will enable the university to thrive even in the most challenging times."
Applegate and Rushton presented highlights from each priority:
Bicentennial Priority One: A Commitment to Student Success
IU graduates more than 20,000 students annually – more than any other college or university in Indiana.
From 2015 to 2018, the percentage of IU students who complete their undergraduate degree in at least six years has grown from 64 percent to 69 percent and, at the regional campuses, it has risen from 34 percent to 43 percent. For underrepresented minorities, the six-year completion rate rose from 48 percent to 54 percent across all campuses.
In fall 2020, IU welcomed the most diverse class in the university's 200-year history. The total number of minority students rose from 11,105 in 2005 to 23,401 in 2020, which is 28.1 percent of enrollment.
The university is also offering 15 new collaborative online degree and certificate programs through IU's regional campuses, with another 11 in the approval process at the Higher Learning Commission. The new online programs include applied health science, informatics, history, sociology, criminal justice and public safety, and the Chancellors' Bachelor of Science in Business Administration.
IU has received national recognition for offering an affordable, high-quality education and developing cutting-edge financial literacy initiatives that have served as a statewide and nationwide model for easing the burden of student loan debt on college students, their families and the nation's economy. Over the past eight years, annual student loan borrowing at IU has dropped by $140.6 million or 21.6 percent. IU has also increased undergraduate gift aid by 51.1 percent over the past eight years, for a total of $132.7 million in the 2019-20 academic year.
IU further strengthened its career and academic advising. All IU campuses now employ pervasive academic advising of students, supported by the IU Graduation Progress System. This includes degree mapping, early alerts, degree audit and analytics – all of which is helping increase graduation rates and reduce the time to degree completion.
IU has established 10 new schools as well as new programs in multiple areas, including public health, international studies, architecture and engineering.
Bicentennial Priority Two: A Community of Scholars
The universitywide Mosaic Active Learning Initiative now connects all of IU campuses to support active learning pedagogies and active learning classrooms. The Mosaic Faculty Fellows, a key part of the initiative, builds a community of faculty who support each other in their teaching. Mosaic has welcomed 102 fellows from seven IU campuses, representing 58 disciplines/departments from 17 schools.
IUPUI created the Faculty Crossing space in its University Library, open to all faculty and teaching staff to brainstorm with co-authors, plan interdisciplinary partnerships, and connect with colleagues, promoting creativity and innovation.
The Center for Innovative Teaching and Learning sponsors multiple Faculty Learning Communities each year. Those are cohorts of faculty members, often from different disciplines or fields of study, who ask questions about teaching and learning, try out teaching innovations, assess student learning, create new models of practice, and publish scholarship about their work.
Bicentennial Priority Three: Catalyzing Research
IU received a university-record $854 million in external funding for research and other activities in fiscal year 2020, and IU's research and philanthropy funding for the fiscal year totaled $1.15 billion – the first time in its history that IU achieved an annual total of more than $1 billion in external research awards and private philanthropy.
Through the state's two major schools of public health, IU has worked hard to help scientists and the state understand the COVID-19 pandemic. Most recently, statewide testing launched for the third phase of a collaborative COVID-19 study by the Richard M. Fairbanks School of Public Health at IUPUI and the Indiana Department of Health.
Progress has continued in each of IU's three Grand Challenges: Precision Health Initiative, Prepared for Environmental Change and Responding to the Addictions Crisis.
IU has also launched ambitious efforts to rejuvenate, restore and renovate the university's collections, including the Media Digitization and Preservation Initiative aimed at preserving IU's extensive collection of audio, video and film holdings; a $30 million restoration for the Eskenazi Museum of Art; creation of the IU Museum of Archaeology and Anthropology; and a major renovation for the Lilly Library.
The IU Presidential Arts and Humanities Program continues to be a one-of-a-kind university investment in creative and scholarly activity of IU faculty. From 2015 to 2019, when it was known as New Frontiers in the Arts and Humanities, 260 grants were awarded to faculty members on every IU campus. Award funds for the same time period totaled slightly more than $5 million.
The plan also prioritized the renovation and modernization of several facilities, as well as new construction totaling over $800 million. Over 50 capital projects were completed in accordance with campus master plans, as well as the Athletics Master Plan for Bloomington. Much of the university's deferred maintenance for all campuses, totaling over $1 billion, also was addressed through an intensive institutional commitment over the past decade.
Bicentennial Priority Four: Reimagining Education
In response to Indiana's teacher shortage, and the objectives of increasing enrollments in the schools of education and strengthening partnerships with Indiana school corporations, several of the IU schools of education have embarked on Grow Your Own teacher initiatives. The initiatives create a pipeline of highly qualified teachers, increase community connections, and address regionally relevant instructional capacity issues.
At IU Bloomington, Transition to Teaching will shift to a hybrid delivery model that will enable prospective students from around the state – and beyond – to maintain their current geography/employment while making periodic visits to campus.
At IUPUI, faculty within the undergraduate teacher preparation programs – elementary and secondary education, special education, and English as new language – established partnerships with all schools in urban school districts within the Indianapolis metropolitan area.
Bicentennial Priority Five: A Global University
IU has entered into 11 new agreements for universitywide partnerships with foreign universities and renewed 33 additional such agreements since 2015. All of the new agreements and all but five of the renewed agreements are with universities in priority countries.
Since 2015, IU's Global Gateway Network has expanded from two – China and India – to five, with new offices established in Europe (Berlin) in 2015, Mexico (Mexico City) in 2018, and the ASEAN region (Bangkok) in 2019.
IU had a record number of students studying abroad in the 2018-19 year: 4,428. IU Bloomington ranked sixth among U.S. institutions for the number of students studying abroad in 2017-18, according to the 2019 Open Doors Report on International Educational Exchange, the most recent report available from this organization.
The opening of the state-of-the-art Global and International Studies Building, which is home to IU's expertise in global policy and international relations, and is home to the school named for two for Indiana's most revered statesmen: Former U.S. Rep. Lee H. Hamilton and former U.S. Sen. Richard G. Lugar.
Bicentennial Priority Six: Health Sciences Research and Education to Improve the State and Nation's Health
Much of IU's record total of more than $1 billion in external research awards and private philanthropy in fiscal year 2020 is funding medical research at the IU School of Medicine. As IU's largest grant recipient, the school brought in a total of more than $549 million, up from nearly $434 million in fiscal year 2019.
The IU Melvin and Bren Simon Cancer Center achieved the highest recognition from the National Cancer Institute: Comprehensive Cancer Center. With this elite federal designation signifying research excellence, it became the only NCI-designated Comprehensive Cancer Center in Indiana and one of just 51 in the nation.
Bicentennial Priority Seven: Building a Prosperous and Innovative Indiana University
Eight hundred forty-nine patents have been issued since 2015.
IU Research and Technology Corp. was rebranded as IU Ventures in 2019 to better reflect its enhanced mission and focus in direct support of IU-affiliated entrepreneurship.
Bicentennial Priority Eight: Towards a Culture of Building and Making
IU Bloomington established a new program in intelligent systems engineering, graduating its first cohort in 2020, IU's Bicentennial Year.
A gift from Fred Luddy created a multidisciplinary initiative in artificial intelligence at IU, based in what is now named the Luddy School of Informatics, Computing and Engineering.
The School of Art, Architecture + Design was established in 2016 with a merger of the Department of Studio Art and the Department of Apparel Merchandising and Interior Design. In 2019, it was renamed the Sidney and Lois Eskenazi School of Art, Architecture + Design in recognition of the Indianapolis-based couple's generosity and longstanding commitment to IU and the arts through a landmark $20 million gift.
IU Bloomington launched a new Master of Architecture degree: The J. Irwin Miller Architecture program admitted its first cohort of students in fall 2018. The program's studios and classrooms are housed in the Republic Building in Columbus, Indiana, a city well known for its modern architecture.
Final versions of a universitywide, IU Bloomington, IUPUI and regional plan reports will be available for download at strategicplan.iu.edu.