Indiana University employees can increase their understanding of cross-cultural communication and collaboration by receiving an Intercultural Competence Certificate, a free professional development opportunity offered by the Office of the Vice President for International Affairs. This certificate is a chance for members of the IU community to become more globally aware, confront biases and expand meaningful exchanges across cultures.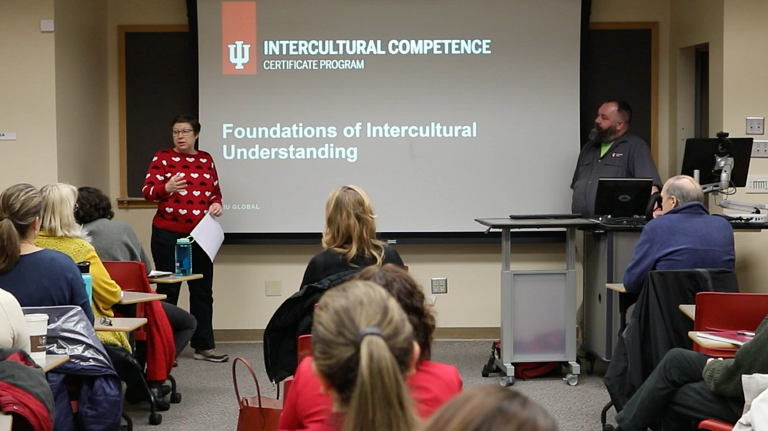 Participants learn about the importance of intercultural competence by engaging in interactive, in-depth conversations around culture and identity. They learn about the impact it has on their work and interactions with students, colleagues, their local community and ultimately the world. Dominic Potorti, senior student adviser in the Office of International Services, became a trainer for the certificate program to teach others but also to learn.
"I'm a cultural competence trainer not only because it's critically important – now more than ever – but because I also get to gain perspective and insight with campus colleagues with whom I wouldn't ordinarily interact," he said. "Facilitating dialogues about cultural competence is my task, but learning from others is my passion."
The certificate requires fewer than 10 hours to complete, with a variety of training sessions that can cater to an individual's work responsibilities and personal interests. Sessions center on three focus areas: knowledge, attitude and skills.
Participants need to complete one session from each category. They can also fulfill the attitude requirement by attending a cultural event and writing a short personal reflection about the experience. Each session is led by a professionally trained staff member from the Office of International Services.
Rendy Schrader, senior director of international student and scholar programs and initiatives, has spearheaded this effort.
"Our goal is to offer staff a simple way to increase their cultural awareness and hope that they build on it beyond our basic courses," Schrader said. "In the most practical sense, understanding how to navigate an increasingly shrinking world helps us to be more effective communicators who are open to new ideas. Beyond that, we enrich our personal lives when we can learn to appreciate and even celebrate the different perspectives, customs and lifestyles of others."
The pilot program launched in the spring and was well received on the Bloomington campus. Jan Nickless, senior associate director of the Career Development Center, completed her certificate in the spring. She encouraged others to consider getting involved.
"These trainings provided specific insights into communication, body language and unwritten rules that often cause culturally related miscommunications," Nickless said. "I gained an awareness of how specific cultural values can affect an individual's day-to-day interactions and communication. The training has provided me the ability to look at experiences through a broader lens and to seek out culturally diverse relationships and teams."
Fall 2020 is the first semester that the program has been expanded and offered to employees across all IU campuses. Training sessions begin Oct. 9 and run through the end of the year; those interested can explore the offerings and register online. The program is flexible, and staff can also attend individual sessions they are interested in without pursuing the full certificate.
Brittaney Hartzer is the director of marketing and communications for the Office of the Vice President for International Affairs.