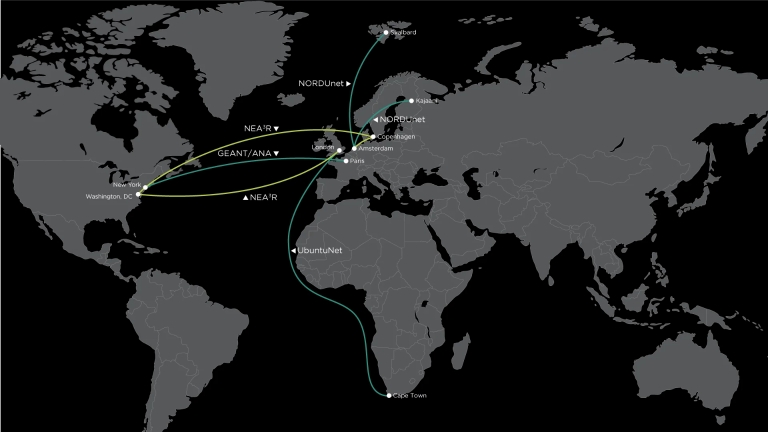 BLOOMINGTON, Ind. – An extended collaboration among network organizations will yield two new high-speed U.S.-Europe circuits to enhance infrastructure for researchers in the United States and their counterparts in Europe, Africa and the Arctic. Scientific fields supported by this effort – including astronomy, high-energy physics and weather satellite applications – will benefit through faster time to discovery and improved access to a broader set of resources and data, all of which promise economic benefit and global competitiveness.
International Networks at IU will jointly lead a five-year, $4.75 million initiative supported by the National Science Foundation for Networks for European, American, African, and Arctic Research. NEA3R will continue IU's strong collaboration with the Advanced North Atlantic consortium, which consists of Internet2, CANARIE, GÉANT, NORDUnet, SURF and ESnet, along with African partner, the UbuntuNet Alliance.
Through extensive partnerships supporting the initiative, NEA3R will provide researchers and educators with access to a broad array of geographical, ethnic and cultural resources. This increased access to educational materials and public engagement will, in turn, assist in the development of a diverse, globally competitive STEM workforce. This award is part of the U.S. National Science Foundation's International Research Network Connections Core Improvement program.
Jennifer Schopf, director of International Networks at IU, is principal investigator on the award. Co-principal investigators include Edward Moynihan, IU; Tom Fryer, GÉANT; René Buch, NORDUnet; and Matthews Mtumbuka, UbuntuNet Alliance.
"The NEA3R award underscores Indiana University's leadership position in international networking over more than 20 years," said Rob Lowden, Indiana University vice president for information technology and chief information officer. "Its growth in both geographical scope and services are a testament to the leadership of Dr. Jennifer Schopf.
"Dr. Schopf and her team have implemented a 'more than just a network' approach, which aligns with my philosophy as CIO that it's our job to make the technology an enabler, not an obstacle. These awards will benefit not only researchers at Indiana University but across the U.S. and throughout the world."
The NEA3R project will support a suite of high-speed connections, some funded by the NSF and others provided by partners among the U.S., Europe and Africa. The project will also support advanced network measurement and monitoring through NetSage and establish reliable paths to advance the use of network test beds, such as IN@IU's partner FABRIC.
"I could not be more pleased that the team and I will be able to continue this vital work with our partners in Europe and Africa, and our expansion to include the Arctic region as well," Schopf said. "It is not enough to simply supply the bandwidth and expect it to be used, so we appreciate NSF's recognition of the role higher-level services play in the field, and look forward to supporting research and science across the world."
What they're saying
"I am excited that the NSF has decided to fund the NEA3R Project. This will help further enhance the resilience and bandwidth between the U.S. and Europe for research and education. Indiana University's wish to work in close collaboration with the Advanced North Atlantic partners will make it possible for the NEA3R project to add to a sustainable system that will benefit many vital science projects, including the ones that help fight the current COVID-19 pandemic." – René Buch, CEO, NORDUnet
"The NEA3R award is excellent news for research and education collaboration between Europe and the USA. By increasing the capacity established by the predecessor America Connects to Europe and NEAAR projects, and ensuring its integration with complementary links provided by the ANA collaboration including GÉANT, NEA3R will play a vital role in ensuring the capacities and route diversity needed to meet the demands of collaboration across the North Atlantic for years to come. GÉANT is excited at the prospect of working with Indiana University, NORDUnet and the UbuntuNet Alliance to build on past successes." – Tom Fryer, head of international relations, GÉANT
"The awarding of this project is welcome news to UbuntuNet Alliance, as it will build on the success of the first phase and enhance collaboration with our partners in America and Europe through establishment of new exchange points and links that will give our professors, students and researchers efficient and effective internet traffic routes for improved research and education output." – Matthews Mtumbuka, CEO of UbuntuNet Alliance