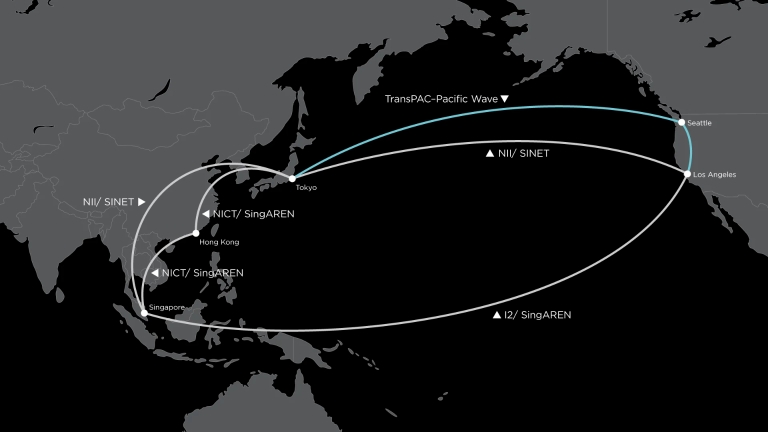 BLOOMINGTON, Ind. – The U.S. National Science Foundation has awarded Indiana University a five-year grant of $4.75 million to support TransPAC5, extending more than 20 years of collaboration in the Asia-Pacific region.
TransPAC5 will enhance U.S.-Asia network capacity by providing multiple high-speed circuits as well as end-to-end services and shared resources to support research and education collaborations between the U.S. and Asia. It has the potential to directly and indirectly impact a significant portion of the NSF portfolio due to the ever-growing nature of today's collaborative science, with people at multiple institutions in multiple countries bringing their specialized knowledge to bear on different aspects of a single research problem. TransPAC5 includes multilateral agreements and expanded networking partnerships with regional teams and with research and education networks associated with more than 30 countries.
International Networks at IU will co-lead the TransPAC5 initiative. Jennifer Schopf, director of IN@IU, is the principal investigator on the award. Co-principal investigators include Hans Addleman at IU and Bu Sung "Francis" Lee at the Singapore Advanced Research and Education Network.
One of the strengths of TransPAC5 is its broad coalition of partners. This includes not only the large community organizations in the region, the Asia Pacific Advanced Network and the Trans-Eurasia Information Network, but the recently formed Asia-Pacific Ring collaboration, which consists of Internet2, National Institute of Information and Communications Technology, National Institute of Informatics/Science Information Network, Pacific Wave, Singapore Advanced Research and Education Network, and the Widely Integrated Distributed Environment. These partnerships provide the foundation for the project's networks and services.
"TransPAC continues to serve as a major catalyst for high-performance research and education around the world," said IU President Michael A. McRobbie, who was the principal investigator for the original $10 million TransPAC award from the NSF in 1998. "With this latest generous support from the NSF, TransPAC5 will dramatically enhance the capacity and resiliency of the high-speed Asia-Pacific Ring. This first-of-its-kind network is enabling scientists and researchers working across the Pacific Ocean between Asia and North America to make faster discoveries in areas critical to economic development and public health, such as advanced manufacturing and engineering, health care and biomedical sciences, artificial intelligence and machine learning, big data analytics, weather and climate studies, and precision engineering.
"TransPAC5 will also build upon a quarter-century of collaboration between IU and its network partners in Asia. This collaboration has supported IU's leadership in networking engineering and operations, while also advancing our broader research and education mission and fostering vital institutional partnerships across the Asia-Pacific region."
IN@IU is well known through the community for its "more than just the network" approach to sustaining infrastructure, which is a theme of the new award as well. In addition to continuing support for a broad suite of large-scale science projects, including high-energy physics, bioinformatics and astronomy, TransPAC5 will support end-to-end data transfers for researchers in any field of science, and staff members will actively support the collaborations to use the network most effectively. Any group collaborating internationally will be able to contact the IN@IU team for this assistance.
"It's been an honor and a pleasure to pick up the reins of the original work that President McRobbie began over 20 years ago with our Asian collaborators," Schopf said. "When TransPAC started, simply getting connections between countries was a complicated feat of engineering, but the vision was always to support the collaborative science that used the links, not just to have the connections in place. We are now able to better fulfill this original vision to enable international science discovery across a wide range of fields."
As part of this work, the IN@IU team will continue its successful use of the NetSage measurement and monitoring tool to find and resolve performance problems. The team will also continue its work investigating certain types of network performance problems due to routing errors that can degrade performance, as well as identifying and correcting data transfer problems.
"We look forward to continuing our work with the IN@IU team," Lee said. "The TransPAC network connections have benefited the community by providing the needed redundancy in a region where network outages caused by undersea cable breaks can take weeks to repair. It is through partnerships such as this that we can all amplify our support of collaborative science."
This award is part of the U.S. National Science Foundation's International Research Network Connections Core Improvement program.
About International Networks at Indiana University
International Networks at Indiana University delivers network connectivity that fosters the scientific collaboration that drives research and education in every corner of the world. From niche projects to large-scale research efforts, IN@IU uses high-performance networking as a tool to advance scientific diplomacy. With award funding provided primarily by the National Science Foundation, these projects empower the world's research and education communities by connecting U.S. scientists with their counterparts in Europe and Asia.
What they're saying
"Asia-Pacific is dynamically changing in the areas such as growth of the internet population, students' mobility and trade relations among nation states. All academic fields now share a very large amount of data with global academic institutes. TransPAC has been contributing to connecting academics in the world, and especially, it has a critical mission in the forthcoming TransPAC5 period." – Jun Murai, founder, Widely Integrated Distributed Environment project
"The International Networks team at Indiana University has a long history of connecting researchers with technology and providing the international infrastructure necessary for end-to-end collaboration. This award continues that important legacy and enables new collaborative science throughout the Pacific Rim." – Howard Pfeffer, president and CEO, Internet2
"We are pleased that TransPAC will continue to be active in research and education activities in the Asia-Pacific region. NICT's high-speed international circuits, known as JGN, are a part of the Asia Pacific Ring (APR), and this cooperation between teams will strengthen our collaboration with other APR partners." Hiroaki Harai, director general of ICT Testbed Research and Development Promotion Center, National Institute of Information and Communications Technology
"In collaboration with dependable TransPAC5 and the Asia Pacific Ring (APR) partners, we look forward to contributing towards a higher-performance and more reliable U.S.-Asia communication environment for our research and education." – Professor Shigeo Urushidani, deputy director general, National Institute of Informatics