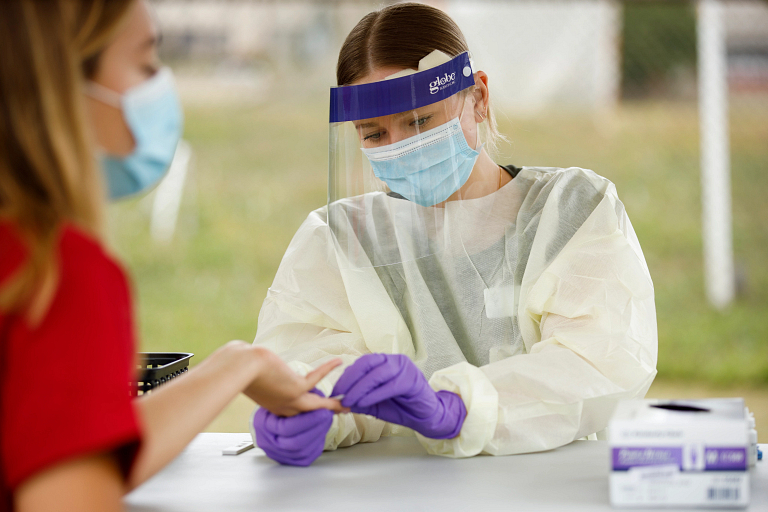 Indiana University researchers are studying whether receiving the results of an antibody test changes the protective behaviors college students adopt to limit the spread of COVID-19, such as wearing face masks and physical distancing.
The study is led by Molly Rosenberg and Christina Ludema, assistant professors of epidemiology at the IU School of Public Health-Bloomington, and Jon Macy, associate professor of applied health science in the school.
"We want to know whether receiving antibody test results changes people's risk perceptions in ways that may encourage or discourage individual preventive actions," Rosenberg said. "As these tests become more widely requested and used throughout the country, we need to know how they impact behaviors."
The IU research team, in partnership with the Ivy Tech School of Nursing and a group of IU School of Public Health student volunteers, is administering rapid antibody tests to over 1,000 undergraduate students. The tests included in this research study are separate from the mitigation testing IU is doing throughout the fall semester and do not exempt any students from participating in mitigation testing.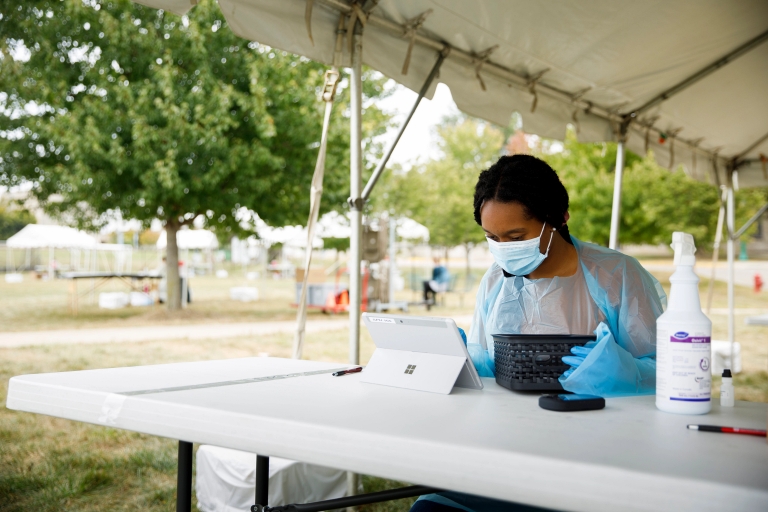 All participants in the research study will receive the results of their antibody test, but they'll be divided into two groups. One group will receive their test results within one day, and the other group will receive the test results after four weeks.
Every two weeks after the test administration, researchers will conduct a behavioral survey assessing participants' frequency of protective behaviors, such as mask-wearing, physical distancing, limiting close contacts/avoiding crowds, hand-washing and avoiding contact with high-risk individuals.
Researchers are hoping to better understand how antibody test results affect student behaviors and what further prevention efforts can be implemented to keep students and the community safe.
"While studies have been published on the cross-sectional relationship between risk perception and other demographic characteristics and health behaviors that are protective for COVID-19 infection, there have not been any studies showing the effect of receiving information about antibody positivity on protective behavior," Ludema said. "We hope this study will provide important data than can help with the continued prevention efforts of universities throughout the country."
The research team also will assess the relationship between drinking behavior, social behavior and vaping with incidence of new infections of SARS-CoV-2, the novel coronavirus that causes COVID-19, over the course of the semester.
"We also hope that this study contributes to our understanding around how, and where, COVID-19 infections are happening on college campuses so we can be more targeted about our recommendations for prevention in future semesters," Rosenberg said.
Key members of the research team are Melissa Greives, Kevin Maki, David Allison, Sina Kianersi, Edlin Garcia and Maya Luetke, all of the School of Public Health-Bloomington.
April Toler is senior associate director of research communications for the Office of the Vice President for Research.