The Hoosiers are back with their first football game of the season, at home against Penn State on Saturday, Oct. 24.
And as with many events this year, Indiana University football will look different amidst the COVID-19 pandemic.
In accordance with Big Ten policy, no IU football game tickets will be sold to the general public during the 2020 season. All parking lots – both paved and grass – that are customarily used for football gameday parking will be largely closed to the public as well.
This means tailgating will not be allowed near Memorial Stadium this season.
But that doesn't mean you can't enjoy the spirit of tailgating in other ways.
Campus celebrations
If you're a student, you can cheer on the Hoosiers at IU Spirit Day, a physically distanced, outdoor event from 2:30 to 4:30 p.m. Oct. 24 starting at Woodburn Clock Tower.
You'll be able to watch the football game on a screen at the Conrad Prebys Amphitheater and Kinsey Hollow, as well as stock up on IU swag and coupons from local food vendors. Giveaway items, such as IU face paint, stickers and foam fingers, will be spaced out at different stations along a "tailgate trail" leading from the clock tower to the watch parties.
This event is outside, so dress accordingly. You should also continue to wear face masks and maintain physical distance of 6 feet to limit the spread of COVID-19, in accordance with IU policies.
Space is limited so make sure you RSVP and check-in early for the watch parties. 
For more information, download the IU First Year Experience app or view the Indiana Memorial Union's event calendar.
Tailgating at home
You can also re-create the tailgating experience at home, also known as homegating.
If you're planning to homegate in Bloomington, follow the city's executive order limiting gatherings at private residences to no more than 15 people and follow Monroe County's public health regulations for mask wearing and physical distancing.
Read on for tips on how to plan a fun homegating celebration.
1. Make a playlist
Music is a great way to get in the gameday spirit.
Eric Smedley, director of the IU Marching Hundred and Athletic Bands, said the songs you pick can set a festive mood for your homegate.
"I don't think you pick music that's going to be in the background, mellow stuff," he said. "You pick music that is going to get people to sing and move around."
Smedley's tips:
If you're celebrating with people of all ages, include a variety of music that will appeal to multiple generations.
Choose music that is upbeat, and pace your playlist to start with songs that will get people really amped up as your homegate starts. Select iconic songs that people want to sing the chorus to, such as "Sweet Caroline," "Shout" and "Hey Baby."
Pick enough songs. You will probably want to choose a couple of hours' worth of music for a homegating celebration.
You can also listen to IU Bloomington's "Indiana University Traditions" playlist on Spotify or download "Gameday Faves: Indiana Hoosiers Classics" on iTunes to hear IU's fight song, "Indiana, Our Indiana."
"Even though you won't be able to go to the football game, just getting together and making all the gameday foods, having the music playing, playing cornhole – that's a lot of people's favorite part of gameday," Smedley said.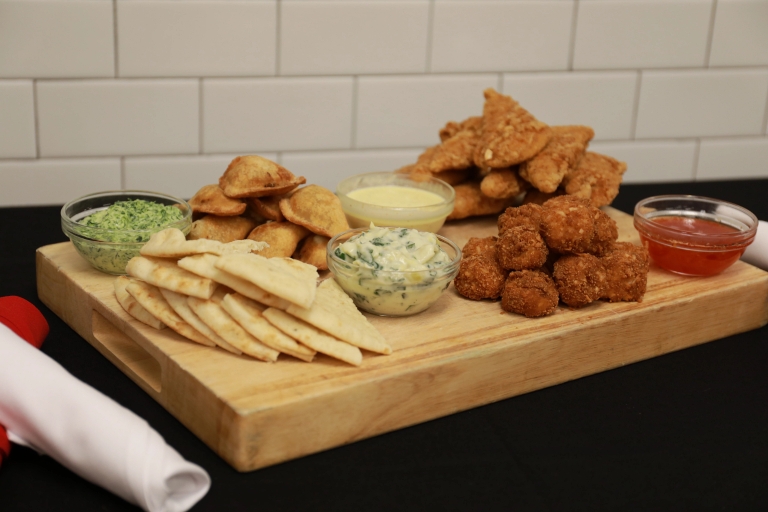 2. Serve gameday grub
No proper tailgate is complete without something tasty to eat, and homegating is no exception.
You can't go wrong with classics like burgers and hot dogs. But since you're celebrating at home, you'll likely have a lot more freedom to choose your menu.
Healthy IU regularly shares recipes for simple, seasonal and sustainable dishes on its social media accounts, or find a full list of recipes on the Healthy IU website. We like the Slow Cooker Turkey Chili and the Kale Chips.
Rahul Shrivastav, executive director of IU Dining, suggested one of his personal favorites: a Vegan Nacho Sweet Potato Dip that can even be prepared in your dorm room. If you don't have a stovetop, cook the potatoes in the microwave, and if you don't have a food processor, just use a fork, he said.
Shrivastav also recommends incorporating Sriracha into the nachos, for added flavor.
"Sriracha goes in all my recipes – including desserts," he said.
Not in the mood to cook? That's OK too.
IU Dining has launched a special lineup of tailgating-inspired menu items available for order via Grubhub on Fridays and Saturdays of game weekends from Oct. 23 to Nov. 21.
Some of the foods you can order include wings, sliders, Philly Cheese Steaks, an appetizer platter and iced football sugar cookies. They'll be available for pickup from several campus locations.
3. Let the games begin
Hosting a homegate is the perfect excuse to get out your traditional tailgating yard games, such as cornhole, ladder toss and horseshoes.
If you don't have these games already, make your own do-it-yourself versions using online how-to guides, such as these DIY bean bags. Or opt for a low-key game of catch with a football.
To protect yourself and others from COVID-19, be sure to disinfect game pieces as you're able, wash your hands before and after handling games, and avoid eating finger foods or touching your face while playing.
You can also enjoy virtual homegating games and activities: