Indiana University Libraries has been named Library of the Year by the U.S. Government Publishing Office for the creative ways it connects people with information about the federal government. The library's staff was honored with the award Oct. 20 during the virtual Federal Depository Library Conference.
"IU was named a Federal Depository Library by Senator Benjamin Harrison in 1881," said Carolyn Walters, the Ruth Lilly Dean of University Libraries. "We can now reflect upon nearly 140 years of service to our nation, and to the people specifically in this region. I want this award to recognize not just those of us here today to accept it, but to celebrate the countless years of individual dedication to the notion that democracy thrives through citizen access to information."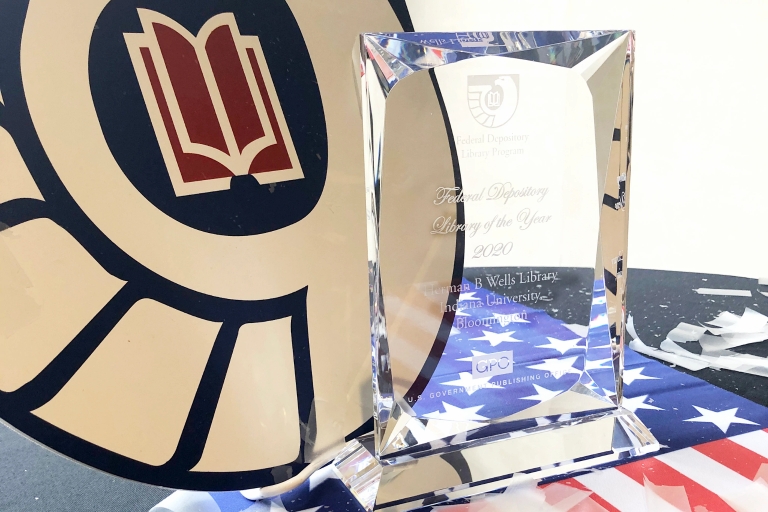 The Government Publishing Office annually recognizes a federal depository library that furthers its mission of ensuring the American public has free access to government information in extraordinary ways.
The Herman B Wells Library is one of just over 1,000 designated libraries in the Federal Depository Library Program, 30 of which operate in Indiana. Federal depositories receive free government materials from the Government Publishing Office and must make that information available to the public.
Among the materials IU offers as a federal depository are Census documents, government reports and public papers of past presidents. Librarians are also available to help the public find government information through research assistance offered over the phone or online.
Emily Alford, head of Government Information, Maps and Microfilm Services at IU Libraries, said easy access to information about the federal government gives people a better sense of what their representatives are doing and how it affects them.
"I think in a day with so much talk of fake news, we're able to point our users to concrete documents that provide context they can rely on – looking at the numbers and actual information," she said.
Alford said there are patrons from the community who regularly come into Wells Library to seek out specific government information.
The Government Publishing Office cited the library's efforts to help people become more engaged as one of the reasons for the award. In addition to robust voter education resources and events ahead of the November election, the library also started offering government info alerts this year. By filling out a short questionnaire, people can receive biweekly alerts about new publications, hearings or data related to a certain topic or body of government.
"I think it helps people be more confident in their daily lives," Alford said. "Federal government touches all our lives to some extent. Not only does having access to this information and publications help show that to people, but I think it also makes them more engaged themselves."
This is the first time Indiana University Libraries has been named Library of the Year by the U.S. Government Publishing Office. In 2010, IU was nationally recognized by the Association of College and Research Libraries with the Excellence in Academic Libraries Award for IU Libraries Bloomington.