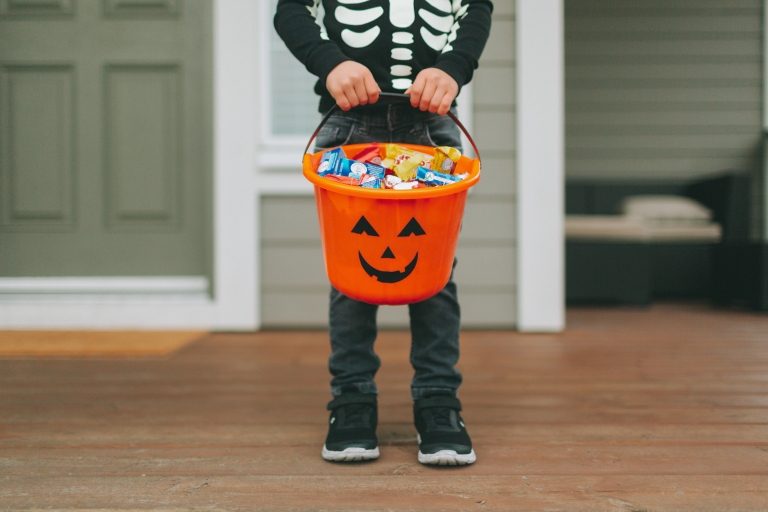 With pumpkins lining porches and skeletons peeking out of the windows of local businesses, Halloween is just around the corner. While a "normal" Halloween may be hard to imagine this year, with the right precautions and some creativity, there's no reason it can't be just as fun as always.
Many people are wondering whether traditional trick-or-treating is even safe for children to take part in, as going door to door means being exposed to many people. As with most decisions related to safety during the COVID-19 pandemic this year, it is best to weigh the risks and consider the alternatives to decide what's best for you and your family.
The Centers for Disease Control and Prevention recently released its own guidelines on trick-or-treating precautions, such as wearing masks, washing hands and avoiding direct contact with people. The website also suggests alternative activities for families, such as organizing a candy treasure hunt.
Shannon Bunger, the deputy chief of the IU Police Department, said she would also recommend skipping the traditional trick-or-treating activities and looking for safer ways to celebrate the Halloween spirit.
"There is just too much risk exposing your kids to so many people," she said. "I have heard that some neighborhoods are doing costume parades, which I think is pretty cool, so that would be an alternative."
However, if parents do decide to let their children go trick-or-treating, Bunger wants to remind them to take basic Halloween safety precautions, in addition to the coronavirus-related ones.
"If your kids are going out, wear reflective clothing, have a flashlight with them, and we always recommend parents going with their kids to supervise them," she said.
We asked Andrea Janota, the interim director for the Center of Public Health Practice at the Richard M. Fairbanks School of Public Health at IUPUI, for advice on costuming, mask wearing and social distancing during trick-or-treating. Here's everything you need to know to celebrate spookily but safely.
Wear a cloth mask, but avoid costume masks
"When picking a Halloween costume this year, a properly worn cloth face mask is a must," Janota said. "Select a cloth mask that fully covers your mouth and fits securely over the bridge of your nose."
"While many costumes may include masks, these are not a substitute. In fact, wearing a costume mask over a cloth mask could make breathing more difficult. Instead, you may try swapping a costume mask for makeup that incorporates your cloth face covering into your Halloween attire."
Take steps to reduce the risks of trick-or-treating
"Trick-or-treating as we traditionally know it presents a higher risk for transmission of COVID-19, with the greatest potential for spread through person-to-person contact," Janota said. "There are ways to reduce risk when handling candy though. One-way trick-or-treating, or lining up candy at the edge of a yard or driveway, allows for a 'grab-and-go' option, which helps families keep social distance and avoids groups of children at one door. If you are handing out candy, make sure to properly wear your mask the whole time."
"Finally, it's best to wait until you get home and can wash your hands well with soap and water before eating any tasty treats; however, hand sanitizer is a good option if you're still outdoors."
Don't forget to bring hand sanitizer
"If you decide to trick-or-treat this year, bring hand sanitizer – one with at least 60 percent alcohol – to use periodically as you are out," she said. "It's good to sanitize if you've had direct contact with other people and after touching high-contact surfaces like doorbells or door handles, or after reaching into a shared candy bowl. When you get home, wash your hands well with soap and water for at least 20 seconds before you enjoy your Halloween treats."
Do your best to avoid crowds and socially distance when possible
"Just as you would in public spaces, make sure to keep at least 6 feet of space between yourself and people who do not live in your household," Janota said. "While being outside is helpful, it is easy for sidewalks to get crowded with trick-or-treaters. If a house is particularly busy, skip that one. Remember to respect that some families may choose not to pass out candy this year, so if a house has the lights out, politely move on to another."
Consider organizing alternative activities to trick-or-treating
"It is important to realize that traditional trick-or-treating does a pose a higher risk for transmission of COVID-19 as opposed to some other alternatives," she said. "There are great festive options that allow for smart physical distancing and lowering your risk of exposure, like organizing an outdoor costume parade with 6 feet between participants, carving pumpkins outside at a distance with friends or neighbors, and turning a walk around your neighborhood into a Halloween-themed scavenger hunt by viewing decorations from a distance."
"For lower risk, spend time with the members of your household or move your activities online with a Halloween movie watch party or a virtual costume contest."