The sun peeks in and out of the clouds as a small group of Indiana University students walks across a grassy field at Mill Race Park in Columbus, Indiana. They carry collapsible, aluminum easels and painting supplies, and are occasionally kissed by the sun as they set up makeshift studios around the park.
The temperature is slowly climbing, and it's the perfect kind of day when Columbus is your classroom.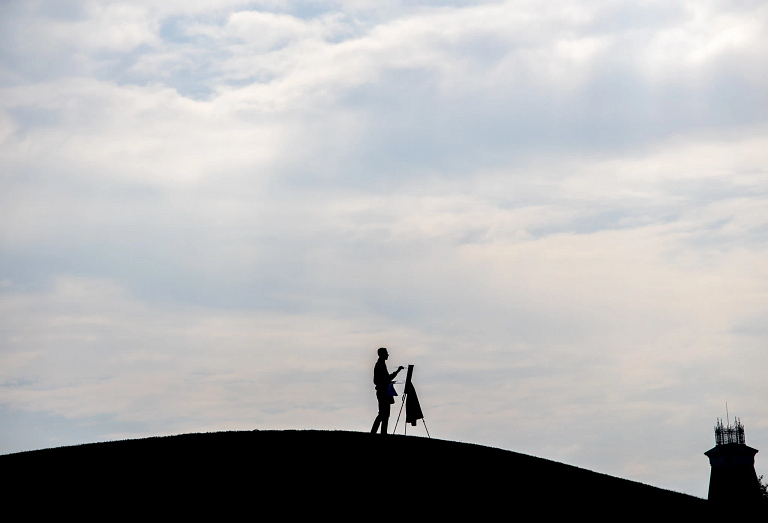 Being immersed in the city's modern art and architecture has always been at the heart of the IU Eskenazi School of Art, Architecture + Design's J. Irwin Miller Architecture program. But it's become even more central to the experience as faculty adjust to teaching during the COVID-19 pandemic.
Visiting professor Pierre Obando walks his students to Mill Race Park to work on the visual studies component of the program. He tries to get them out into the community to draw or paint at least once a week. In addition to reducing risk compared to gathering indoors, it gives students an opportunity to explore foundational concepts in a different way.
"I wanted students to think about space beyond drawing from a model or still life, and go out into an environment which presents space as something unbound that they can frame and conceptualize for themselves," Obando said.
Students explore those concepts as they paint different landscapes and structures in the park. Some focus on the towering trees, while others interpret the covered bridge that crosses a pond. Once their paintings are done, the students line them up on stone steps at the park for critique.
T. Kelly Wilson, director of the Miller Architecture Program, said they ordered lightweight easels and rolling carts to make it easier for students to travel into the community for classes this year. The experience mimics the Nomadic Studio students would typically participate in, if there weren't a pandemic.
"When we go outside to draw, what we're doing is also mimicking what we do when we go to Rome," he said. "While you make drawings, you're also recording, collecting, observing and feeling."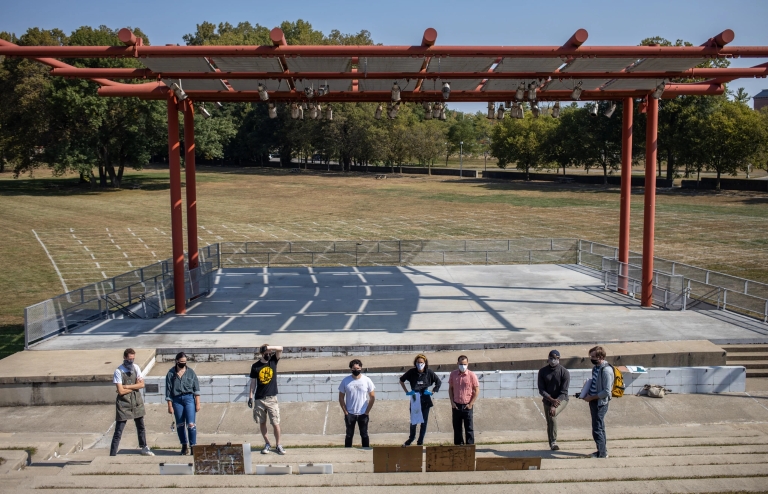 Wilson has taken his students into alleys in Columbus to draw, which helps them explore perspective and scale differently than they would inside a classroom. Holding classes outdoors has also made the program more visible to residents, who occasionally email Wilson after seeing a class at work.
"The people in Columbus, they walk by and they're so thrilled to see the students populating their streets," he said.
Students appreciate the opportunity to come together for studio time and in-person critiques. Adjunct professors Louis Joyner and Roberto de Leon realized this early on and used a Columbus parking garage to safely bring students together for reviews. It was the first time many of the students got together as a group since the start of the pandemic.
Wilson said those types of experiences help hold the cohort together when they have to stay apart in other ways.
"We all have a constellation of colleagues and friends who constantly reinforce who we are, and that what we are doing is valid," he said.