Presidential elections can be a big source of stress any year, but the 2020 election – taking place amidst a global pandemic and nationwide reckoning over racial justice – makes it particularly emotional. With possible delays in results due to the pandemic, and concerns about potential unrest, some people may find themselves feeling anxious for an extended period of time.
"It's not going to be over on Election Day," said Ed Hirt, professor of psychological and brain sciences in the College of Arts and Sciences at Indiana University Bloomington. "Whatever happens that day, be prepared that this will be a process."
In addition to tempering expectations about when the results will be final, Hirt said there are several ways people can help mitigate fear and anxiety related to the election.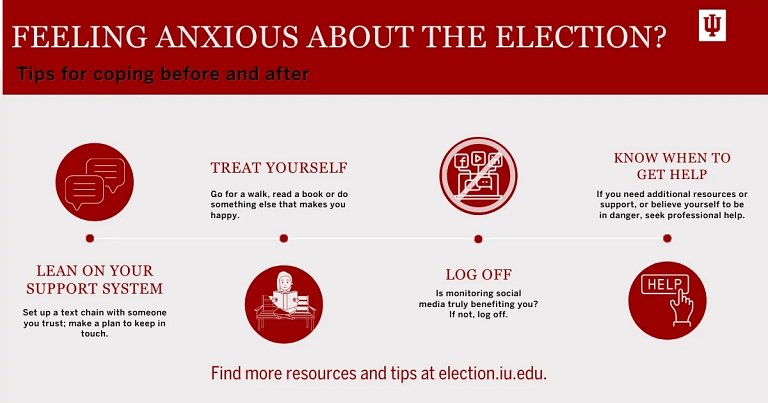 Have a support system
Find a trusted person or group you can lean on when you're feeling nervous or distressed. This could be a text chain with friends, someone in your household who can be by your side on election night or even an online community. Make a plan for how you'll stay in touch on Election Day and the weeks that follow. Embrace your support system and use it.
Do something that makes you happy
When you start to feel anxious, give yourself a break and focus on something you really want to do.
"It's OK to treat yourself to what you need in the moment," Hirt said. "It's really important to nurture those things and not feel guilty."
Go for a walk, read a book or play a game that will temporarily take your mind off the election.
Log off
Hirt said social media has become a difficult place for people on many levels, and that will only be amplified on election night. He suggests asking yourself whether monitoring social media is benefiting you. If not, log off. If you do feel the need to be online, know that it's OK to be a silent observer.
"A lot of times on social media you feel you need to respond to everything you see," Hirt said. "You don't have to get involved. Just take a step back, try not to get upset, come back to it later."
Know when to get help
If your anxiety starts to affect your everyday life and behaviors – you're not sleeping well, you're lashing out at others or you feel out of control – seek professional help. SupportLinc Employee Assistance Program provides 24/7 access to professional counseling and referrals for IU employees, and Counseling and Psychological Services – known as CAPS – offers students virtual visits with counselors.