Halloween is a time of ghosts and goblins, werewolves and vampires, costumes and trick-or-treating. It's also a time when legends about spooky sightings and hauntings are summoned like spirits at a séance.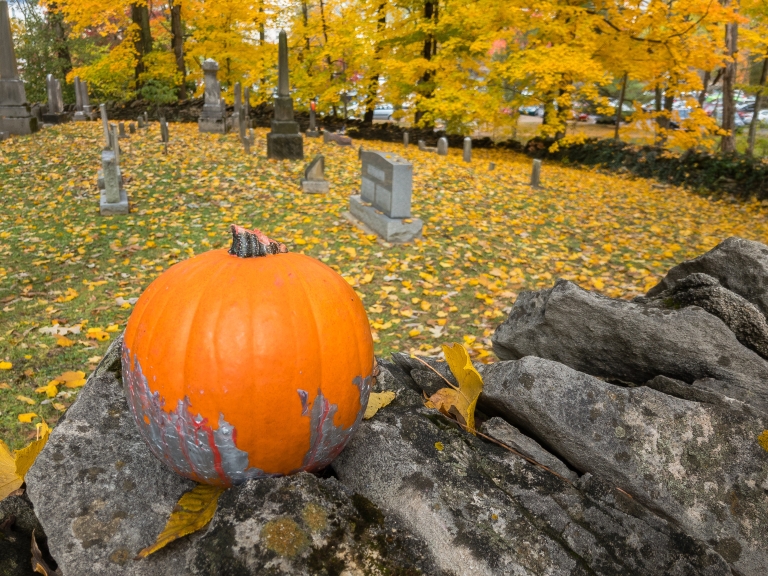 Indiana University has no shortage of such legends on the Bloomington campus. One is that two female students who stayed in McNutt Quad during a Christmas break years ago heard reports on the radio about a hatchet man on campus. One student left to get some food. The other later heard sounds of dragging, thumping and scratching, but thought it was a practical joke. In the morning, she awoke to find police outside her room and the other student dead outside the room, her fingers worn to nubs. And, the hatchet man was never caught.
Another is about the ghost of a young woman wearing a yellow dress who haunts Read Hall. Legend has it that her boyfriend stabbed her to death in a fit of rage after a party and left her in a tunnel that runs underneath Read and Wright quads.
One legend dating to a 1911 account in the Indiana Daily Student tells of a veiled woman dressed in black who followed and terrorized students on Third Street, prompting one student to grab a revolver and try to resolve the matter personally.
For those looking to set a spooky mood for Halloween, Indiana University Archives recently digitized a selection of stories about these campus legends. The stories have been collected by students and faculty in the College of Arts and Sciences' Department of Folklore and Ethnomusicology over the years and shared during Ghost Walks. Those who would like to access the stories should contact IU Archives for assistance.
Campus legends are popular for several reasons, said Moira Marsh, the folklore subject librarian for IU Libraries. They provide not only entertainment but a safe way to discuss the serious topic of death and some of its forms: murder, suicide, accident.
"The other part is telling ghost stories is a social event, always in a group," Marsh said. "One way to become identified as a full-fledged student is to know not only the campus buildings but who the campus ghosts are."
And while similar versions of these legends can be found at other universities, the localization provides greater importance.
"It's a part of IU's heritage," Marsh said.
Another spine-tingling literary option is a new release from Indiana University Press, "No Place Like Murder" by Janice Thornton. The author details the dark and ghastly in recounting 20 sensational crimes that shocked the Midwest between 1869 and 1950.
Faculty and staff can enter a giveaway to win a copy of "No Place Like Murder."
Other recent offerings from IU Press to help set a Halloween mood are "The Spirit of Sadness" by Aimee Pogson, a collection of creepy, magical realism short stories, and "The Legend of Bigfoot" by T.S. Mart and Mel Cabre.