Halloween treats available from IU Catering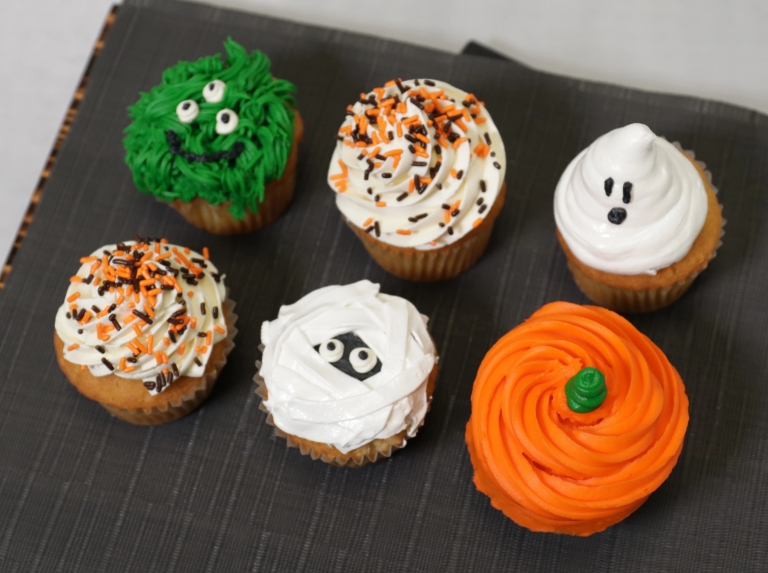 Trick-or-treating isn't the only way to satisfy your sweet tooth during Halloween. IU Catering is offering several Halloween-themed boxes of goodies.
Three types of boxes are available for students, staff, faculty and the public to purchase:
Cookie: Includes six iced sugar cookies.
Cupcake: Includes six cupcakes with a variety of decorations. Choose from vanilla, chocolate or red velvet cake.
Cookie decorating: Includes 12 sugar cookies of assorted shapes, three bags of icing, sprinkles and candy.
Individual cupcakes and sugar cookies can be purchased at Sugar and Spice in the Indiana Memorial Union, and individual sugar cookies can also be purchased on Grubhub. Shipping is available only for cookies.
Stay active with Winter Bike Challenge
Are you looking for incentive to exercise now that it's getting colder outdoors? Consider the Winter Bike Challenge at IU Bloomington.
Participants can ride anywhere, anytime during the challenge, which lasts through Nov. 20. Earn points for riding and the chance to win prizes.
Riders can log their miles with fitness apps and earn points for other activities, such as encouraging another person to ride.
When biking in cold weather, consider these tips about road conditions, clothing and safety.
Virtual series discusses intersection of food and race
The IU Food Institute will kick off its virtual series "Food & (anti-)Race(-ism)" at 9 a.m. Oct. 30. It will feature a conversation between IU Department of Anthropology assistant professor Keitlyn Alcantara and Lauren McCalister, co-owner of 3 Flock Farm and co-founder of The Plant Truck Project.
The intersection of race and food highlights issues of racial inequity in areas such as land access, farming, food processing, and access to adequate and healthy foods.
Register online for the webinar.
Panel to discuss IU's support of innovation, commercialization
Innovative researchers and entrepreneurs with IU connections will speak Oct. 29 about factors critical to their success and how the university can support faculty and students with interests in innovation and commercialization.
The panel will include Richard DiMarchi and Jack Gill, who will receive the inaugural Wylie Innovation Catalyst Medals in a presentation preceding the discussion. Gill is an adjunct professor in the Department of Chemistry in the IU Bloomington College of Arts and Sciences. IU Distinguished Professor DiMarchi is the Linda and Jack Gill Chair in Biomolecular Sciences and the Standiford H. Cox Professor of Chemistry in the College.
They will be joined by Hui-Chen Lu, director of the Gill Center for Biomolecular Science, and Michael J. Mirro, chair of the IU Board of Trustees. Simran Trana, IU associate vice president of innovation and commercialization, will moderate the panel.
The Oct. 29 event begins at 4 p.m. It is free and open to the public, but registration is required.
2 flu shot clinics coming up at Assembly Hall
Two flu vaccine clinics are being offered on the Indiana University Bloomington campus before the month's end: 6 a.m. to noon Oct. 28 and 9 a.m. to 3 p.m. Oct. 31, both at Simon Skjodt Assembly Hall.
Staff, faculty and students whose work or class schedule requires them to be regularly present on campus will be required to get an annual flu vaccine during the fall 2020 semester. To receive a vaccine at a campus clinic at no cost, make an appointment through the Student Health Center's online scheduler.
Those who choose to receive a flu vaccine somewhere other than an IU flu clinic or campus health center will need to fill out the Flu Vaccine Reporting Form to let IU know you have received a vaccination. If you're requesting an exemption, use the exemption request form.
Jacobs School summit kicks off Community Engagement Initiative
The Jacobs School of Music is kicking off its Community Engagement Initiative by hosting the virtual Community Engagement Summit on Nov. 13 and 14.
Three keynote speakers will headline the summit:
Afa Dworkin: President and artistic director of the Sphinx Organization.
Stanford Thompson: Founder and executive director of Play on Philly.
Melissa Ngan: Executive director of the Fifth House Ensemble.
Discussions and workshops that focus on collaborations between Jacobs School faculty, students and community partners also will be part of the summit.
The Community Engagement Initiative is an expansion of an 18-month partnership with the IU Center for Rural Engagement to improve the quality of life throughout rural Indiana through arts engagement.
O'Neill School's Sanya Carley to be honored for her research
The Association for Public Policy Analysis and Management will award the World Citizen Prize in Environmental Performance to Sanya Carley, professor and director of the Master of Public Affairs program in the Paul H. O'Neill School of Public and Environmental Affairs.
Carley's research focuses on advancing the innovation of low-carbon and efficient energy technologies in the electricity and transportation sectors, and has been influential in addressing equity and justice concerns.
The award, granted by David and Joy K. Peyton, will be presented to Carley virtually on Nov. 11 at the Association for Public Policy Analysis and Management's annual research conference.
Luddy researchers receive grant for artificial intelligence institute
Researchers from the Luddy School of Informatics, Computing and Engineering received a $500,000 grant from the National Science Foundation to plan an Artificial Intelligence Institute for Rural Health, Wellness and Resilience.
The goal is to study the opportunities for AI to make an impact on rural health, wellness and resiliency while considering the technical and social challenges. The grant will fund a series of workshops.
Kelley's Institute for International Business marks decade of efforts
People worldwide came together virtually on Oct. 21 to celebrate the 10th anniversary of the Institute for International Business at the Indiana University Kelley School of Business and participate in roundtable discussions about the importance of global connections.
Live panel discussions and breakout sessions with global business leaders originated from Bangkok, New Delhi, Mexico City and Berlin.
The Institute for International Business was founded in 2010 with the hope of taking the very best of Kelley into the world to help others build the capacity to tackle ongoing disruptions and challenges.