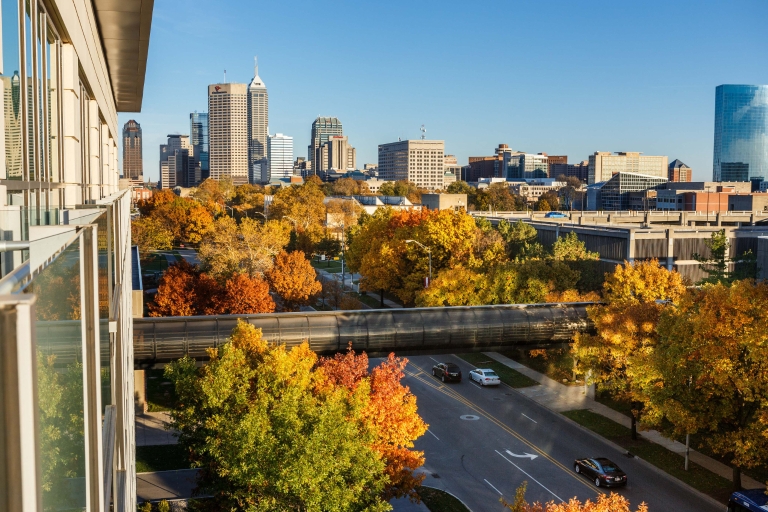 After a Midwestern summer sauna of humidity, the crisp Indiana autumn is a welcome treat.
Fall offers colorful foliage, mild temperatures, comfy clothes, pumpkin-themed everything and one last opportunity to enjoy the outdoors before much of the state goes into hibernation.
While most of us haven't traveled in 2020 because of the pandemic, Central Indiana is a destination with a cornucopia of autumn activities. We compiled some of the best fall fun events for students, staff and faculty to enjoy outdoors.
Pick yourself a pumpkin
For most Hoosiers during the autumn, a weekend visit to a pumpkin patch is a rite of passage. Choosing where to visit can be a tough choice, as a quick Google search reveals over 65 pumpkin patches and apple orchards around Indianapolis. Instead of recommending a specific location, the Pumpkin Patches and More website provides brief descriptions of pumpkin patches, hayrides and the like, divided by county.
Download an IU or IUPUI stencil to bring light to your lantern
Take a trip back in time
Be on the lookout for a Headless Horseman galloping around Conner Prairie's annual fall festival. The living-history museum in Fishers re-creates life in the 19th century and is celebrating the 200th anniversary of "The Legend of Sleepy Hollow" with two corn mazes, one for young children and one that's described as "extra scary." Conner Prairie also offers a hot air balloon ride, haunted hayride and more. Advance tickets are required and can be purchased on Conner Prairie's website.
Road trip to Nashville … Indiana
Nashville, in Brown County, is one of the premier destinations in the state to enjoy the explosion of fall colors. The scenic drive to Nashville, no matter the direction, will be a highlight of red, yellow and orange beauty that you'll experience throughout your visit. Brown County State Park offers immersive trails and nature exploration, while Nashville's rustic downtown features an eclectic group of shops, restaurants, attractions and lodging. While it's a great location to visit any time of the year, Brown County was built for autumn.
A place for nature and the arts
Newfields is home to the Indianapolis Museum of Art northwest of downtown and is hosting Harvest Days and Nights. Harvest Days features themed weekends; activities are aimed for people of all ages with live DJs, pumpkin-painting, a pumpkin treasure hunt and more. Harvest Nights is also welcoming to families and features a nighttime glowing pumpkin display of thousands, eerie activities around the grounds and a festive menu of refreshments. Advance tickets are required for both events and can be purchased on the Newfields website.
Jaguars, tigers and bears … oh my!
The Indianapolis Zoo is again offering its annual ZooBoo event, with opportunities for both children and adults to enjoy the animals. Spooky decor garnishes the zoo as children are encouraged to wear costumes and participate in the trick-or-treat trail with four treat stations. The adults-over-21 trick-or-treat trail is open from 5 to 8 p.m. Fridays and Saturdays. There's also a mystery maze, a merry-go-round that moves in reverse and a spooktacular train ride. The zoo also says that mild fall temperatures mean the animals will be more active. Advance reservations are required for ZooBoo and available on the zoo's website.
Explore the outdoors
The Monon Trail and Eagle Creek Park are two options for exploring the outdoors or working up a sweat. The Monon Trail is a 27-mile paved path for walking, running and biking that runs the distance between downtown Indianapolis and Sheridan, a town north of Carmel. Cutting through Broad Ripple and Carmel, the trail offers a variety of restaurants and shops to explore.
If more seclusion is what you're looking for, Eagle Creek Park is one of the nation's largest city parks with more than 1,400 acres of water and 3,900 acres of forest. The length of the six trails vary from 1.25 miles to 6.75 miles. Kayaks and canoes are available for rent if water activity is on the agenda.
Art scavenger hunt
Take a virtual tour or start a real-life scavenger hunt with Indy Art & Seek, a partnership between Keep Indianapolis Beautiful and the Arts Council of Indianapolis that uses an app to offer a self-guided public art tour. More than 100 public art interventions or "moments of delight" have been commissioned for the interactive experience around Indianapolis.
Herron School of Art + Design at IUPUI is well represented throughout the project, with 15 staff and alumni contributing to the event.