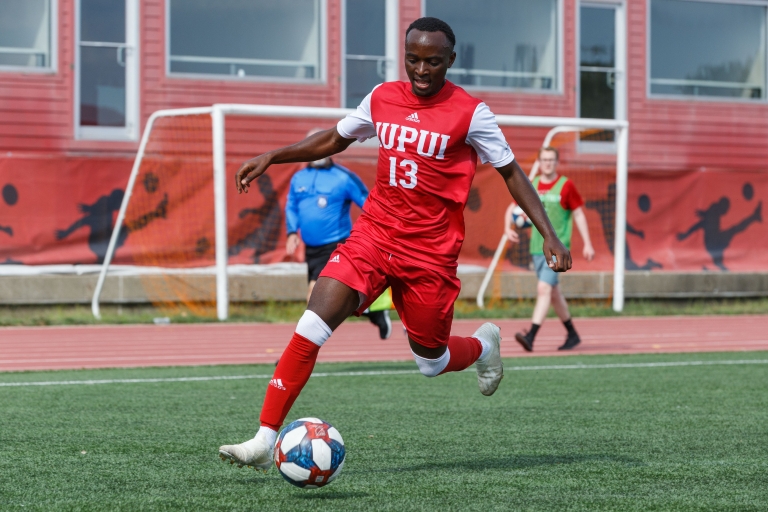 In a normal year, the crisp autumn air and changing colors of the trees would mean Horizon League fall sports tournaments were right around the corner for IUPUI Athletics. Soccer, cross-country, volleyball, golf, tennis and others would be well underway, with competitions dotting the schedule, but the year unlike any other has produced a fall sports season unlike any other.
On July 16, the Horizon League announced that athletic competition would begin Oct. 1, but on Aug. 13, the league postponed all fall sports competition indefinitely. So, at a time when teams would normally be in the rhythm of practices and games, they are instead adjusting to a very different schedule.
Eric Hoffman, a standout on the IUPUI men's cross-country team, has felt the impact of the pandemic twice. After a solid indoor track season, the outdoor season was canceled last spring. After a summer spent training alone, he and his teammates returned to campus without their normal fall cross-country schedule.
"I have been running cross-country since seventh grade, so this would have been my 10th consecutive year – so this cancellation has been a huge change," Hoffman said.
Last season, Valentine Pursey shone for the women's soccer team, racking up team-bests with eight goals and six assists. Her senior season is now on hold.
"Normally, we would have started conference play and would be preparing weekly to win in order to make the conference tournament," she said. "Instead, I am in majority-online school and playing weekly intrasquad scrimmages. We have had to embrace the prolonged preseason grind in hopes we get to play in the spring."
The spring seems distant at the moment. Pursey and the women's soccer team played their final 2019 fall match Nov. 4. Soon, it will be a year gone by without a game, which means practices have been plentiful and the grind has been long.
For the men's soccer team, it has meant training six or seven days a week, but with time for other areas of development.
"We have one day per week dedicated to socially distant socializing to build better relationships within the group," head coach Brian Barnett said. "The other five days are made up of practice and one intrasquad scrimmage per week. I am pleased with our on-field progress thus far and am excited to watch this group grow over the course of the fall semester.
"Additionally, we are dedicating a portion of our time over the course of this academic year to life-skills initiatives relative to diversity and inclusion as well as sexual-assault awareness in an effort to develop great people in our program."
All the practice time can sometimes feel like a burden, and even for Division I athletes, it's difficult to stay motivated when there are no games in sight.
"It has been tough not knowing when we will get to compete again, but we decided as a team to embrace the new and take on a different perspective," Pursey said.
Barnett agrees that the change and long weeks of training is tough, but he has been pleased to see his team come together during the last few months.
"I absolutely love how much they enjoy being together as a group," he said. "I think that their time apart during quarantine made them dial in on what is essential for them as a team; to a person, they want to be together on the field and competing alongside their teammates. I believe that this attitude and mentality will serve our team well as we continue to prepare for what lies ahead."
Pursey has seen the same in her team: "I think the layoff from matches can help us build a stronger connection on and off the field. We have more time to jell as a team and to get to know one another. We have already made great strides the past few weeks, and seeing improvements from your teammates is very rewarding."
For Hoffman, there's light at the end of the tunnel with the newly approved winter cross-country season beginning in January.
"This will make us stronger as a whole, as we continue to keep grinding and help each other be the best we can be," he said. "We look forward to the future and are hungry to get back out there and compete against the best schools in the nation."