INDIANAPOLIS – The Indiana University Robert H. McKinney School of Law has announced a significant $4 million gift from IU alumnus Steve Tuchman and his husband, Reed Bobrick.
The gift will support the creation of an endowed scholarship and an endowed professorship to further the school's commitment to diversity and inclusion.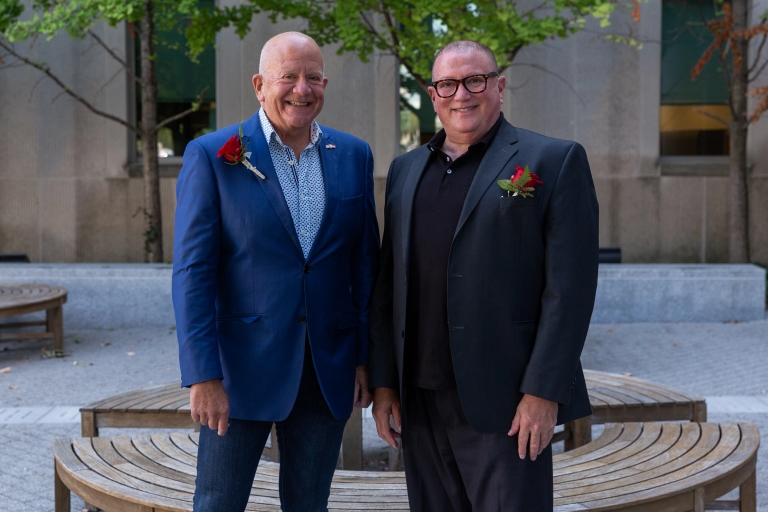 In honor of their contribution, the atrium in the law school building, Lawrence W. Inlow Hall, will be named the Steve Tuchman and Reed Bobrick Atrium.
The endowed scholarship will be available to students pursuing a Doctor of Jurisprudence degree at the McKinney School. Special consideration will be given to underrepresented populations, including – but not limited to – members of the LGBTQ community, immigrants, first-generation Americans, financially challenged students and/or students with diverse cultural experiences.
"Steve thoroughly enjoys being a mentor to IU McKinney law students, many of whom have been so inspiring to us," Bobrick said. "We are especially pleased that the school has had an excellent track record when it comes to issues of diversity, and we are certain that will continue."
The endowed professorship is intended for an individual or individuals whose work is in advancing LGBTQ rights and issues, reproductive rights and issues, and/or immigration law practice and policy.
"Many years ago, I recognized the potential and the value of this law school, located in our state capital, in a city that was beginning to make things happen. It all worked out very well – for Indianapolis, for IU McKinney School of Law and for me," Tuchman said. "Now, the time is right to give back and help plan for the future."
Tuchman, who received his B.A. in 1968 and his J.D. in 1971, is a director with Lewis Kappes. His practice focuses primarily on a wide variety of immigration and nationality issues with vast experience in employment- and family-related matters, employer sanctions, enforcement and removal cases, and naturalization cases.
His awards and recognitions from the university and the state are numerous. In 2004, he was named a Sagamore of the Wabash. In 2014, he was awarded the Hine Medal for significant impact to the IUPUI campus. In 2015, he was designated as the Alumnus of the Year by the Indiana University GLBT Alumni Association, and in 2018 he was inducted into the Indiana University Presidents Circle.
In addition, Tuchman has been a commissioner on the Indianapolis Historic Preservation Commission and is active in the Indianapolis arts community, having served as a commissioner on the Indiana Arts Commission and as chairman of the American Cabaret Theatre's board of directors and by representing clients in the sports and entertainment fields. He serves as the honorary consul for Denmark in Indiana and Kentucky and has been knighted by Her Majesty Margrethe II, the queen of Denmark. He was also recognized by the McKinney School of Law at the 2019 IUPUI Spirit of Philanthropy luncheon.
Tuchman and Bobrick previously made a substantial gift commitment to the McKinney School in 2013 to create the Tuchman Bobrick Scholarship. Bobrick is a graduate of Clark University and a founding partner and the principal designer for Misch Bobrick Design LLC.
"We intend this gift to ignite the potential for further growth and opportunity among students and faculty at IU McKinney," Tuchman said. "It is up to the fantastic stewards of the future to make good use of this gift and continue the progress that has been made. We are pleased to be part of that effort."
This gift counts toward the $3 billion For All: The Indiana University Bicentennial Campaign.
What they are saying
"On behalf of IUPUI, I want to thank Steve and Reed for this generous gift that reflects how deeply we value diversity and inclusion on our campus. The combination of an endowed scholarship and an endowed professorship that the gift supports will open doors of opportunity for students and faculty alike to further strengthen the McKinney School of Law as a destination for those committed to social justice and equity for all." – Nasser H. Paydar, chancellor, IUPUI
"This generous and historically significant gift has the potential to be truly transformational for our law school. Each year, IU McKinney produces legal professionals and future leaders who contribute to their communities, the state of Indiana and the world. We are delighted that Steve and Reed have chosen to invest in that future and that their generosity will be recognized within Inlow Hall. I look forward to the daily reminders of their generosity as I walk through our magnificent Atrium." – Karen E. Bravo, dean, McKinney School of Law
"Steve and Reed have been unfailing in their support of our students for many years. We are very grateful to them for being such remarkable role models, for their past generosity and for this new gift which will have a lasting impact." – Andrew R. Klein, Paul E. Beam Professor of Law and dean emeritus (2013 - June 30, 2020), McKinney School of Law
"Steve and Reed are providing a transformative gift to the McKinney School. They are providing support for the two key pillars of excellence: faculty and students. By supporting faculty who focus on teaching and research on matters related to social justice and by providing scholarship assistance for LGBTQ and other underrepresented students, this gift provides visible reinforcement of the school's values. And having Steve and Reed's names associated with the McKinney atrium will inspire and bring a sense of pride to all students, staff and guests who frequent that stunning space." – Dan Smith, president and CEO, Indiana University Foundation
About IU McKinney
Located in the heart of downtown Indianapolis, the IU McKinney School of Law has enjoyed great success in preparing students for legal careers for 125 years, as evidenced by the presence of alumni in the judiciary and other branches of government, business, civic leadership and law practice. The school's 12,000-plus graduates are located in every state in the nation and several foreign countries. More information is available at mckinneylaw.iu.edu.