The new Collections, Teaching, Research and Exhibition Center at Indiana University will have fully equipped galleries and spaces, thanks to a grant from the Allen Whitehill Clowes Charitable Foundation.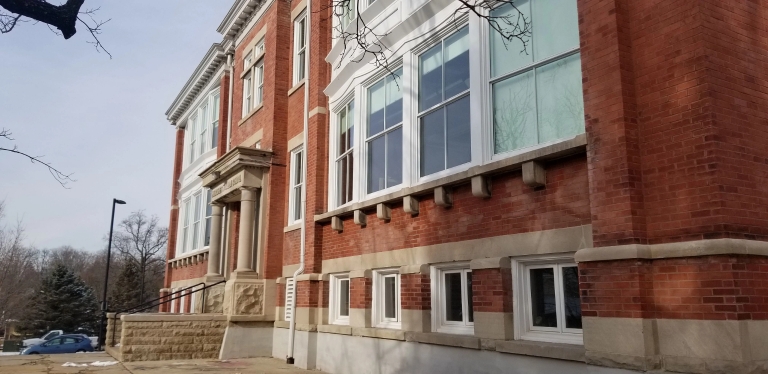 The $100,000 grant will provide portable audiovisual equipment that will be deployed throughout the center's seven gallery spaces to supplement physical exhibits; one permanent media gallery; and technology kiosks that will feature samplings of films, videos and audio reels from across IU's collections. That includes audiovisual material digitized as part of IU's extensive Media Digitization and Preservation Initiative.
Announced as part of IU's first University Collections Strategic Plan, the Collections, Teaching, Research and Exhibition Center will serve IU's 242 collections, which span the arts, humanities and sciences. The center will be housed in the historic McCalla building on the IU Bloomington campus, following a $6 million renovation funded through support from the state of Indiana and scheduled for completion in summer 2021.
"We are so thankful to the Allen Whitehill Clowes Charitable Foundation for this grant that will allow us to purchase valuable equipment for the new Collections, Teaching, Research and Exhibition Center in Bloomington," said Heather Calloway, executive director for university collections at IU. "This innovative and unique center will provide a focal point for IU collections engagement through shared resources and infrastructure in a location easily accessible to faculty, students and visiting researchers."
The Collections, Teaching, Research and Exhibition Center will take an interdisciplinary approach that few universities – indeed, few collections anywhere – can offer.
"It will allow IU not only to give new life to precious holdings, but also to enhance their impact by enabling learning and research opportunities, whether for IU students and faculty, primary and secondary schoolchildren, or community members from southern and central Indiana," Calloway said.
Teachers, students and community members will be able to handle and study primary source materials, while the flexible performance space will bring together community members for special events. The center's gallery and media space will accommodate permanent and temporary exhibits that can be curated with IU museums and archives, faculty, students, and community collaborators across the state. These exhibits will allow for engagement across collections and provide valuable training opportunities for those interested in acquiring exhibit design experience, including students in IUPUI's Museum Studies program in Indianapolis and the IU Bloomington Curatorship Program.
The center also will house University Collections staff members, who serve all IU campuses. University Collections is a part of the IU Office of the Vice President for Research.
About University Collections
University Collections ensures proper stewardship of collections materials that are essential to the research, teaching and public service goals of Indiana University, making these university resources available to students, faculty and the community. University Collections works with collections managers on all IU campuses in establishing and updating policies, including collections management plans, collection development policies, accession and deaccession policies, and emergency preparedness plans. University Collections also guides university archival standards; supports collections-based grant activity; and oversees collections discoverability via web presence, efficient content management and public outreach.
April Toler is senior associate director of research communications for the Office of the Vice President for Research.