Have your COVID-19 questions answered in an 'Ask Aaron' webinar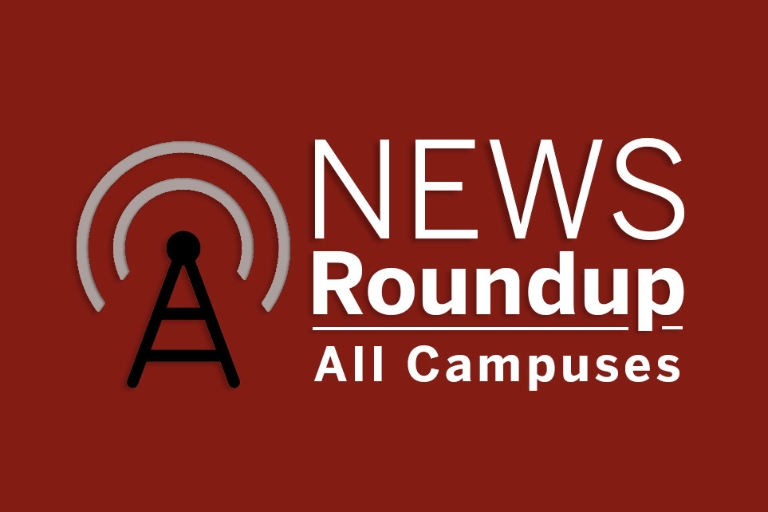 Students, faculty and staff from every IU campus who have COVID-19-related questions can have them answered in an upcoming webinar by Dr. Aaron Carroll, one of the leaders of Indiana University's COVID-19 Medical Response Team.
The next webinar is at noon Nov. 18. Three are planned next month: Dec. 2, 9 and 16. Additional "Ask Aaron" webinars are being planned through the remainder of the academic year.
The live Q&A sessions will include topics such as:
Testing updates and understanding the dashboard.
Keeping healthy this flu season.
Ending in-person classes and heading home safely.
Visit covid.iu.edu for the latest updates.
Madeleine Albright headlines America's Role in the World conference
The Indiana University Hamilton Lugar School of Global and International Studies' sixth conference on America's Role in the World will pay tribute to former U.S. Rep. Lee H. Hamilton, one of the school's namesakes and an exemplar of placing principle over politics for more than 50 years.
The nonpartisan event – unique to higher education – will take place virtually Dec. 1 and 2, as the U.S. is going through a presidential transition. Special guests include former Secretary of State Madeleine K. Albright, former National Security Advisor Stephen J. Hadley, former Directors of National Intelligence Dan Coats and Lt. Gen. James Clapper, Rohingya Burmese activist Wai Wai Nu and PBS Newshour anchor Judy Woodruff.
New platform aids research of environmental change data
Researchers in Indiana now have one place where they can sift through all the environmental change data, such as land use maps, tree canopy imagery and species distribution charts.
This fall, the Indiana University Environmental Resilience Institute, part of IU's Prepared for Environmental Change Grand Challenge initiative, launched the ERI Data Platform, an open-data tool where users can explore environmental change data in new ways.
The platform gives users the ability to overlay national, global and Indiana-specific datasets, add new data and navigate to geographic areas of interest.
Tourism technology takes IU Kokomo students around the world
Feel like watching the sun set over the Seine in Paris from the top of the Eiffel Tower? Or maybe viewing the pyramids in Egypt from the back of a camel?
In one Indiana University Kokomo class, that's just a Thursday.
Heather Kennedy-Eden, assistant professor of hospitality and tourism management, demonstrated how, when people can't travel to tourist destinations, the sites come to them. And using just a cellphone and a pair of cardboard goggles brings it all to life.
Take advantage of free LinkedIn Learning access
IU Human Resources has partnered with LinkedIn Learning to offer students, faculty and staff free access to 15,000 expert-led courses and videos on skills related to your area of study or interest.
Popular courses include:
Mental health while working from home.
Supporting the whole self at work.
The six morning habits of high performers.
Confronting bias: Thriving across our differences.
Body language and women at work.
Strategic thinking.
Skill-based courses such as Zoom, Microsoft, Adobe.
Access LinkedIn Learning using your IU login credentials on One.IU.
IU Northwest chancellor to serve urban, metropolitan universities on committee
Indiana University Northwest Chancellor Ken Iwama was recently named to the executive committee of the Coalition of Urban and Metropolitan Universities, the longest-running and largest organization committed to serving and connecting the world's urban and metropolitan universities and their partners.
Members of the executive committee are presidents and chancellors of coalition member institutions and are elected to serve two-year terms in their respective positions.
IU Southeast research center aids Scott County with strategic plan
IU Southeast's Applied Research Education Center has presented "Forward Together," a report that establishes baseline data to guide future community and economic development efforts in Scott County, Indiana.
The report, commissioned by the Scott County Community Foundation and funded by Lilly Endowment Inc., draws upon exhaustive surveys of 407 residents and conversations with two dozen people, including community leaders, to present a picture of Scott County that is both informed and hopeful, while acknowledging current and future issues.
It will be used to inform a new strategic plan for the county.