A group of Indiana University Bloomington students who are passionate about promoting mask-wearing to stop the spread of COVID-19 are playing a key volunteer role in a community effort to provide people with masks.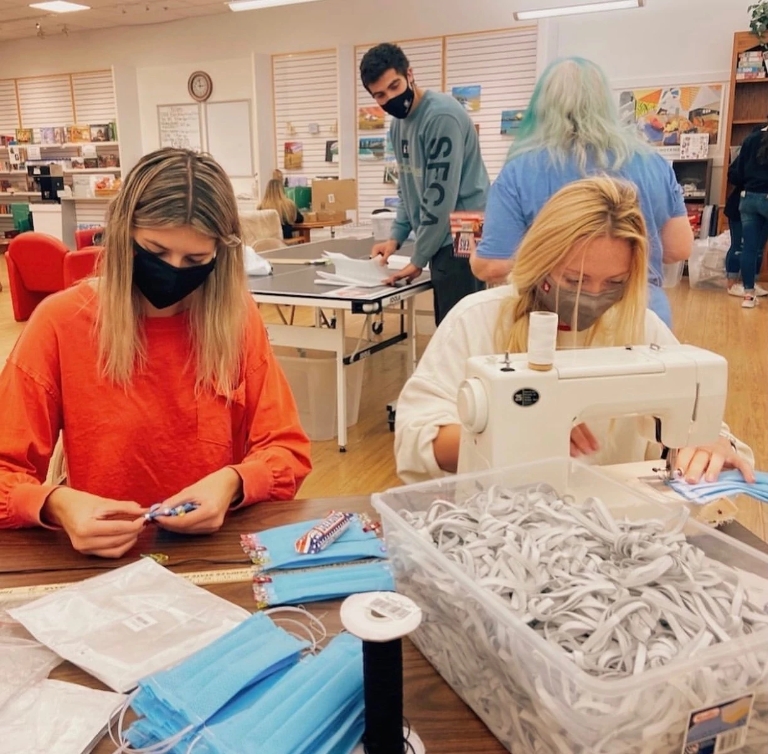 The Mask Project at IU, involving nearly 80 students who are mostly on pre-medicine or pre-health tracks, has been helping Bloomington Mask Drive make, package and distribute masks since mid-September. They are free for any person who needs one and available at eight locations across Bloomington, including the Forrest Avenue entrance to Luddy Hall on the IU campus.
Bloomington Mask Drive co-founder Kelly Clark said the contributions of the students cannot be overstated.
"They will do anything we ask them for, and they can always fit it into their schedules, and they are so willing to help and so flexible," she said. "They inject so much energy into Bloomington Mask Drive."
The community initiative started in March as a partnership between Clark, a physical therapist, and Nola Hartman, a member of the Bloomington Quilters Guild, and has resulted more than 38,000 masks made.
Sophomore Arianna Smith said she cares about community health and felt a responsibility to get involved in the fight against the pandemic, so she started The Mask Project at IU. It was born out of a positive experience she had with a similar initiative earlier this year.
After returning home to Crown Point, Indiana, in March, when the pandemic prompted IU to send students home and shift classes to online instruction, Smith volunteered with NWI Masks. The initiative in Northwest Indiana provided personal protective equipment to essential health care workers.
When Smith returned to IU in the fall, she wanted to do something similar here. An online search for local mask initiatives revealed the Bloomington Mask Drive. Smith contacted Clark, and they discussed how IU students could help. That prompted Smith to create The Mask Project at IU.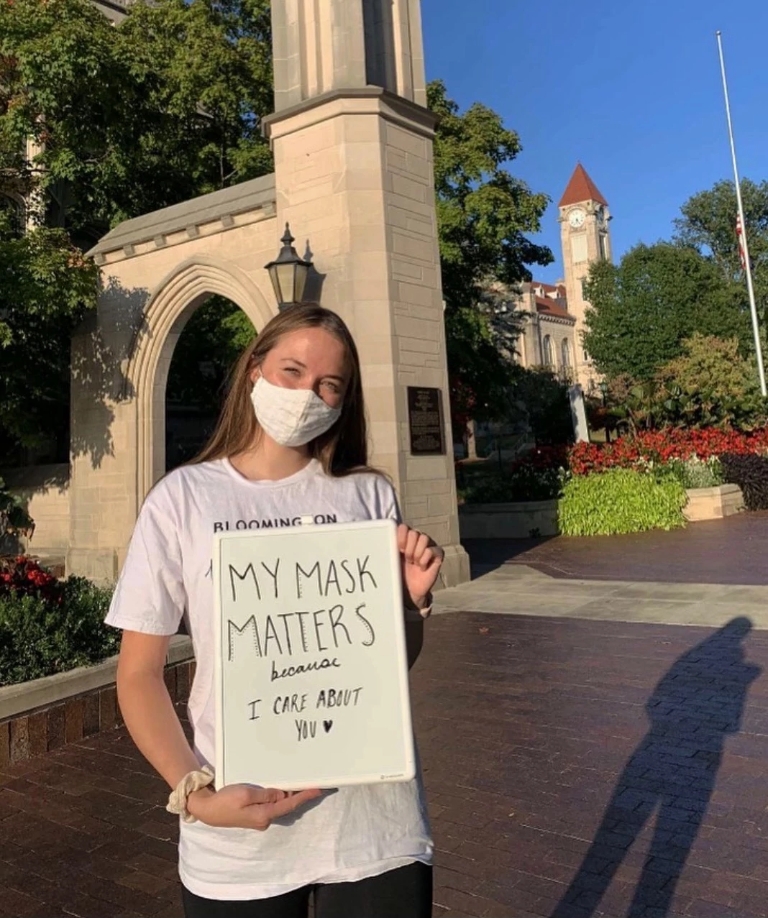 Smith used social media to attract students to her project, which is primarily focused on assisting Bloomington Mask Drive.
The students sew, sort and package the masks. They deliver materials to those who sew masks and take finished masks to the distribution locations. They also promote Bloomington Mask Drive on Instagram.
"It's been the most valuable experience I've had in my life," Smith said.
Marlee Vinson, a sophomore and neuroscience major, said she wanted to play an active role in ending the pandemic, and helping with a mask initiative was one way to contribute.
"In my opinion, wearing a mask is an act of love to those around you; it's like saying, 'I see you, and I'm trying to protect you' to every single person you come in contact with," Vinson said.
She's sewn masks, sorted them, tested the elastics, packaged masks, prepared the distribution bags and distributed masks.
"This makes me feel that I am making a difference in the community," Vinson said.
Sophomore Lenna Gottschild joined The Mask Project at IU because she had been wanting to make masks since the start of the pandemic and saw it as an opportunity to learn the mask-making process. She also likes that the project benefits the greater health and community of Bloomington.
"Getting to spend a few hours a week socializing and doing something productive does good to the soul," Gottschild said.
The Mask Project at IU also has a campus initiative called "My Mask Matters." Other IU students are asked to write on a white board why their mask matters and a social media post is created, all to promote a mask culture on campus and foster empathy, Smith said.
"We are a group of students who care about wearing masks and promoting safety on and off campus," Smith said.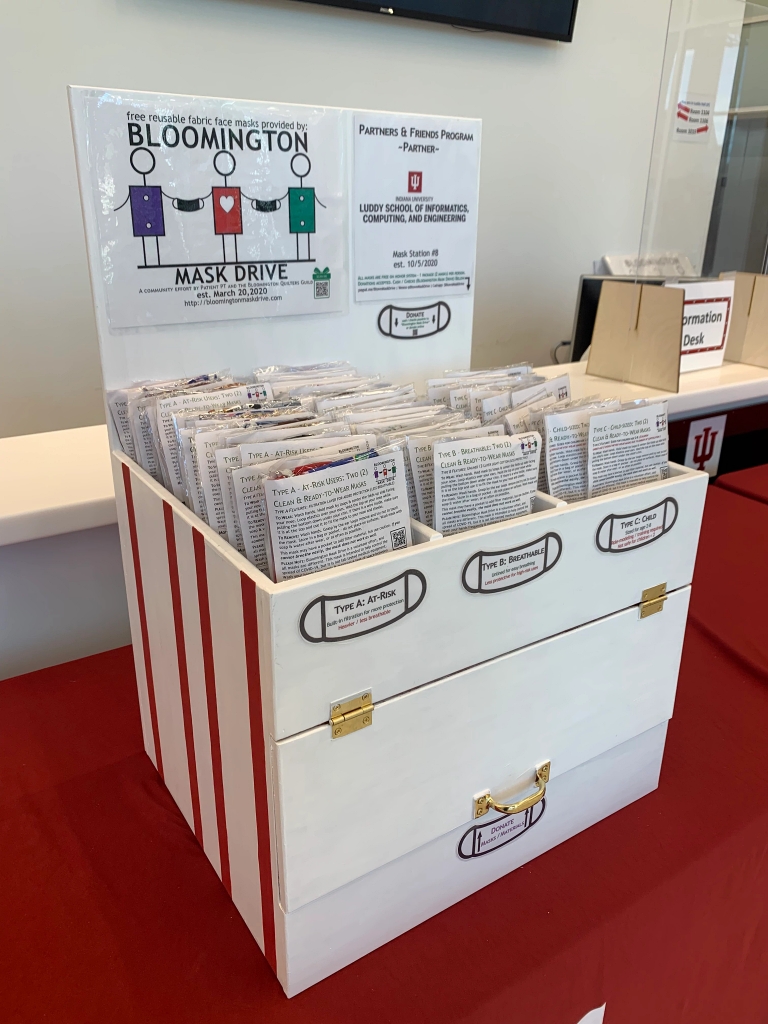 That care also is demonstrated by some IU employees who have volunteered with Bloomington Mask Drive, and helped secure Luddy Hall as a distribution location.
Benita Brown and Lynne Mikolon, who both work in the Luddy School of Informatics, Computing and Engineering, and are experienced at sewing, started making masks for Bloomington Mask Drive in March.
"Making fabric masks lets me be creative and helpful," Brown said. "Having an interesting mask might just encourage people to wear them, which is beneficial to all of us."
Clark said Brown and Mikolon approached Jill Clancy, an event planner for the Luddy School, about using the building as a place to distribute masks.
"Luddy is a great place to have masks available on campus so that anyone can come by and pick one up," Mikolon said.
Clancy, who helps by buying and cutting fabric for Brown and Mikolon, worked with Bloomington Mask Drive to establish Luddy Hall as a distribution point. Near the entrance sits a large self-serve box – painted by Clancy – with the masks and signage, as well as information about Bloomington Mask Drive. It also has slots for monetary and fabric donations.
"It's worked really well so far," Clancy said.
Kell Mirowski, a Bloomington Mask Drive volunteer who works part-time for IU in the College of Arts and Sciences, has helped Clark by leading coordination efforts with The Mask Project, allowing Clark to return to patient care at her clinic.