In a year of great change, Indiana University Bloomington faculty, staff and students can look forward to a campus tradition that signals the approaching winter holiday season.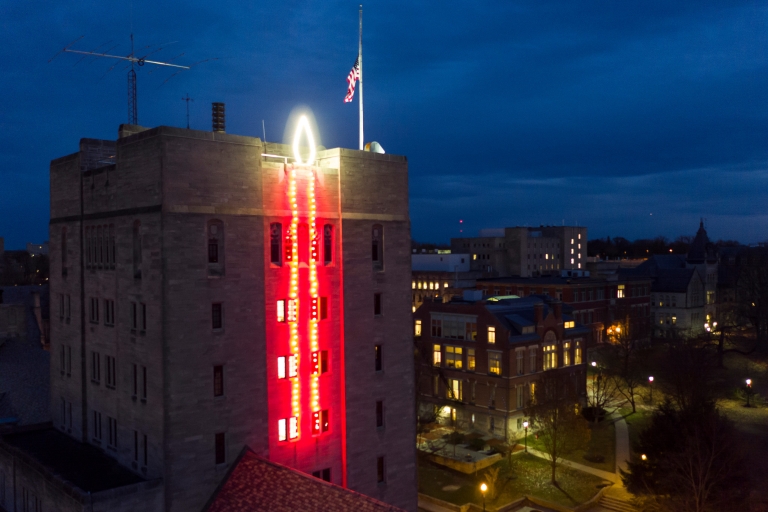 The 52nd lighting of the candles on the façade of the Indiana Memorial Union is set for 7 p.m. Nov. 17 – just a little more than a week ahead of Thanksgiving.
It's also somewhat of a sendoff. In-person classes end Nov. 20 as IU switches to online-only instruction from Nov. 30 to Feb. 7, as part of the university's COVID-19 safety precautions.
Kaila Messereli, program coordinator for the Student Involvement and Leadership Center, said IU was determined to continue the candle lighting tradition.
"I don't think canceling it was ever up for debate," she said. "We had an enhanced candle lighting ceremony last year, and we wanted to keep the momentum going. So many people enjoyed it last year that we wanted to bring some light to this year.
"We debated how to do it: completely virtual or in person. We settled on a hybrid model."
The event will be shown live on the IMU Instagram account, although people can attend in person. A video of the event will be saved on the Instagram account.
However, this year's lighting of the candles will be scaled down from last year, when "Light Up the Night" featured hot chocolate, cookies, an ice rink and a cappella singing groups. IMU Executive Director Hank Walter, Dean of Students Dave O'Guinn and Union Board President Teja Vontikommu will give brief remarks before they press the ceremonial button that lights up two candles.
One candle is 80 feet tall and features 150 red and 33 white LED bulbs. The other candle is 60 feet tall and features 88 red and 34 white LED light bulbs. Additional special up-lighting will be added around the IMU throughout the evening of the lighting ceremony, Messerli said.
Members of the campus's facilities and maintenance teams have been preparing and setting up for the candle lighting ceremony since September, she added.
The candles traditionally remain lit until just after New Year's Day, and they'll be taken down after the holiday season this year.