BLOOMINGTON, Ind. – As food insecurity rises among older adults in the United States, a new study from Indiana University is uncovering factors that prevent older residents from accessing the food they need.
Little research has been done to understand how lower-income older adults manage to meet their food needs – or don't – especially in rural areas. The IU study, conducted by the Sustainable Food Systems Science Initiative in partnership with the IU Center for Rural Engagement, relies on 10 public discussions in fall 2019 held in Crawford, Greene, Lawrence and Orange counties to learn more about food provisioning methods – the ways that seniors "make do" with the food resources they have.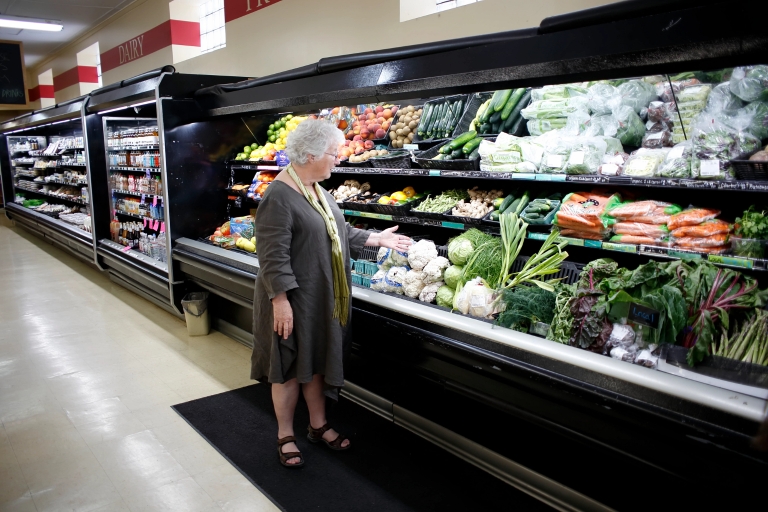 To further assess the impact of the COVID-19 pandemic on food provisioning, the research team also surveyed 5,000 households in lower-income census tracts across Crawford, Greene, Lawrence and Orange counties during April, May and June 2020.
Seniors who participated in the discussions and survey reported that living alone decreases their motivation to prepare balanced meals and reduced joy from eating. The COVID-19 pandemic has exacerbated those feelings, the survey found, significantly increasing seniors' feelings of loneliness, making them feel left out and isolated.
While 23 percent of those surveyed felt "left out" often or sometimes before the pandemic, 40 percent felt so after it began. Similarly, 7 percent felt "isolated" often or sometimes before the pandemic, but 61 percent felt so after the pandemic started. And while 25 percent felt they "lacked companionship" often or sometimes before the pandemic, 42 percent felt so after.
"The jump in loneliness indicators with the onset of the pandemic was perhaps the most concerning finding," said Dan Knudsen, professor emeritus in the IU Bloomington College of Arts and Sciences' Department of Geography, and affiliate faculty with the Critical Food Studies Laboratory at the IU Food Institute and the Center for Rural Engagement. "The sharp increase in feelings of isolation may speak to a need for a concerted mental health push this winter, a season that is bad generally for seniors, and with the prospects for a 'twindemic' may be devastatingly so."
In contrast, seniors who live with children and/or grandchildren explained that sharing in shopping and cooking routines and eating together with families helped them to eat better.
"Congregate meals, like those offered at senior centers or churches, where people can share a meal and engage socially with others, are hugely appreciated by the seniors we interviewed," said project partner Phil Stafford of Commons Planning Inc. "However, many communities have seen these meals dwindle, and even regular meal services like Meals on Wheels have reduced deliveries to frozen meal packs twice a month in some areas."
Transportation is another major barrier to food access for older rural residents who no longer drive. Public buses are few or non-existent, rural transit is limited, and Medicaid cab services will provide rides only to a medical appointment for those who qualify. Seniors rely on family members, neighbors and friends for rides, but they sometimes cannot afford what a driver might ask them to chip in. A ride-share network could offer access and cost-effective opportunities for seniors, the researchers suggest.
For older residents who are watching their budgets or on fixed incomes, it is typical for food to rank as a lower priority than rent, utility and medical payments. Seniors navigate food assistance programs including local food pantries and food box drops, but residents interviewed reported that the Supplemental Nutrition Assistance Program (or SNAP, commonly known as food stamps) is complicated and limited to about $13 to $15 per month in benefits on average, pre-COVID-19.
"SNAP and other programs often involve paperwork that discourages participation given the low benefit amounts, the costs of getting to welfare offices, and perceptions of need and eligibility," said Angela Babb, assistant scientist at the Ostrom Workshop, director at the Critical Food Studies Laboratory and faculty affiliate at the Center for Rural Engagement.
As a nutritionally vulnerable population, seniors have distinct food needs to manage health conditions such as renal disease, heart disease, type 2 diabetes, and high blood pressure or cholesterol. They are often prescribed foods low in sodium, sugar or phosphorus or high in potassium or calcium, which are largely not available to them through food programs.
The survey indicated that those who struggled with food security before the COVID-19 pandemic continued to do so, and those who were food secure largely remained food secure. However, food provisioning strategies changed significantly.
In the case of food sources, there was a dramatic decline in the reliance on restaurants and food directly received from farmers, and a corresponding increase in provisioning from grocery stores and supermarkets, delivery services and relatives, friends and neighbors. The frequency of provisioning also declined, from multiple times per week and weekly to biweekly and monthly food provisioning.
The research team will continue to analyze the survey results in the coming months as they begin the third phase of analysis to gain additional insights into regular food provisioning routines among food-insecure seniors in the region. The study will conclude in summer 2021 with a series of workshops to devise strategies to relieve food insecurity among senior citizens in the region.
This study is part of the IU Center for Rural Engagement's efforts to improve the health and resilience of Indiana's rural communities and develop replicable initiatives for communities across the nation. Additional funding for the COVID-19 pandemic survey came from the IU Office of the Vice President for Research.
IU Research
IU's world-class researchers have driven innovation and creative initiatives that matter for 200 years. From curing testicular cancer to collaborating with NASA to search for life on Mars, IU has earned its reputation as a world-class research institution. Supported by $854 million last year from our partners, IU researchers are building collaborations and uncovering new solutions that improve lives in Indiana and around the globe.