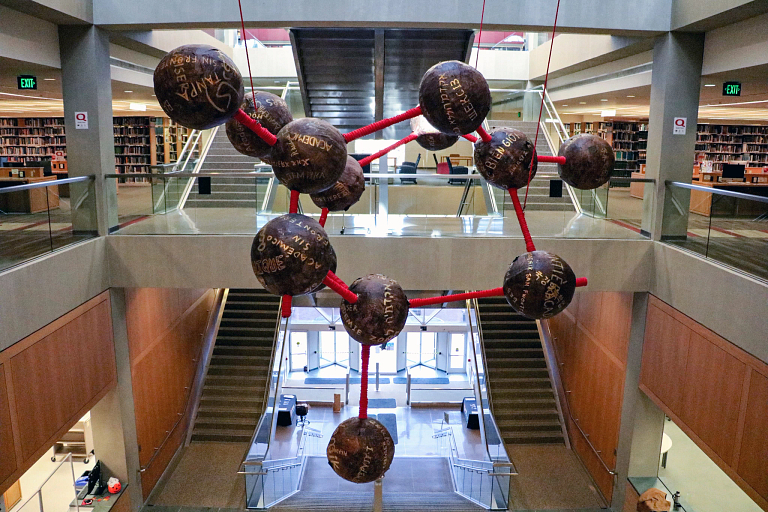 As an international student at IUPUI, Xiaoman "Joy" Gu has always found University Library to be a comfortable space. She especially noticed the language section had a buzz of activity, serving as a sort of hub for fellow students from around the world.
The senior in the Herron School of Art and Design turned that perception into an idea for a piece everyone in the IUPUI community can enjoy – just look up the next time you walk into the library's atrium.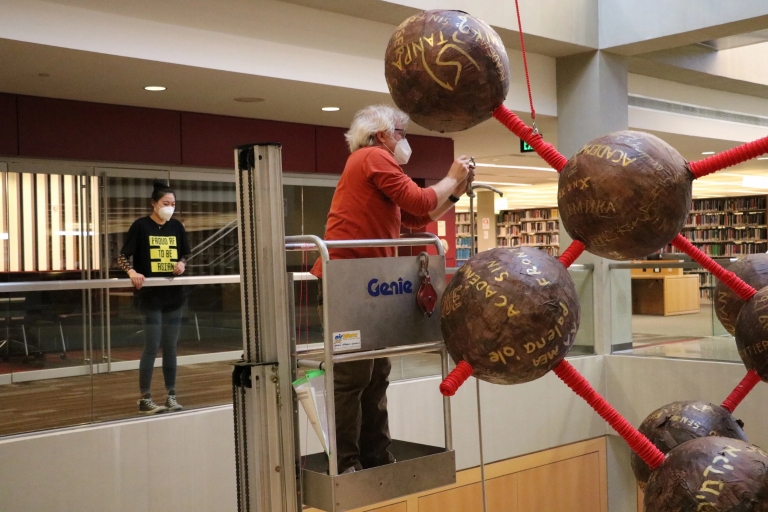 Inspired by the chemical formula of a diamond, Gu's "Academic Without Borders" is a 250-pound "molecule" with 1.5-foot-diameter sphere papier-mache "atoms" bound to each other by aluminum pipes wrapped in red yarn, symbolizing the desire to learn that is inherent to humanity. The spheres have the text "academic without borders" written in several languages that can be heard around IUPUI.
"This was a form that represented the different ideas I had in my mind," said Gu, who is pursuing a degree in fine art in the school's Integrative Studio Practice program, with concentrations in sculpture and printmaking. "I was really excited to see it in the library space."
Gu's installation, hung from the atrium ceiling last month, is the latest in a long partnership between Herron and University Library. Each year, students in Herron's intermediate and advanced sculpture class create proposals for the atrium, through which they learn about public art and how to propose and commission such works.
Students present their proposals, including scale models, a year in advance to a selection committee that includes Herron and University Library personnel as well as representatives from the Barbara B. Fischler Society, which provides financial support.
"Joy created a visually compelling model and provided a strong perspective on how her work would activate the space and engage the different audiences that utilize the library," said Greg Hull, interim dean at the Herron School of Art and Design and Valerie Eickmeier Professor in Sculpture. "'Academic Without Borders' speaks to the power of creativity, innovation and education as vehicles that connect us all, and it supports an openness that crosses cultural and ideological boundaries."
Sculpture professor Eric Nordgulen served as Gu's primary faculty contact, helping navigate the challenges of creating the final product. The piece had to fit a number of parameters for the space, namely weighing no more than 400 pounds, hanging at least 10 feet off the floor and staying out of reach of the upper-floor handrails around the atrium.
The piece will hang in the library until next fall, when another student's work will go up.
"While only one student is ultimately commissioned each year, the entire class learns and works together throughout the process," Hull said. "Every year, our students look forward to reimagining work for this unique and highly visible space. This is a collaboration we greatly value and hope will continue for many years."