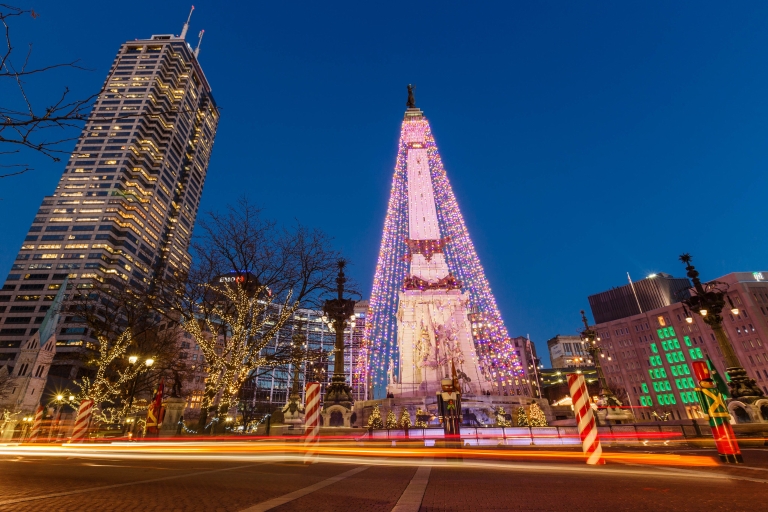 2020 has been a tough year for all of us. With health and safety limitations in mind because of the COVID-19 pandemic, we collaborated with Healthy IU to gather wellness tips and ideas for safe activities this holiday season.
"This year, people have really focused on the idea that our health is our wealth," said Julie Newsom, communications specialist for Healthy IU. "Finding activities that are safe and healthy for you to keep enjoying time with family – and maybe pass down those health habits to kids – is the best gift you can give for a life they can enjoy."
Outdoor lights
Holiday cheer is just a quick drive away in Central Indiana, with a variety of options to view festive lighting.
Christmas at the Zoo and Winterlights at Newfields are ticketed activities for those looking to stretch their legs. The outdoor, walkable attractions provide interactive options for Christmas light-gazing up close.
For those looking to stay in their car, the free Circle of Lights on Monument Circle is an annual tradition for many Hoosiers. A video-projection show synchronized to music was added in 2019. The 5-minute holiday presentation around Monument Circle runs nightly at 6:30, 8 and 10 p.m.
Another vehicle-based option is Christmas Nights of Lights at the Indiana State Fairgrounds. It's a ticketed, drivable show that features over a million lights along the path.
Recipes for enjoyment
For some, eating is the highlight of the holiday season, with a plethora of baked goods and delicious meals. This year at home, you can spend time making the traditional eats or try new recipes. Healthy IU offers a databank of recipes on its website, separated into sides, appetizers and snacks; main dishes; and desserts. The most popular recipe is a healthier peanut butter chocolate chip date cookies treat.
Looking forward to new year's resolutions, IU employees and their spouses have access to one-on-one nutritional counseling through registered dietitian Steven Lalevich, who has also created a "Healthy Holiday Recipes" document for those searching for inspiration.
Taking care of your mental health
As an emotionally taxing year concludes, there's hasn't been a better time for a self-assessment of your mental well-being. While the holidays can be jubilant for some, they can be difficult for others. Healthy IU's "Holiday Survival Guide" presentation recording (free sign-in required) addresses holiday stress and shares strategies for coping and managing emotions, time, relationships and finances.
Healthy IU created a three-week online Creative Self-Care: Art, Music and Writing for Well-Being challenge this semester and featured 14 different activities as part of the program. Centered in art-making, art viewing, music and writing, the challenges offers individual activities for the user to complete such as an affirmation trading card and music listening self-assessment.
Additionally, SupportLinc is a confidential service that provides 24/7 access to professional counseling and referrals. It's a free resource to all employees, IU residents, graduate appointees, fellowship recipients and their household members.
Staying active at home
Physical activity is important to maintain wellness, and with fewer opportunities to venture outside because of chillier temperatures, Healthy IU has resources for those looking to work up a sweat without visiting a gym.
IU Rec Sports in Bloomington has an archive of group exercise videos on topics such as cardio, circuits, dance, flexibility and strength, mix and match, quick tips, strength and cardio, strength, tai chi, and yoga.
IUPUI Campus Recreation offers a rotating schedule of live classes via Zoom. Registration is required but available for the following classes: HIIT (high-intensity interval training), Butts and Guts, Core, Pound, Power Yoga, WERQ, Yin Yoga, and Yoga.
If you aren't looking for home workouts this winter, look for chances to get sunlight. One of the biggest deficiencies people face in the winter is a lack of Vitamin D, which is best obtained through sunlight. If you have an opportunity to go sledding or go for a walk, bundle up and try to get some mood-boosting Vitamin D.
Bonus wellness tips
While not solely focused on the holidays, Healthy IU's website is rich with helpful content and resources. The Work + Life page offers a wide range of empowering and insightful webinars and supplemental information for topics such as new parents, caregivers, mental health and many other topics.
Healthy IU provides additional resources such as environmentally sustainable holiday ideas and a page specifically related to COVID-19 and personal well-being.
Here's to a safe and health holiday season to all!