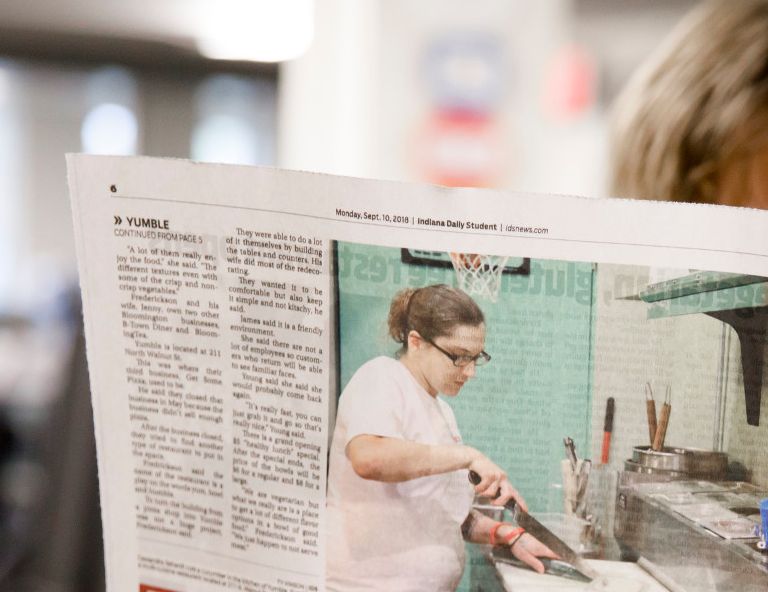 The holiday season is a time of giving. But beyond beautifully wrapped gifts placed under a tree, it's also a time to donate to worthy causes and support those in need.
Opportunities to help those in the Indiana University community – namely students – exist at all campuses. Some are well known, such as food pantries or student emergency funds. Others may be more unexpected.
Here are some ways to give to IU and aid worthy causes at different campuses:
Student journalism
The Indiana Daily Student at IU Bloomington has been a training ground for student journalists for more than 150 years, but the challenge of reporting about IU and the Bloomington community during the COVID-19 pandemic has presented extraordinary challenges. Financial support is needed to help keep operations going.
In response, alumni and friends of the Indiana Daily Student launched the Indiana Daily Student Legacy Fund to raise $150,000 to support editorial operations at Indiana University Bloomington student publications, including the Indiana Daily Student and Arbutus yearbook.
Help for abused students
The Pride Pantry at IUPUC is stocked with dental products, shower necessities and feminine hygiene products. When the Title IX office has a report of abuse, the pantry provides a customizable "weekend bag" containing the products and food the student would need while in a safe place. Abuse cases have increased since the start of the COVID-19 pandemic. Donations can be made through a Pride Pantry crowdfunding effort.
Diversity travel scholarship
Rosalyn Davis, clinical associate professor of psychology, established the Davis Family Diversity Travel Scholarship to provide IU Kokomo students of color with the kinds of experiences that enriched her own life as a student of color who traveled and lived abroad. Donations can be made on the My IU website; enter "Davis Family Diversity Travel Scholarship" in the "write in gift area."
Gas cards
Gas cards can help IUPUI students facing financial and transportation needs by covering fuel costs. Gas cards can be dropped off at Paws' Pantry during the hours of operation, in addition to donations of food. Monetary donations to aid the food pantry can be made to the Paws' Pantry Support Fund or a Paws' Pantry crowdfunding drive.
Emergency financial support
IU Fort Wayne's Crimson Cares Scholarship assists academically deserving students faced with financial emergencies that would significantly, but temporarily, disrupt their studies. A student must be nominated by a staff or faculty member. To donate, go to myiu.org, click "Give now," click "Make a gift," select "Campuses," select "IU Fort Wayne" and select "IU Fort Wayne Crimson Cares Scholarship."
IU East's Marilyn Watkins Red Wolf Student Support Fund provides emergency support for students facing unforeseen financial hardships, including food insecurity, unexpected medical expenses and limited access to technology. To donate, go to myiu.org, click "Give now," click 'Make a gift" and type "Marilyn Watkins" in the "Search all funds" area.
Food insecurity
RedHawks Nest: The food pantry at IU Northwest has been challenged by the evolving demands of its clientele during the COVID-19 pandemic as it tries to meet student needs. The RedHawks Nest Food Pantry Fund was established to promptly acquire the items in greatest need.
Grenadier Grab 'n Go: IU Southeast's pantry collects food and personal care items to help students in need. It partners with Indiana University Police Department, where students can pick up food 24/7. Gift cards are provided to students in need, and accepted as donations. Monetary donations can be made on a Grenadier Grab 'n Go crowdfunding page.
Titans Feeding Titans: IU South Bend's student food pantry saw a 50 percent increase in usage during the first month of fall classes compared to 2019. Many students are single parents, support other family members, and juggle school and work. Donation information is on the pantry website.