For the first time in its 45-year history, the Indiana University African American Choral Ensemble will sing the national anthem for an Indianapolis Colts game. The timing, amid a double pandemic of COVID-19 and racial injustice in America, makes the opportunity especially unique.
Starting in 2016 with quarterback Colin Kaepernick, several athletes have taken a knee during the national anthem as a form of protest against racism and police brutality. That was in the back of ensemble director Raymond Wise's mind as he considered how to approach the performance.
"One of the challenges for us is how do we do the national anthem and still be respectful of honoring Black lives?" Wise said.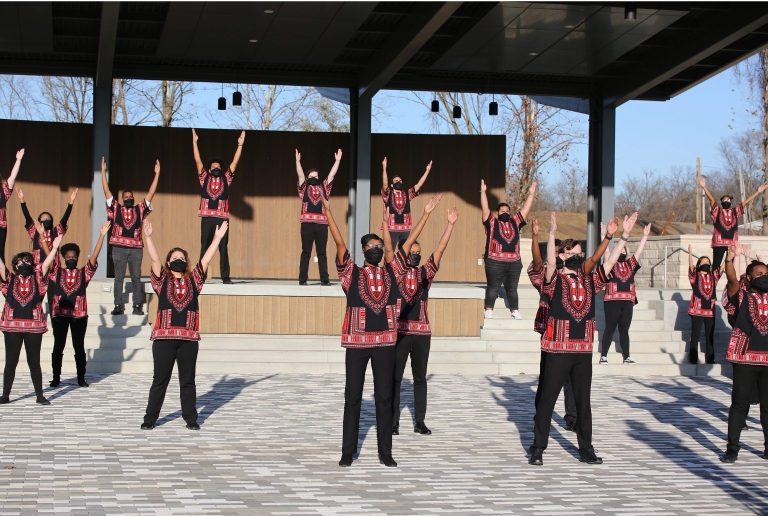 That challenge was also something ensemble members thought about, including William Robison. He said the anthem has long been considered problematic by people who didn't feel it aligned with the diversity represented in America and how different groups have been treated.
Because of the pandemic, the performance had to be recorded ahead of time. That gave Wise more creative freedom to make his interpretation of the anthem come to life. He used a gospel arrangement that he put together years ago, which falls within the choral ensemble's tradition of performing music by, about and for African Americans. Robison said it's his favorite arrangement of the anthem, and one that's fitting for the opportunity.
"Dr. Wise imparted onto me an attitude that I carried with me throughout the production process," Robison said. "Because this arrangement was done by a Black man who felt it appropriate to use this song as a vehicle for his art style and message, this version of the national anthem adds something important to the ongoing racial discourse in this country. Dr. Wise, very deliberately, has created a piece that works to honor the traditions of this nation as well as to honor the specific experiences of the African American community.
The arrangement is intricate, and learning their parts was especially challenging for students because of the pandemic. They started virtually, then came together in small groups for short rehearsals. The entire ensemble was eventually able to meet inside IU Auditorium to work through the arrangement as a group, wearing special masks designed for singers and remaining physically distanced from each other. Wise said it was moving to watch it all come together.
"I'm really proud of the students. It has been such a tremendous sacrifice just to come to campus and do those things," he said.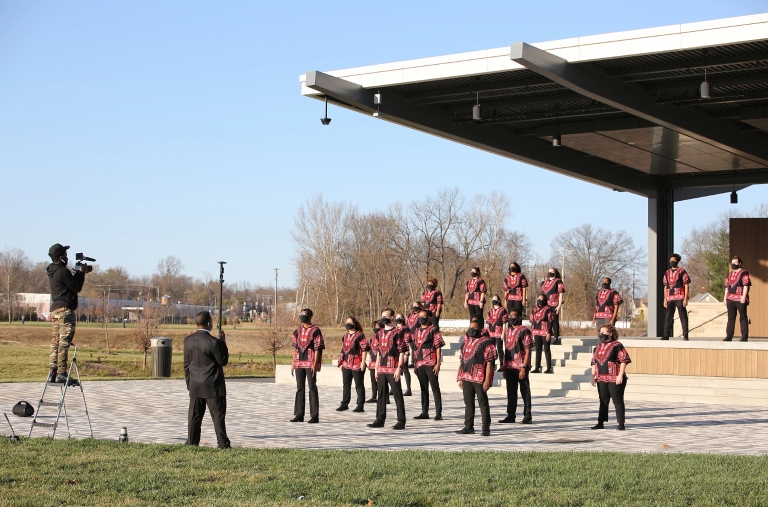 Once the ensemble had each part of the piece down, Wise worked with local videographers to capture video of each student singer, the small groups and the entire ensemble performing the anthem. The resulting video also showcases photos of American heroes, including Abraham Lincoln, Frederick Douglass, the Rev. Martin Luther King Jr., Malcolm X, Harriet Tubman, Fannie Lou Hamer and Shirley Chisholm. Robison said he hopes the performance moves people.
"If you are open to it, you can't listen to it and not smile, or not start clapping and rocking with it," he said.
Wise hopes it also sends a powerful message.
"It celebrates who we all are as a nation," Wise said. "People will get a sense that when we say, 'This is my country,' it's not just my country for a certain group. This is a place where we can all be brave and all be proud."
The African American Choral Ensemble anthem performance will be played at the Indianapolis Colts game against the Houston Texans, which airs at 1 p.m. Sunday, Dec. 20. While the performance will be presented to the in-stadium audience, it will not be aired as part of the national broadcast. The video will be available on the African American Arts Institute's YouTube channel following the performance.