The holiday season can be stressful during any year. But with coronavirus cases skyrocketing across the country, family gatherings being canceled and other stressors of the pandemic, the holidays are sure to be like the rest of 2020: unprecedented.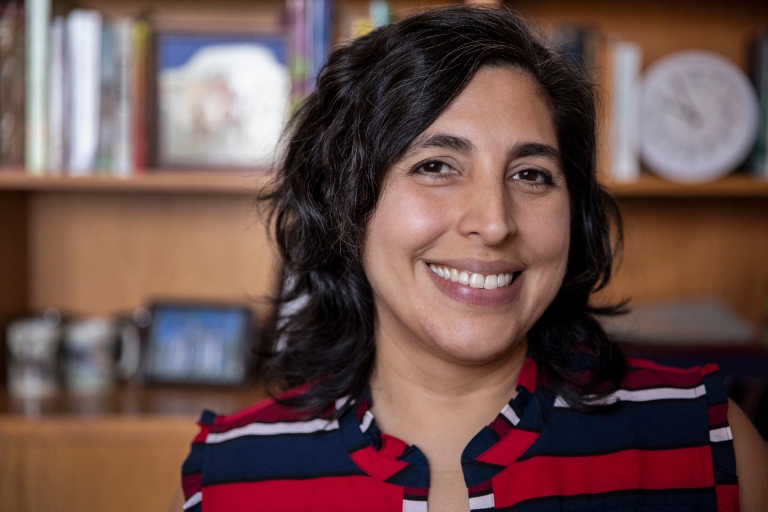 But according to Luciana Guardini, outreach coordinator for Counseling and Psychological Services – known as CAPS – at the IU Student Health Center, we should be intentional about using the holiday break from classes, teaching or working to practice self-care and restore before beginning the new year.
"This year we have constantly been adapting to new settings and new ways of doing things, and it takes energy to adapt," Guardini said. "None of us have ever had to navigate the holidays and a pandemic at the same time, so this season has the potential to be even more draining than usual. We have to be very intentional about having a restorative break, because next semester is going to be challenging as well."
Here are a few tips for having a restorative winter break this year.
Schedule your self-care
Breaks have a habit of flying by before we are able to enjoy them, so this year it is important to be intentional about when and how you will add restorative activities to your routine. Guardini said it helps to schedule a time to practice self-care just like you would schedule any other chore or task.
"One huge misconception is that practicing self-care requires a lot of time that many of us don't have," Guardini said. "But there are plenty of relaxation exercises that you can do in 10 minutes, including stretching, practicing mindfulness or texting your support system."
Set calendar reminders or phone notifications to hold yourself accountable, or find a self-care buddy who will stretch with you via Zoom or go on a socially distanced walk with you. Additionally, with the WellTrack app, which is free to all IU Bloomington students, faculty and staff, you can schedule fun activities and track your achievements.
Acknowledge your emotions
One of the biggest mistakes you can make this holiday season is to do exactly what you do every other year, according to Guardini. She said the first step to having a truly restorative break is to acknowledge how difficult this year has been and how drained you feel.
Becoming familiar with your personal stressors can make it easier to determine when it is time to engage in self-nurturing activities, too. You can find out what your red flags are and gauge current mood and stress levels by completing a self-assessment in the WellTrack app or by using the self-assessment tools on the CAPS website.
Guardini said that once we've acknowledged our emotions, it is also important to allow ourselves to focus on restorative practices without feeling guilt.
"We live in an environment that is very competitive, and we feel like taking time for ourselves is wasting time," she said. "We worry that if we take 30 minutes to go for a walk or to do some stretching that we are going to disappoint someone. Don't jump to conclusions, and don't think that others won't understand."
It is easy to forget that we are all experiencing many of the same hardships right now, and Guardini said it is important to not underestimate the ability of others to understand and empathize with your needs.
Try something new
In the spirit of not treating this break like any other year, try new forms of self-care. Self-care activities can include reading books, playing games, taking a walk, watching TV, completing a puzzle, organizing your living space and much more.
You can mix up your self-care routine by adding one or more self-care buddies. Share a pot of your favorite tea, watch a silly movie, learn a new skill like crocheting or knitting, do holiday arts and crafts projects, or try a new recipe with your buddy. Many of these tasks can be done virtually if your self-care buddy is not in your household.
"This approach works double time, because not only are you finding an opportunity to connect with your support network, but you are also increasing the likelihood that you'll be intentional about your self-care activity," Guardini said. "If you are feeling too busy or unmotivated, your buddy can help you stay on track."
Enhancing your usual restorative practices can be another way to take special care during this particularly hard year. For example, drive to a local trail or park for your walk instead of taking your usual route. If reading is your release, select material that truly brings you joy and avoid content that may cause anxiety. If baking is how you de-stress, whip up your all-time favorite recipes.
Know when to ask for help
Sometimes self-care may not be sufficient to offset stress. If your anxiety starts to affect your everyday life and behaviors – you're not sleeping well, you're lashing out at others or you feel out of control – seek professional help.
SupportLinc Employee Assistance Program provides 24/7 access to professional counseling and referrals for IU employees, and CAPS at the IU Student Health Center offers students virtual visits with counselors.
If you are having suicidal thoughts, call the National Suicide Prevention Hotline at 800-273-8255 or text "CONNECT" to 741741. In a life-threatening emergency, contact 911.