How to stack wood
Place wood pallets between four-by-four posts to be ungrounded.
Always start with the biggest, most important pieces at the base – they will hold everything together.
It is important to place the cut Oak pieces with the beautiful rings of growth marking time on the side that most people see.
Subsequently, place the uneven, gnarly side away from view.
Stack against the common grain – right to left and bottom to top.
Determine the Hickory pieces with the white exterior, for they burn the longest but often lack character when they are all together.
Look for the orange lines of bark depicting the Sassafras pieces.
This is where the fun begins – for Sassafras crackles the loudest and creates music on deeply quiet winter nights when you want to impress your guests.
Sniff out the Cedar pieces, for their aroma will pull you in to their center and remind you that even after their death – something profound still lingers. …
– Conor McIntyre, written during the 2020 IU Center for Rural Engagement workshop "This Imperfect Paradise: Writing Our Lives in Troubled Times"
We've all been challenged this year. But shining through 2020, like light through logs on a fire, I have seen courage, collaboration and resilience throughout Indiana and the IU community.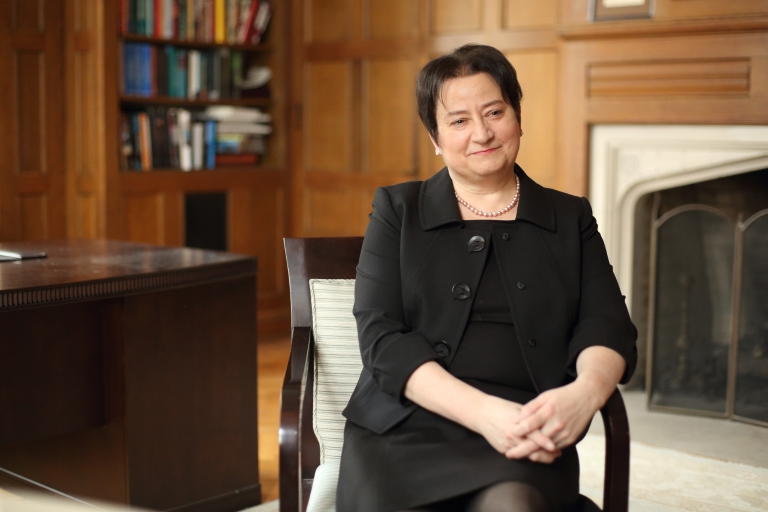 The poem excerpted above was written by one of 120 participants from 20 communities in a free, seven-week virtual writing workshop, "This Imperfect Paradise: Writing Our Lives in Troubled Times." The workshop was offered through our Center for Rural Engagement and led by Provost Professor Cathy Bowman in the spring to help people find creativity and hope through the loneliness and isolation of the pandemic.
Now, as we wrap up one of the most challenging, unusual years many of us have yet experienced, I want to take a moment to focus on the center's enormous impact on the many Hoosier communities with whom we work, and its impact on those in the IU community who have the opportunity to work with these partners.
Cathy's course is just one of hundreds, if not thousands, of touchpoints fostered by the Center for Rural Engagement since it was founded in 2018. While you can learn more about recent partnerships in the center's 2019-2020 Impact Report, I'll share a few highlights from the past year here:
Since the Center for Rural Engagement's inception in 2018, it has expanded IU Bloomington partnerships across 55 communities and 36 counties, having an impact on nearly 16,000 residents who have directly engaged with its work. It has launched 223 research, creative activity and teaching projects in partnership with each of IU Bloomington's 16 schools and with rural communities across the state.
Like all of you, the center has adapted to challenges brought on by the pandemic and has continued its work in full force, adapting to new and emerging needs as they arise. And while these numbers are impressive, the real-life, human impact is better, and there's a story behind every statistic.
I close with the end of Conor McIntyre's poem and a reminder to take a breath and be kind to yourself and others as we head into a new year.
Leave gaps in the stack for air to breathe through it – like lungs needing to work to prevent pneumonia.
Poplar gets stacked towards the top, for it is the state tree of the Hoosiers, often needs to be reminded of its importance and helps get everything started.
Never, and I do mean never, wrap your stack of wood in plastic as if you are placing an uneaten Hinkle's burger in the fridge for later consumption – the wood needs to keep breathing, even though you might think it has been uprooted.
Admire your stack in every season – Spring, Summer, Fall and of course Winter, when it gets the most attention; for it was born and lived and died through the seasons – the rings on the ends tell us that story.
Lauren Robel is provost of the IU Bloomington campus.