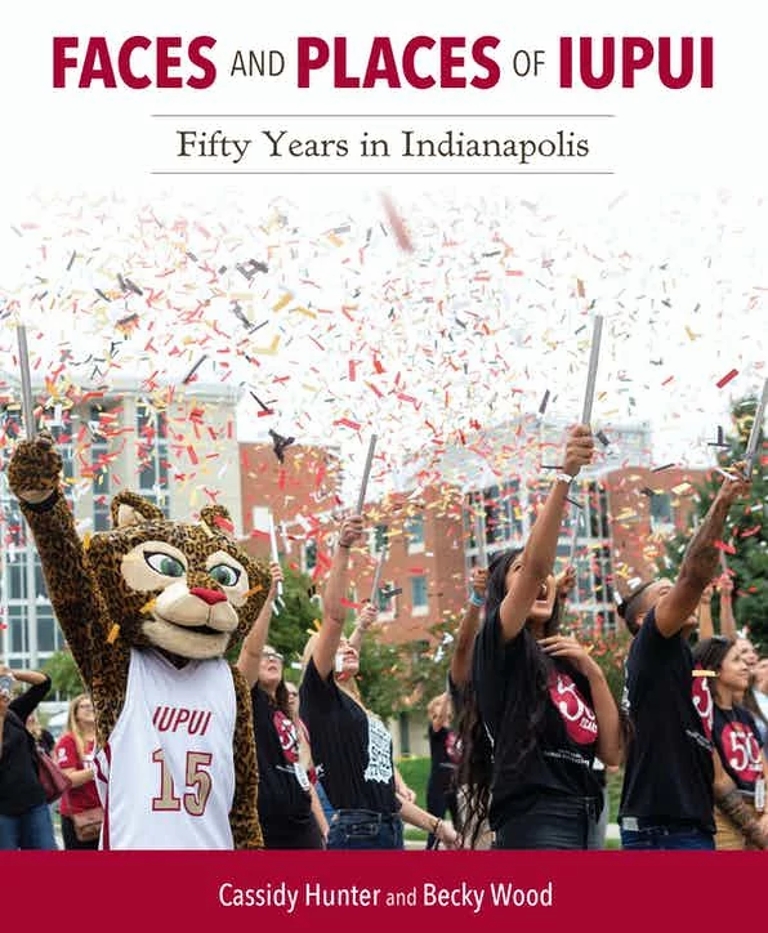 With a distinguished journey spanning more than 50 years, the history of IUPUI is filled with extraordinary people, places and projects that have helped shape the campus into a cornerstone of downtown Indianapolis and the state of Indiana.
A new book titled "Faces and Places of IUPUI: Fifty Years in Indianapolis," published Dec. 1 by IU Press, chronicles the campus's rise through the stories of those who represent its growth and evolution. Authored by the Office of the Chancellor's Director of Communications Becky Wood and Communications Specialist Cassidy Hunter, the book took about two and half years to write and is told chronologically in three sections:
Affirming Our Past: The section focuses on the foundation of the IUPUI campus, including early construction projects and activities as well as people who have been affiliated with the university for decades, either as staff members, faculty, administrators or graduates.
Celebrating Our Present: The middle portion highlights IUPUI as it is today, with a special focus on people who played an important role in the Welcoming Campus Initiative as well as on IUPUI's community partners.
Anticipating Our Future: This section features outstanding IUPUI graduates and current students.
Chancellor Nasser H. Paydar provided the foreword, IU Trustee Jim Morris wrote the introduction, and the epilogue is from IUPUI student Olivia Pretorius.
"Faces and Places of IUPUI" grew out of the Faces of IUPUI digital campaign by the IUPUI 50th Anniversary Communications Committee – composed of Wood, Hunter and Multimedia Communications Specialist Milana Katic – that included weekly feature stories on notable Jaguars. The yearlong campaign was designed to celebrate the students, staff, faculty, alumni and community members whose hard work, dedication and resourcefulness have helped distinguish IUPUI as an innovative, inclusive and service-minded campus.
The digital feature-writing campaign earned a Pride of CASE V Award in the Excellence in Feature Writing Series category.
We talked with the authors about their experience writing "Faces and Places of IUPUI."
Question: What was the genesis for this book, and what were you aiming to capture?
Becky Wood: The book was first imagined in conversations I had with Christine Fitzpatrick, director of the 50th Anniversary celebration. Christine has a special way of asking questions and making seemingly minor suggestions that lead to great accomplishments. "How are we going to archive the anniversary?" she asked. "It would be wonderful if there were a tangible legacy of this milestone for our campus," she said. Christine's questions and suggestions led me to write a book proposal for the Office of the IU Bicentennial's Publication and Media Series, a signature Bicentennial project. The rest – as some say – is history.
Q: When you began writing this book, having the tall task of chronicling IUPUI's history, what were your expectations?
Cassidy Hunter: Because we worked on the Faces of IUPUI campaign each week of our anniversary year, my perspective on that is a little bit different than you might expect. I wrote a new feature story each week for a year, so that, in and of itself, was challenging from week to week – managing the creative process among the other responsibilities and projects and deadlines during what was an incredibly busy year for our office. That said, each of our Faces of IUPUI was so inspiring and reflective of the spirit of our campus that it brought a new energy and excitement to each week's writing project. To see that all come together in book form is really extraordinary.
Q: The history of IUPUI's campus is told through a select group of 50 students, faculty, staff, alumni and community members. How tough of a process was it to narrow the group to 50? How did you make those designations?
BW: The beauty of the selection process for the Faces of IUPUI was that it relied heavily on the campus community to nominate and select the Faces. We received a total of 154 nominations through the 50th Anniversary website, and the final selections were made by the chairs of the 50th Anniversary working groups. Several factors were at play in the selection process, including ensuring that the diversity of our campus was represented and that we included people from as many schools and units as possible.
Q: Is there anything from your research and writing process that you learned that really surprised you about IUPUI's history?
CH: I'm not sure if "surprised" is the right word, but this process certainly reinforced and strengthened what I thought I knew about IUPUI. The campus and the people who make up its fabric have been innovating, discovering, inspiring, teaching, learning, growing and contributing at each and every point in IUPUI's 50-year history and, of course, even well before IUPUI officially became a campus. The experience instilled in me an even greater sense of Jaguar pride.
Q: Were there any specific conversations, interviews, moments or discussions that were particularly memorable to you?
CH: Without being too specific, I will say that each and every participant was so gracious to engage fully with the project and the process and were very authentic and open in their approaches and responses to my questions, which helped to create some really rich and personal stories. I was impressed and inspired every single week.
Q: Were there any common traits or characteristics that you discovered between the 50 faces of IUPUI?
BW: Every Face of IUPUI was extremely proud of their affiliation with IUPUI. They are service-minded, thoughtful and conscientious global citizens. To a person, they are deeply grateful for the opportunities that IUPUI has afforded them.
Q: What were some of your takeaways from this deep dive into IUPUI's rich history?
CH: It's really one thing to look at an institution like a university as a whole and with its long list of significant accomplishments and be impressed. IUPUI certainly has such a list. But to be able to examine the diverse people individually in the way that I was able to do offered a completely new perspective for which I am so grateful. Our campus is incredibly special because it is wholly formed and composed of people just like our 50 Faces of IUPUI.
Q: You are the two authors of this book, but there is anyone else that you would like to mention or thank?
BW and CH: This project simply would not have been possible without Milana Katic, multimedia communications specialist in the Office of the Chancellor. She was instrumental in implementing the Faces of IUPUI campaign, which laid the groundwork for the book's content; in strategizing the digital presence of the Faces of IUPUI campaign; and in serving as the project manager of the Faces campaign during the 50th Anniversary year.
In addition, we relied on the incredible talent and skill of IUPUI photographer Liz Kaye. She not only took photos of many of our Faces of IUPUI, but her photos of the campus as a whole appear throughout this book.
Finally, we owe a debt of gratitude to our colleagues in Ruth Lilly Special Collections and Archives in the IUPUI University Library. The campus history and archival images from the library add richness and depth to this volume that would not have been possible without the help of Steve Towne, Greg Mobley and the whole team in the archives.