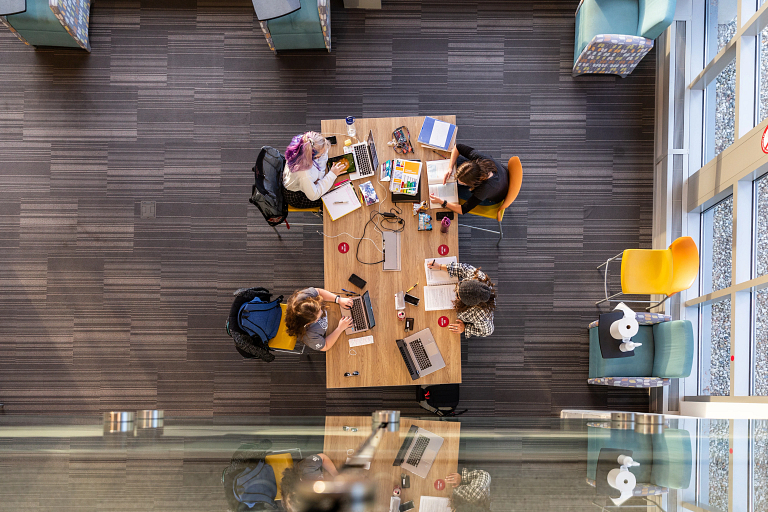 Like a train barreling down the tracks, here comes finals week, just as surprising as always as we check the calendar and wonder how it could already be mid-December. Factoring in a pandemic, a national election and the newly implemented intersession, it's easy to see how time could slip by so quickly, but now it's time to buckle down and finish strong.
As you get ready to conquer those finals, here are some helpful reminders to make sure you're as prepared as possible.
Don't let Zoom fatigue ruin your week
At this point, Zoom and online learning feel like the norm, but all that time in front of a screen can be a burden. During finals week, it could be at an all-time high, and that might hinder your academic performance. Earlier this year, we compiled a few tips to combat Zoom fatigue such as getting enough physical activity, moving to a change of scenery between meetings and more.
Use the Bepko Learning Center as a resource
The Bepko Learning Center exists to help students succeed, and there's no better time to utilize its services than now. Studying is key during finals week, and the BLC has several resources to help students. The handouts provided may help you learn how to get better grades, study smarter, improve note-taking and test-taking skills, and diminish academic anxiety. For a breakdown of all the BLC's services, check out our article from earlier this fall.
The libraries are still here for you
During the intersession, the libraries on campus are still open. University Library is open from 9 a.m. to 5 p.m. Monday through Friday. The building is closed on Saturdays but open from noon to 5 p.m. on Sundays. Regular hours of operation at the Ruth Lilly Medical Library are 7 a.m. to 9 p.m. Monday through Thursday and 7 p.m. to 6 p.m. Fridays. The library is closed Saturdays and open from noon to 6 p.m. Sundays.
The Ruth Lilly Law Library is open from 8 a.m. to 9 p.m. Monday through Friday, closed Saturdays and open from 11 a.m. to 5 p.m. Sundays. The IU School of Dentistry Library is open from 7:30 a.m. to 4:30 p.m. Monday through Friday and closed on weekends. The dental library will be closed Dec. 12 through Jan. 3.
Don't forget about your CrimsonCard
When you need a study break, don't forget your CrimsonCard. There are plenty of deals and discounts around the city that come with the card. Grab a meal, get in a workout or stock up on some comfy new IUPUI gear at the Barnes & Noble at IUPUI Bookstore. For a complete list of deals and discounts, check out the CrimsonCard page online.
Get up and get moving
With the pandemic still posing a threat, the gym might not be an option you choose. But physical fitness is important, especially when you're stuck at home and the weather is cold. Thankfully, IUPUI Campus Recreation has you covered with online classes.