In 1908, Indiana University began a tradition of international development assistance with a project to strengthen elementary- and secondary-school curricula in the Philippines. Later, under the leadership of President Herman B Wells, the university became one of the four founding members of the Midwest Universities Consortium for International Activities and deepened its commitment to international institution-building around the globe.
And 25 years ago, the establishment of IU's Center for International Education and Development Assistance – now known as the Office of International Development – solidified IU's tradition of service to international development and institution-building as an integral part of the university's mission.
Currently, the Office of International Development – situated in the Office of the Vice President for International Affairs – uses IU resources to address global development challenges around the world by leveraging external funding provided by the U.S. Department of State, the U.S. Agency for International Development, and other public and private entities.
"Our office helps IU take the work our faculty are doing and channels that incredible wealth of expertise into projects that address important global issues and improve lives around the world," said Teshome Alemneh, associate vice president for international research and development and director of the Office of International Development.
While this office is now designated to proactively pursue global development opportunities, that was not always the case.
In the 1960s, '70s and '80s, most of IU's development assistance work was funneled through an office known as the International Development Institute, which was based in Bloomington and staffed largely by faculty in the College of Arts and Sciences' Department of Political Science and the School of Public and Environmental Affairs. Much of its work focused on government-building and democratic reform and was funded by the State Department. When national priorities shifted in the mid-'80s to focus on the AIDS crisis and other health issues abroad, external funding for the International Development Institute dried up.
But as that door closed, another opened, according to Charles Reafsnyder, former associate vice president for international affairs. Reafsnyder began coordinating an exchange program that sent U.S. faculty abroad to teach Malaysian students and brought those same students to Big Ten Universities to finish their degrees. During this 10-year partnership, IU sent about 300 faculty – including some from regional campuses – to Malaysia, brought more than 4,000 Malaysian students to the States, earned more than $50 million in external funding and solidified IU's spot as a leader in international development assistance.
When that program began to phase out in the mid-'90s, then-President Thomas Ehrlich knew it was time IU had a unit for university-wide coordinated international development work; he established the Center for International Education and Development Assistance, with Reafsnyder as its founding director. The unit was renamed in 2013 as the Office of International Development.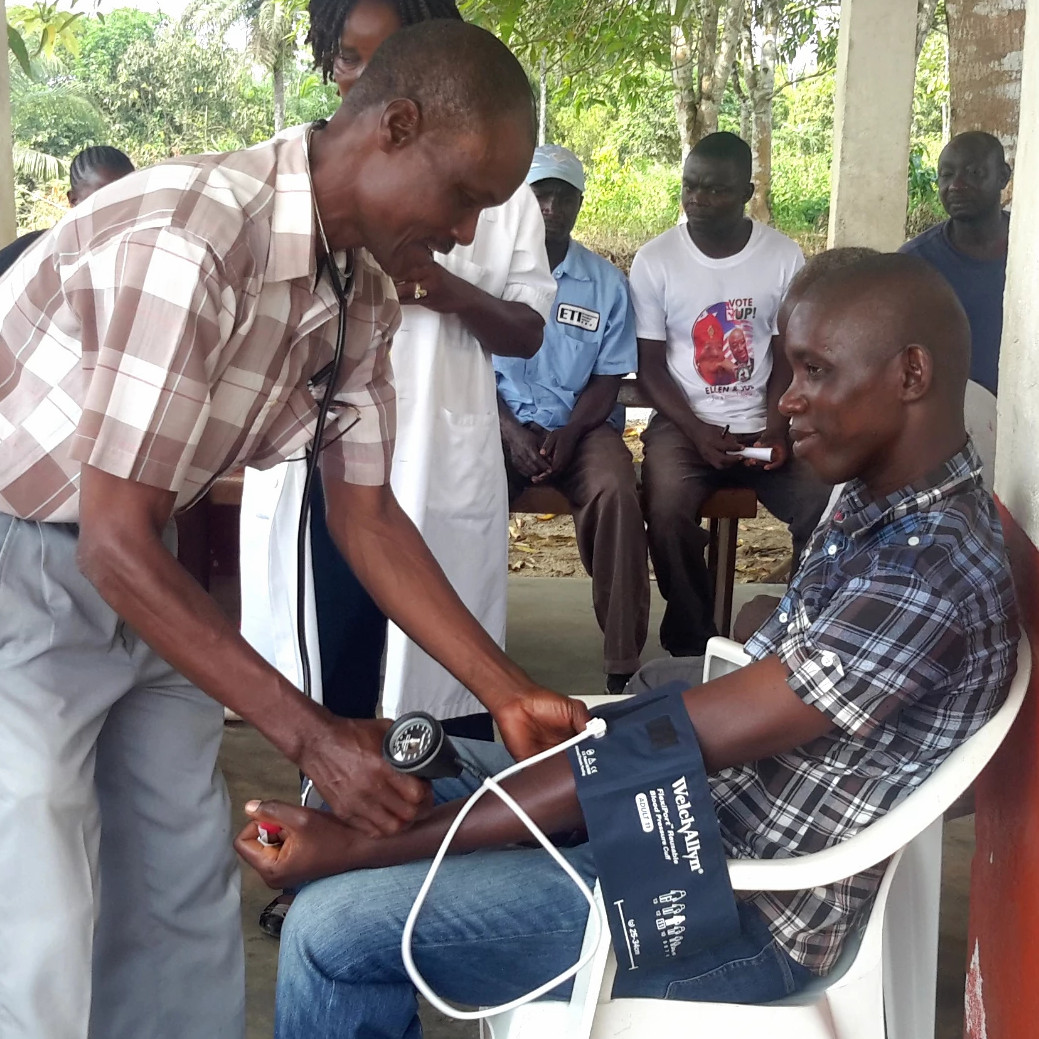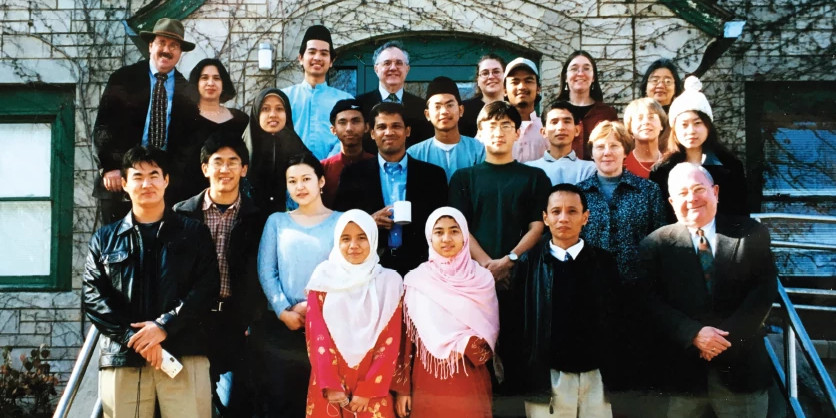 Photos courtesy of Charles Reafsnyder
"There was a recognition from the president's office of how important it is to take ideas about teaching and development and put them into practice outside of Indiana," Reafsnyder said. "That type of learning feeds into the intellectual core of the university and its creation of knowledge."
During its 25 years, this office has created a network of lasting relationships around the world, boasting a portfolio of nearly 45 past and present projects across all sectors.
Highlights include spearheading IU's successful bid to be the university partner in a joint project between the U.S. and the European Union to found the South East European University in Macedonia. The six-year effort established a relationship between IU and the Macedonian university and government that is still strong today.
The office also played a key role in transitioning the American University of Central Asia in Kyrgyzstan from a school with an enrollment of about 100 to a university that now boasts more than 2,000 students. Through the office's efforts in 2011, USAID selected IU as one of 33 American institutions for a multiyear collaboration with the University of Liberia to address the country's national shortage of health care workers. Participants in the Liberia project played a significant role during that country's Ebola outbreak.
From 1995 to 2010, the Office of International Development also managed IU's Burmese Refugee Scholarship Program. This effort arranged placement exams for Burmese refugees in Indiana or Thailand, brought them to Bloomington for two years for intensive English language training and prep for the SAT, and then placed them at universities across the U.S. Reafsnyder said a number of those students were pro-democracy activists who had to flee from the Burmese government and went on to do pro-democracy and human rights work for the United States government.
In recent years, the office has added a focus on short-term youth leadership programs in response to funding opportunities and priorities of the federal government. Most of these programs are geared toward high school students and young professionals, hosting youth from places as diverse as Mongolia, Myanmar, Azerbaijan and Indonesia and often including homestays that create lasting cross-cultural relationships with local families.
Since 2016, the office has also hosted the prestigious Mandela Washington Fellowship for Young African Leaders, bringing Africa's emerging leaders to IU campuses for a six-week Leadership in Civic Engagement Institute sponsored by the U.S. Department of State. More than 380 young people from around the world have visited IU through these programs so far, and the number of leadership-training alumni continues to grow.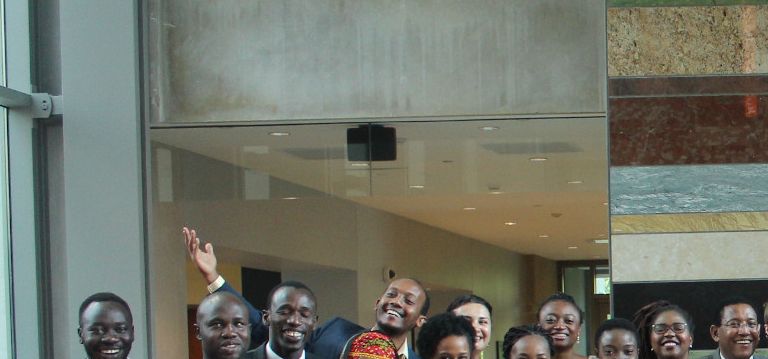 Though the coronavirus pandemic has made it more challenging to bring the world to Indiana and Indiana to the world, the Office of International Development continues to serve its mission.
"Our current projects continue a long legacy of partnerships and capacity-building, both institutional and individual," said Sunni Fass, associate director of international development at IU. "Shifting temporarily to virtual engagement challenges us to think about even more creative ways to accomplish these goals."
The office recently secured a two-year $500,000 grant from the U.S. Embassy in Ethiopia to launch a program called Partnerships in Business Entrepreneurship and Leadership Transformation, designed to strengthen the innovation ecosystem in Ethiopia. This unique collaboration will involve IU, Ivy Tech Community College and two Ethiopian universities.
Another big focus will continue to be IU's involvement in the $70 million LASER PULSE initiative. The ongoing five-year USAID project promotes "embedded research translation" as a strategy to ensure that development research is co-designed with development practitioners and results in useful and usable solutions. The office will also be leveraging its relationships in Sub-Saharan Africa to support the Office of the Vice President for International Affairs' strategic focus on the continent.
"One of our current priorities is to develop new opportunities for collaboration in Africa, building on IU's long history of engagement there," said Hannah Buxbaum, vice president for international affairs. "Those partnerships and relationships are a critical part of our efforts to bring research expertise to bear on local and global challenges."
The office is also prioritizing its engagement with IU students as it looks ahead.
"Our office will implement two new initiatives that provide opportunities for IU students and faculty to engage with the Office of International Development's alumni and share international experiences," Alemneh said.
A new fellowship, created in partnership with the Office of the Vice President for Diversity, Equity and Multicultural Affairs, will give IU students the opportunity to work with the 2021 class of Mandela Washington Fellows and will provide an international experience for students who would not be able to study abroad. Through a new virtual workshop series, centered on the United Nations Sustainable Development Goals, IU students will engage with alumni of the youth leadership programs hosted by IU who are now making a difference in their home communities.
"These opportunities help extend the IU global mission to our students and inspire them to keep doing this work," Fass said. "In our next 25 years, they are the ones who are going to be the forces for positive change around the world. It's exciting to think about."