BLOOMINGTON, Ind. – With distribution of the COVID-19 vaccine underway in Indiana and across the nation, Indiana University is continuing efforts to advance the state's vaccine rollout plan while stressing the importance of Hoosiers getting vaccinated as soon as they are eligible.
"The distribution of vaccines is extremely exciting news, and there is growing optimism that we are nearing a point when the majority of Americans will be able to receive one of the COVID-19 vaccines, which will begin to dramatically reduce the spread of this deadly virus," IU President Michael A. McRobbie said. "We are becoming more confident by the day that, as the year progresses, we will be able to see a growing return to more normal operations of the university."
As part of Indiana's phased vaccination distribution plan, Hoosiers age 70 and older are now eligible to schedule a vaccination. Under the initial phase of the plan, frontline health care workers and residents of long-term care facilities were able to receive the first doses of vaccines from Pfizer and Moderna. Vaccination appointments were also opened to first responders, law enforcement and similar groups as Indiana received its first shipments of the vaccine.
McRobbie and IU Vice President Emeritus Charlie Nelms, who are both eligible, received their first dose of the COVID-19 vaccine today at IU Health Bloomington. The vaccine is administered in two doses, either 21 or 28 days after the first dose.
Those who qualify to receive the vaccine can schedule vaccination appointments through OurShot.in.gov.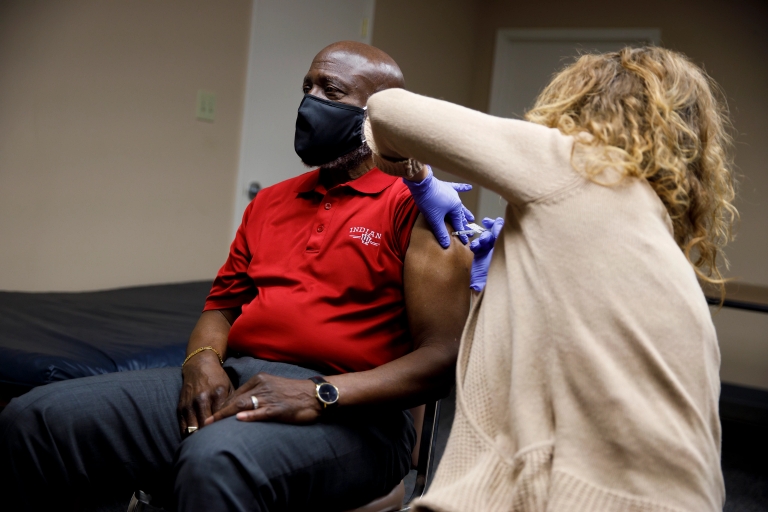 Nelms, an IU alumnus, served  as IU vice president for institutional development and student affairs from 1998 to 2007 before becoming chancellor at North Carolina Central University. He previously served as chancellor of Indiana University East.
A nationally recognized authority on higher education leadership and governance and on issues of diversity and inclusion, Nelms is advocating for underrepresented populations to get the COVID-19 vaccine.
"We know that COVID-19 affects a disproportionate number of Blacks and others from historically disenfranchised groups, with Black individuals dying from COVID-19 at more than twice the rate as white individuals," said Nelms, who wrote about this topic in a Jan. 4 piece for Diverse: Issues in Higher Education. "I know there are those who are skeptical of the vaccine, but I have trust in both the science behind it and the scientists who have created it. I am extremely grateful to have received this first dose of the vaccine and to do my part to defeat this virus, and I hope that everyone will sign up to receive it when it is their turn to do so."
McRobbie said he is confident that IU – which announced Jan. 15 it was finalizing plans to open a vaccine site on the IU Bloomington campus – will help the state achieve its goal of eventually making the vaccine available to all Hoosiers. The IU School of Medicine is participating in the phase 3 trials of the AstraZeneca vaccine, which is already being administered for emergency use in the United Kingdom. About 630 IU medical and nursing students are also answering the state's need for help in administering the vaccine.
"The science has been outstanding to get us to this point where we now have two highly safe and effective vaccines and others in the pipeline," McRobbie said. "We at IU will continue to do all we can to help ensure the vaccine gets into the arms of members of the IU community, as well as all Hoosiers, and keep Indiana accelerating in a positive direction.
"At the same time, we are still urging members of the IU community to continue to follow our existing guidelines and recommended health and safety behaviors, which have been crucial to our success in continuing to operate as normally as possible during the pandemic."