When Jill Rogers started planning a first-of-its-kind conference exploring music and trauma, she wasn't sure what to expect.
Rogers, an associate professor of musicology in the Indiana University Jacobs School of Music, was awarded an IU Presidential Arts and Humanities grant to support "Music, Sound and Trauma: Interdisciplinary Perspectives." But the February event has to be virtual because of the COVID-19 pandemic, and she worried how that might affect participation.
Rogers was pleasantly surprised. The conference received so many proposals for panel discussions, workshops, papers and recitals that it had to be expanded to include more sessions.
The intense interest is, in part, because of what makes the event unique: It will bring together internationally renowned scholars from disciplines in and beyond the arts and humanities to explore music and trauma.
"I'm excited to crack things open and see what people from other disciplines bring to the table," Rogers said. "One of the reasons I wanted to do this conference was to get outside the box of music studies specifically."
The conference will feature scholars and students with backgrounds in music scholarship, history, psychology and medical humanities, among others. Their presentations will examine how trauma studies can shape musical fields, and how such interdisciplinary research can inform policies and practices that address social justice and inequality.
Rogers explores many of those themes in the music and trauma course she teaches at IU. Central to the coursework are discussions about difficult subjects, and students often share their own experiences with trauma. Rogers admittedly worried that such intimacy wouldn't be possible when she taught the class virtually during the fall 2020 semester. But it ended up being the opposite.
"One of my students said, 'You know, it's really funny, I actually feel like there's something about being able to take this class from my bedroom rather than the environment of the classroom that made me feel more comfortable talking in class,'" Rogers said.
The course focuses not just on how music can help people cope with trauma, but also how it can cause trauma. And it became increasingly relevant amid the global pandemic and the reckoning over racism in the United States.
For the fall semester's midterm project, Rogers asked students to record a podcast that focused on the detainment of migrants at the U.S.-Mexico border, racial justice or COVID-19.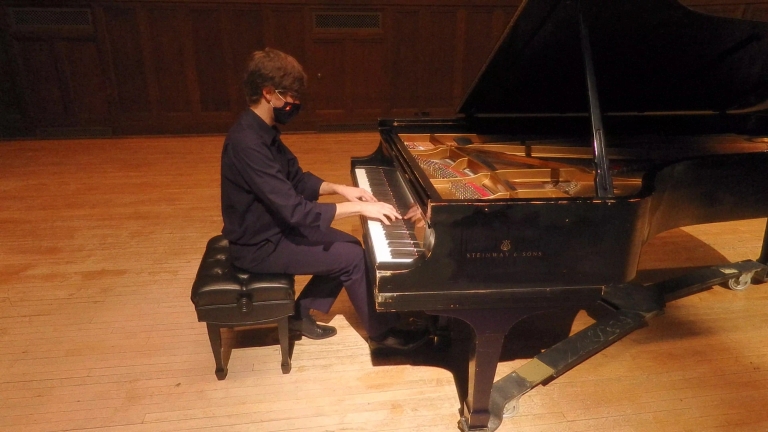 It wasn't until she started thinking about the project that Kate Hamori realized how much the pandemic had affected her.
"I realized that I hadn't made music in six months," Hamori said. "That's painful day to day, but I didn't think about how incredibly damaging that had been to me."
Hamori's project focused on how church choirs in Indianapolis navigated the inability to meet in person, and what it meant for many of their members. She said the project and the course helped legitimatize the challenges she faced over the past year, and also made her think about her future as a musicologist differently.
"From a social standpoint and an academic standpoint, what Dr. Rogers is doing is particularly new and significant for musicology, just because of the subjective nature of music," Hamori said. "I think for a long time there has been a hesitation to write about music in a way that's potentially subjective, especially because trauma studies is a relatively new field, and psychological readings of a work can't always be proven beyond a shadow of a doubt using musical analysis."
Hamori will be presenting a research paper at the "Music, Sound and Trauma" conference. Joseph Stiefel, who took Rogers' course in 2019, will also be presenting. Stiefel said the course left a strong impression on him because it challenged the way he thought about music.
"One thing I took away from this course is people react to trauma and traumatic situations on such a personal level and so differently that there is no one way to react to trauma," he said. "When you're engaging with other people, you shouldn't judge them."
Stiefel's lecture recital at the conference will focus on the "Spiritual Suite" for solo piano by African American composer, pianist and activist Margaret Bonds. His research focuses on how Bonds used music as a means of healing from the trauma she experienced working in the predominantly white male field of classical music and the cultural trauma she inherited as an African American woman.
"It has been the most meaningful project of my entire time in grad school," Stiefel said. "I'm really excited for this conference because, independent of my research or playing, I just want as many people as possible to know about Bonds' life and her music."