Arboretum sidewalks closed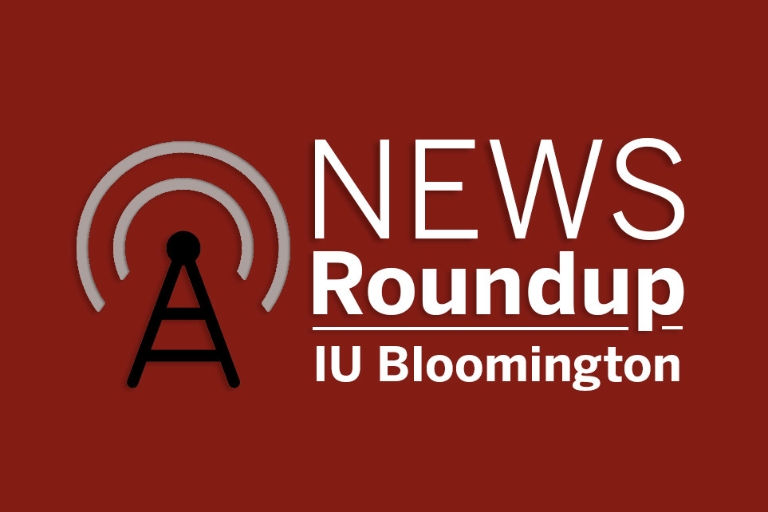 The sidewalks south and west of the Arboretum pond are closed for repair through 5 p.m. Feb. 5 as part of the pond restoration project, according to Facility Operations. This will affect the pedestrian travel routes through the Arboretum that pass the west and south areas of sidewalk around the pond.
Access to all areas of the Arboretum will remain open through other avenues of pedestrian travel.
For questions, call Tristan Johnson at Landscape Services at 812-855-7152.
IU Auditorium postpones performances
IU Auditorium has postponed four performances because of the COVID-19 pandemic: "Beautiful: The Carole King Musical," "Napoleon Dynamite," "RAIN: A Tribute to The Beatles" and "Waitress."
Future dates are being planned and will be announced once confirmed. Ticketholders for these events are encouraged to hold on to their tickets because they will be honored when the new dates are announced.
Webinar offers self-care help during pandemic
Indiana University Bloomington Professional Council and Healthy IU will present a webinar at noon Jan. 12 about prioritizing self-care and preventing burnout and fatigue during the COVID-19 pandemic.
Work-life consultant Angela Reese will discuss how to practice self-care when multiple responsibilities are competing for your attention.
Register online for the webinar.
IU's COVID-19 website resource for information
With the intersession wrapping up and the spring semester about to begin, Indiana University Bloomington faculty, staff and students can find campus-specific answers to their questions on the university's COVID-19 website.
The site has information about arrival testing, mitigation testing, isolation and quarantine procedures, and more.
Have your COVID-19 questions answered in webinars
Indiana University staff, faculty and students can have their COVID-19-related questions answered by Dr. Aaron Carroll, one of the leaders of IU's COVID-19 Medical Response Team, in three upcoming "Ask Aaron" webinars at noon Jan. 13, 20 and 27.
The live Q&A session will include topics such as:
Returning to campus and on-arrival testing.
How and when vaccines are likely to be distributed.
Connecting with others safely.
Additional "Ask Aaron" webinars are being planned throughout the remainder of the academic year. Visit covid.iu.edu for the latest COVID-19 updates.
Protect yourself and IU: Get your flu shot
Don't mess around with the flu this year. Getting a flu vaccine is not only easy, it's a good defense for you and the entire IU community.

Visit IU's COVID-19 website to learn how to get a free flu shot at IU, how to report you've already been vaccinated or how to request an exemption.
Honors and awards
The Pacifica Quartet, quartet-in-residence at the IU Jacobs School of Music, has received its second Grammy Award nomination. The ensemble's latest album, "Contemporary Voices," was nominated in the Best Chamber Music/Small Ensemble Performance category. The Pacifica Quartet, whose members are full-time Jacobs faculty members, won the same category in 2008 with "Elliott Carter: String Quartets Nos. 1 and 5."
John McHugh, a former Wells Scholar and 2018 graduate of IU Bloomington, has been selected for the Marshall Scholarship in 2021. The scholarship finances Americans' graduate studies at an institution in the United Kingdom in any field of study. McHugh will maintain the scholarship for two years and plans to use it to attend Oxford University, focusing on contemporary Chinese studies and global governance and diplomacy.
James E. Klaunig, a professor with the IU School of Public Health-Bloomington, received the International Achievement Award for 2020 from the International Society of Regulatory Toxicology and Pharmacology. The group presents the award annually to "an outstanding individual in recognition of their contributions and achievements in the resolution of public environmental concerns."
Luddy researchers create method for improving MRIs
Researchers from the Department of Intelligent Systems Engineering at the Luddy School of Informatics, Computing and Engineering have developed a method for improving the speed of clinical magnetic resonance imaging, the quality of diffusion MRIs and diffusion MRI analysis. The method is Patch2Self.
Diffusion MRI is one of the most commonly used medical imaging technologies, and quick and accurate results are critical to the well-being of patients.
Club offers options for commuting needs
IU Bloomington faculty and staff who are looking for ways to save money, reduce stress and improve their health can consider several transportation options through the Hoosier Commuter Club.
For those considering turning in their parking permit, the Hoosier Commuter Club provides free daily parking permits, emergency rides home and Zipcar credits to those who choose to walk, bike and take transit.
IU and the city of Bloomington are working to expand the local bicycle network, which aids biking around campus. Consider these bicycle tips before riding.