Lilly Library construction continues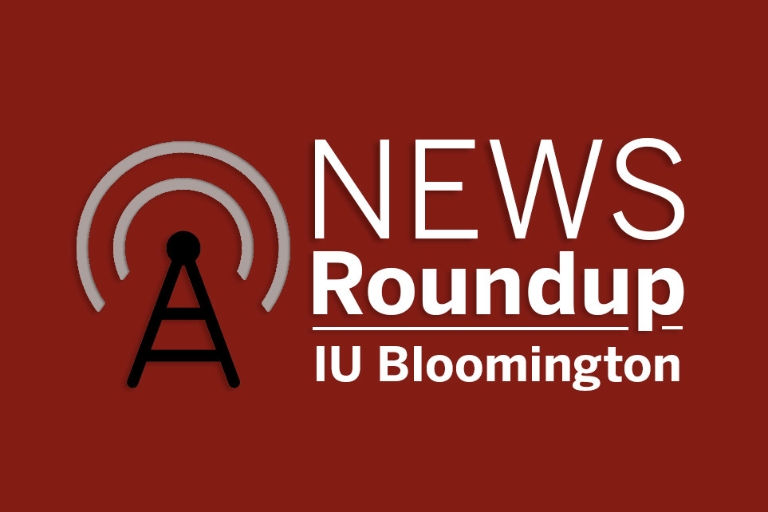 The Lilly Library, which celebrated its 60th anniversary in October, remains closed for renovations this semester. Main galleries and classrooms are expected to re-open in the summer or early fall, and Reading Room availability is expected to re-open by the end of the year.
The Indiana University Board of Trustees approved in June 2019 a $12.4 million renovation project for the library, which had not had a significant interior renovation since being built.
The project includes upgrades for the facility's mechanical systems and lighting, technological equipment, fire protection and security systems, access for people with physical disabilities, building navigation, and space configuration.
IU Catering offering Valentine's Day treats
Wanting to let someone special know you're thinking of them? Or provide a pandemic pick-me-up? Consider the four Valentine's Day boxes offered by IU Catering through Sugar and Spice Bakery.
Choose from:
Chocolate-covered strawberries.
Six iced sugar cookies.
Six cupcakes (chocolate, red velvet and vanilla cake available).
Valentine's Day cookie decorating kit (includes six sugar cookies, red and white icing, and candy decorations).
The boxes and kit are available through Feb. 14, or while supplies last. Individually decorated cookies and cupcakes are also available at Sugar and Spice in the Indiana Memorial Union. Gluten-free and vegan options are available.
Fill out an order form for pick-up or delivery. Pick-up starts Feb. 7; delivery on or near campus is available for $5. Payment can be made by major credit cards or I-BUCKS.
Have a COVID-19 question? Ask Aaron
Are you wondering about returning to campus and on-arrival testing? Or maybe mitigation testing and when and how the COVID-19 vaccination will be distributed?
If so, pose a question to Dr. Aaron Carroll, one of the leaders of IU's COVID-19 Medical Response Team, during an upcoming "Ask Aaron" webinar. Upcoming webinars are scheduled Jan. 27, Feb. 3, Feb. 10 and throughout the semester as a way to inform faculty, staff and students.
For the latest COVID-19 updates, go to covid.iu.edu.
Creative writing workshop features noted IU professor, poet
The IU Center for Rural Engagement and the Department of English Creative Writing Program are hosting "Cold Comfort: Writing Our Lives in Troubled Times, Part Two," a free, virtual creative writing workshop featuring Provost Professor and award-winning poet Catherine Bowman. The six-week series takes place from 6:30 to 8 p.m. Tuesdays from Feb. 2 through March 9.
In the context of the COVID-19 pandemic, participants will read works by writers who also endured troubled times. They will try writing prompts and generative exercises to help them reflect and ignite their imaginations.
Registration is open for the writing workshop.
School of Education honors 3 staff members
The IU School of Education honored three staff members with the M. Jane Kaho Staff Recognition Award, the highest honor given out annually to staff members who demonstrate dedication above and beyond their job requirements.
This year's winners are:
Jennifer Brooks, project services manager in the Center for Postsecondary Research.
Lori Parker, accounting and business representative in the Dean's Suite of the Finance Office.
Sean Price, business manager for the Center for Research on Learning and Technology.
The award is named after former staff member Jane Kaho in honor of her legacy of service to the School of Education.
New initiative connects children with Eskenazi Museum of Art
A partnership between two Indiana University entities, a Bloomington-based agency and a foundation is launching a new art-based club program for preschool and elementary students at a local shelter.
Middle Way House is offering Look Clubs in partnership with the Indiana University Eskenazi Museum of Art, the IU Center for Rural Engagement and the Jordan D. Schnitzer Family Foundation.
Each month, club members participate in an age-appropriate, unique art activity based on a different piece from the museum's collection.
Former Colts coach offers advice to IU Athletics during MLK Day celebration
Former Indianapolis Colts coach Tony Dungy spoke to nearly 400 IU student-athletes, coaches and staff members Jan. 18 in a special Martin Luther King Jr. Day event organized and hosted by the IU Athletics Anti-Hate and Anti-Racism Coalition.
During a one-hour Zoom event, "Tony Dungy: A Conversation on Leadership, Courage and Embodying the Dream," he fielded questions about social justice, leadership, and faith and its role in athletics. He also spoke about King and his vision for the country.
"I think my dream is similar to Dr. King, that we can have a country where, just like our sports world, we can go after excellence, we can pursue it, that excellence is important to us, but we can have excellence in the right way, that we can respect and love one another and work together and make the country the best it can be," Dungy said. "That's my dream."