BLOOMINGTON, Ind. – James Shanahan, founding dean of The Media School at Indiana University Bloomington, will step down July 31 after a six-year tenure that saw the successful merging of three academic units into what is now one of the most comprehensive media-related research and teaching programs in the country.
Shanahan will remain on the school's faculty. An interim dean will be announced at a later date.
Under his leadership, the school created new academic undergraduate and graduate programs, moved into the newly renovated Franklin Hall and brought together more than a half-dozen media-related research centers. During For All: The Indiana University Bicentennial Campaign, the school raised nearly $13 million, including a $6 million gift to create the Michael I. Arnolt Center for Investigative Journalism – the single largest gift in the history of the school and its legacy units.
Thanks largely to the work of the school's faculty and graduate students, IU Bloomington maintained a consistent international top-eight ranking in communication research during Shanahan's tenure.
"As founding dean, Jim Shanahan led the school through the creation of new degrees and programs while maintaining its excellence in research," IU Bloomington Provost and Executive Vice President Lauren Robel said. "IU owes him a debt of gratitude for the strong foundation he helped build for the path-breaking Media School."
Shanahan came to IU in 2015 from Boston University to oversee the newly created Media School, which brought together the former School of Journalism with the Department of Telecommunications and the film component of the Department of Communication and Culture. The school developed several new degrees in addition to the existing Bachelor of Arts in journalism, including a Bachelor of Arts in media; a Bachelor of Science in game design; a Bachelor of Fine Arts in cinematic arts; a Master of Science with concentrations in strategic communication, journalism, data journalism, management, and design and production; and a Ph.D. in media arts and sciences.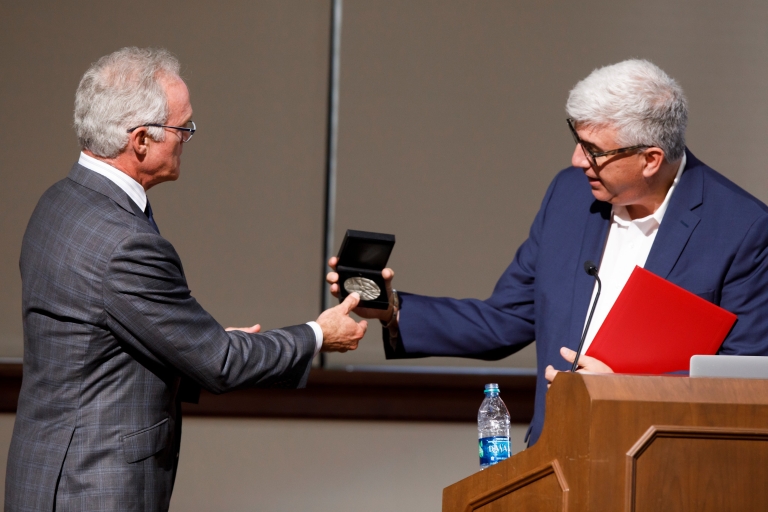 In 2016, faculty and staff moved into Franklin Hall, which – along with Media School facilities in the Radio-TV Building – constitutes a showcase for instructional and professional technology related to broadcast, film and game design. Franklin Hall includes a top-of-the-line TV studio and control room, supported by gifts from alumnus Ken Beckley and his late wife, Audrey, as well as alumnus Ed Spray.
Students also have access to virtual reality software, motion capture cameras, a screening room and audio booths for podcasts, as well as a renovated studio in the Radio-TV Building. The heart of Franklin Hall is a central, glass-topped commons with a 24-by-12-foot screen. The space has become, in Shanahan's words, the campus "living room."
With Shanahan's guidance, faculty and staff developed a broad array of experiential learning opportunities for the school's 2,200 students, including a popular Semester in Los Angeles program that takes students to California for internships and academic instruction. The school has more than 20 student organizations, including student media, and a variety of travel and service-learning opportunities, such as trips to the Gulf Coast to create informational films for the National Park Service and public relations campaigns for local nonprofit organizations.
The school is home to more than a half-dozen centers and institutes, including the Black Film Center/Archive, the Center for Documentary Research and Practice and the new Observatory on Social Media. A partnership with the Luddy School of Informatics, Computing and Engineering and the IU Network Science Institute, the Observatory is funded by a $3 million Knight Foundation grant. Shanahan will continue to be an investigator at the Observatory.
The Arnolt Center for Investigative Journalism has formed partnerships with state and national news organizations and has involved dozens of students in investigative projects that have been published in Indiana and beyond. The Arnolt Center gift includes an endowed chair, graduate fellowship, undergraduate scholarship and endowed operating fund. During the Bicentennial Campaign, the school also established 25 new scholarship funds (15 endowed funds), as well as the Barbara Restle Press Law Project and the Roy W. Howard Archive Digitization Project.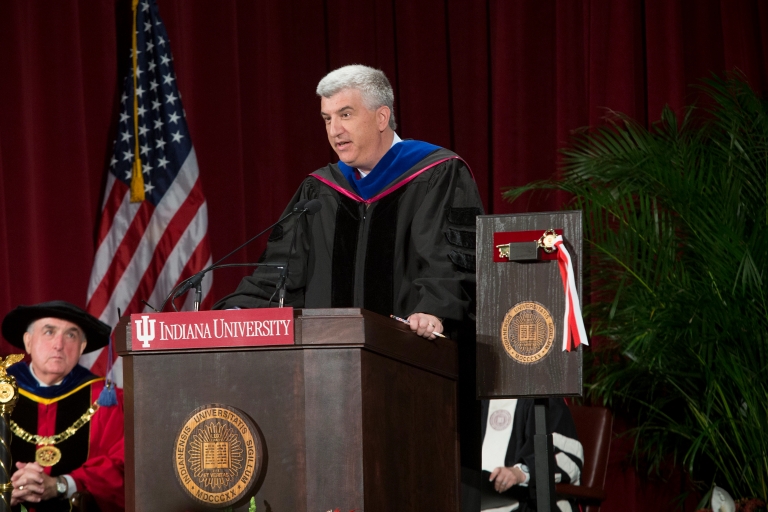 In addition to serving as dean, Shanahan has also been integrally involved in the university's Prepared for Environmental Change Grand Challenge. He served as the associate director of the Environmental Resilience Institute, the challenge's administrative office, and developed several communications initiatives to educate Indiana residents about climate change and related issues. Those initiatives included the formation of Indiana Environmental Reporter, now a state- and national-award-winning news outlet in The Media School; the In This Climate podcast; and an environmental reporting position at WFIU/WTIU on the Bloomington campus.
Shanahan is a mass media effects researcher with a special interest in communication related to science and the environment. His most recent work resulted in a book, "Media Effects: A Narrative Perspective," published in 2021. His previous academic appointments included Fairfield and Cornell universities. He has continued to teach undergraduate courses during his tenure, including a recent course on media and conspiracy theory.
"It's been a real privilege to serve as dean," Shanahan said. "Thanks to our talented and supportive students, alumni, faculty and staff, The Media School has a solid foundation and a bright future. I look forward to supporting the next dean, and the opportunity to continue and broaden my relationships with colleagues and students. I send my sincere appreciation to all members of the Media School community."