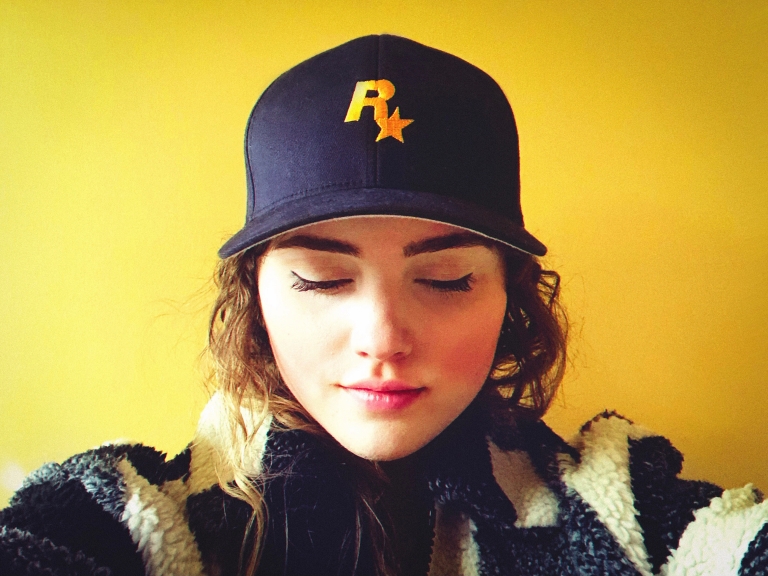 Whether it's jumping over and on shells as a mustachioed plumber to save a princess, zipping around as a blue hedgehog with blazing speed collecting golden rings or taking control of an outlaw in the Wild West searching for a better life, video games immerse the player into characters and worlds that stretch the imagination.
For Silvia Lawson-Vilches, these iconic digital worlds are no longer solely reachable through a controller and screen – she's creating them.
The December 2020 graduate of the School of Informatics and Computing is an associate lighting artist for Rockstar Games, a prestigious award-winning studio in the video game industry that's responsible for highly acclaimed series such as Grand Theft Auto and Red Dead Redemption.
"It's right up there statistically with a football player getting drafted into the NFL," said Zeb Wood, co-director of the Media Arts and Science undergraduate program. "It's pretty rare and special. She totally deserves this – it wasn't a fluke. She put everything into what she did."
In his 15 years at IUPUI, Wood said, he can count on one hand the number of students who have asked to meet with him before their first semester. Lawson-Vilches revealed in their initial meeting that she was focused on becoming a lighting artist in 3D media after finding inspiration from Pixar lighting artists' TED Talk. Wood had never met a student who wanted to pursue a career in lighting.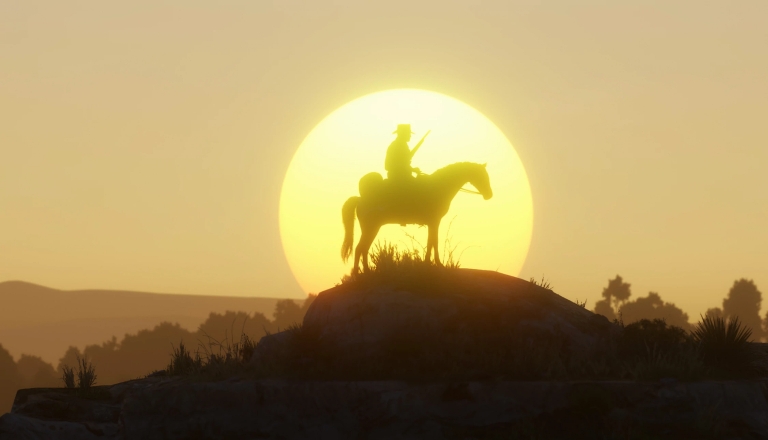 A lighting artist is responsible for the look, feel and presentation on the screen while also helping direct the audience's eyes to the intended location. In video games, this can mean helping the player escape a building or hinting a recommended path to navigate through an overgrown jungle. More specifically, lighting artists are manipulating light and color to create an environment's drama and mood. Darker tones are used in more tense and scary atmospheres, while warmer colors are more frequent in happier, gentler settings.
"My responsibility as a lighting artist is to send signals to the player so they have an understanding of where to go," Lawson-Vilches said. "Light is really important, as it helps give the world shape."
A casual gamer growing up, Lawson-Vilches played Dragon Age: Inquisition between her freshman and sophomore years of college and found herself becoming more interested in video games. During her first two years at IUPUI, she was focused on working in the film industry, but it wasn't connecting.
"It wasn't really hitting the right notes for me," she said. "I really liked it, but I didn't know if I wanted to fully devote myself to it."
Lawson-Vilches saw a trailer for Rockstar's Red Dead Redemption 2 and was captivated by its visuals and portrayal of the frontier West. She picked up a PlayStation 4 controller, popped in the disc – and her life would never be the same.
"The experience was so gradual and organic. I didn't know you could have this kind of an experience with games because I feel like I had missed out in a certain way," said Lawson-Vilches, of her response to Red Dead Redemption 2's lasting, emotional impact. "The game affected me on such a deep, visceral level. It's a part of me now."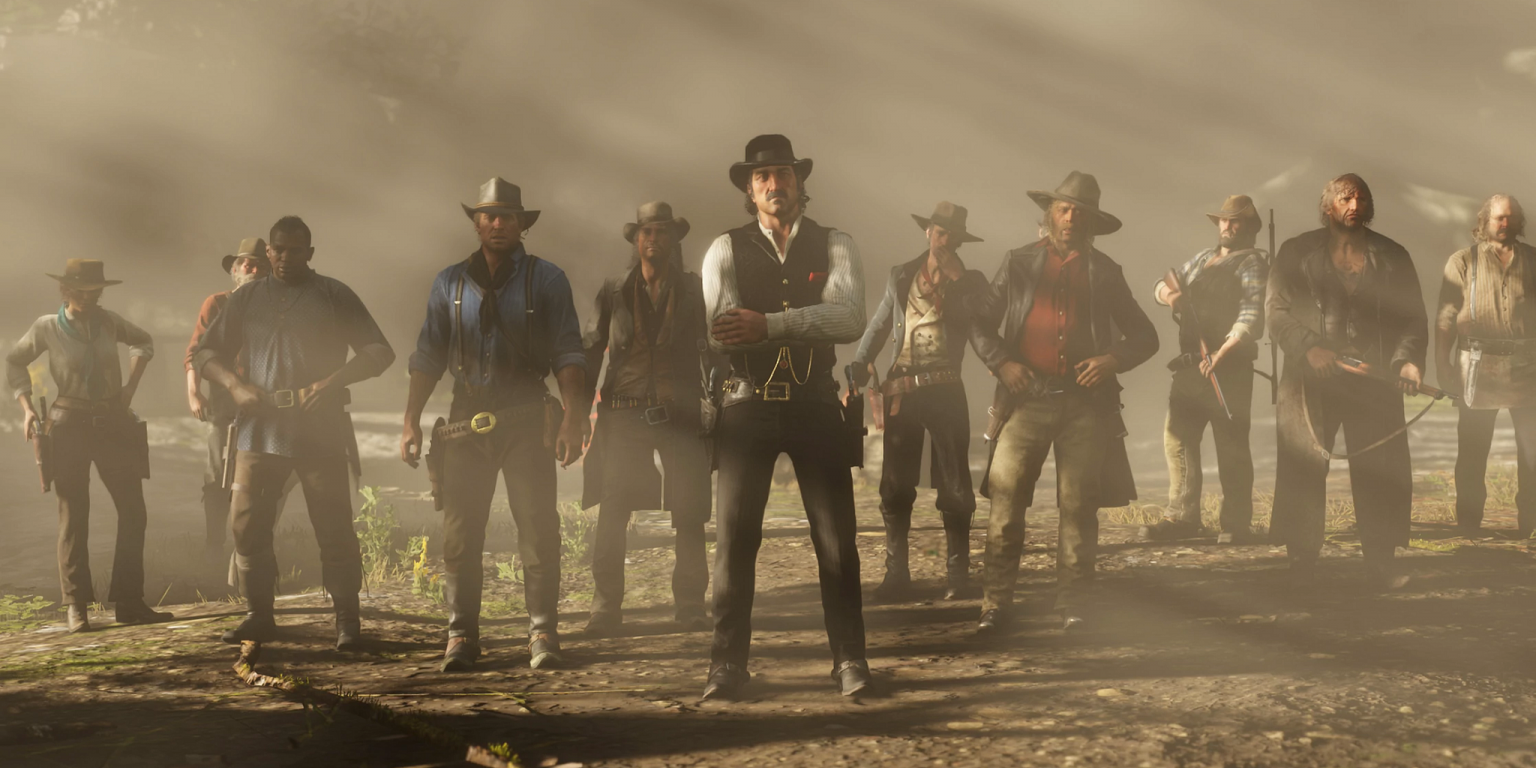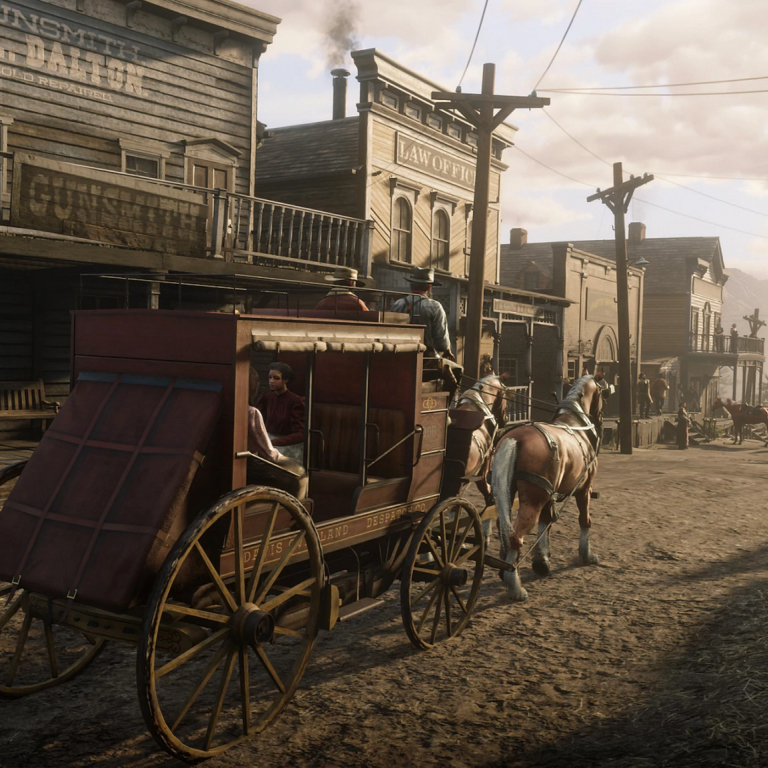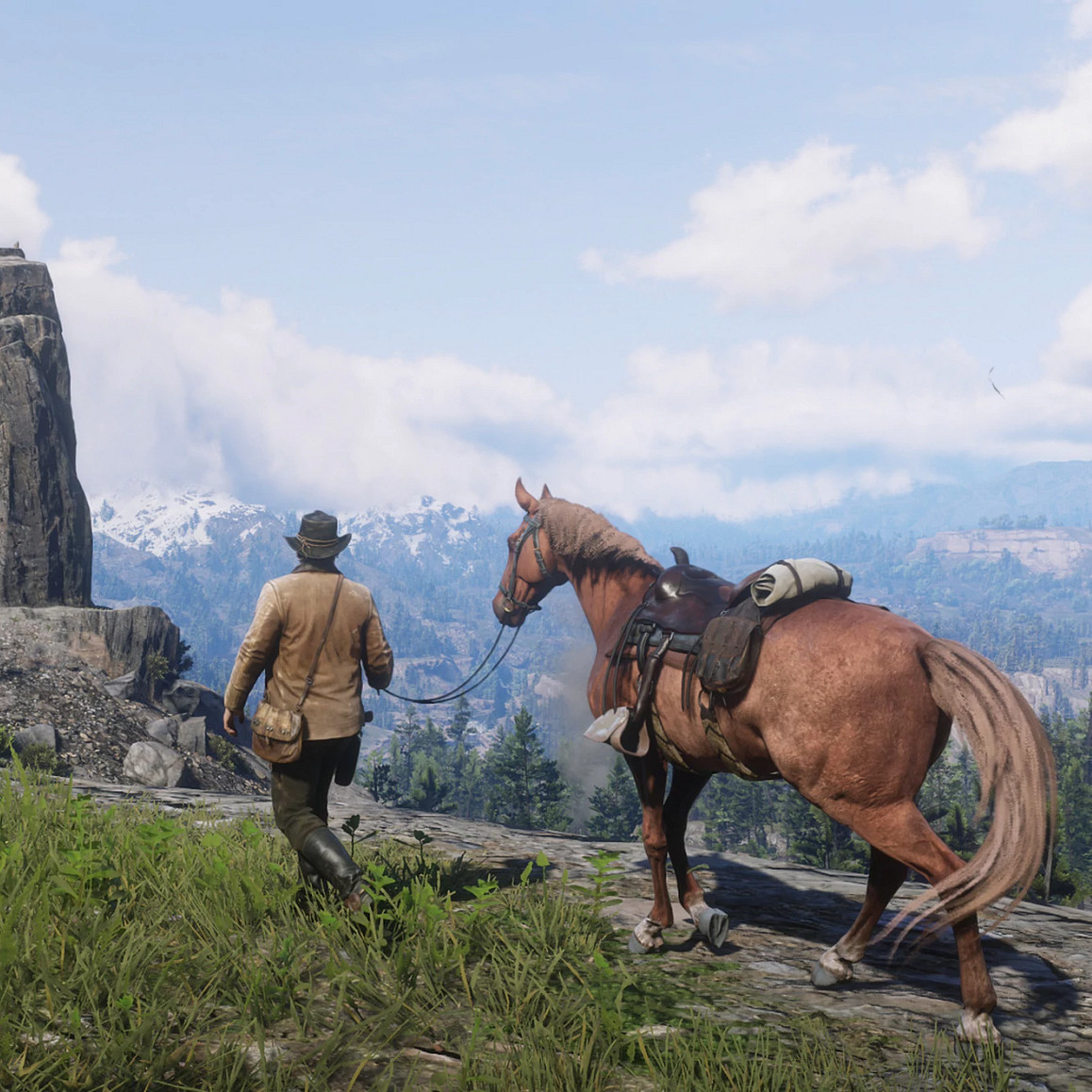 Images courtesy of Rockstar Games
Set in the American West at the turn of the 19th century, Red Dead Redemption 2 is about outlaw Arthur Morgan and his moral dilemmas and tribulations as a member of the notorious Van der Linde gang. The game has deep interactivity and a beautiful visual presentation that strengthened Lawson-Vilches' love for the rich story and layered characters. It was a transformative experience for the West Lafayette native, who now works for the company that's responsible for her career path.
"The themes and overall tragic – yet hopeful – tone truly made me fall in love not only with the game, but with storytelling in games," Lawson-Vilches said. "My goal moving forward became to be part of a process that will connect with someone around the world and evoke that same feeling. And now, I'm deeply grateful to have the opportunity to work within the studio that ignited that passion for me in the first place."
Video games are no longer just a fun way to pass the time; they're a large and lucrative business. The video game industry was responsible for $150.2 billion in global sales in 2019, out-earning both the global film industry ($101 billion) and North American sports organizations ($73 billion). The COVID-19 pandemic only increased the industry's profits as American consumers regularly broke spending records on video games during 2020.
IU alumnus goes outlaw
Feb. 23, 2021
BLOOMINGTON, Ind. – For millions of gamers worldwide, Rob Wiethoff's distinctive, familiar growl is instantly recognizable.
The Indiana University alumnus is responsible for the voice and motion capture of John Marston, the beloved protagonist of the Red Dead Redemption video game series that has sold nearly 50 million copies.
With a gruff, hoarse voice that feels native to the western-themed, cowboy-filled time period of the games, Wiethoff is a seamless fit for the iconic outlaw set at the turn of the 20th century. A change of attitude is the only audible difference Wiethoff uses to separate between the two.
Wiethoff has been described as "a nice guy and happy" on set and would have to be reminded about Marston's grumpiness. Marston is a principled and honorable man who sternly communicates and could be quick to anger. The 44-year-old Wiethoff has a genuinely friendly and inviting personality that is both sincerely warm and humble.
"Thank God I did not have to change the way I sound; it would have been way too much to think about," Wiethoff said with a laugh.
His superb work as Marston has earned him critical recognition and a passionate fanbase. He's won video game awards, has over 115,000 Instagram followers and keeps busy on Cameo recording messages to enthusiastic fans across the globe.
Back home in Indiana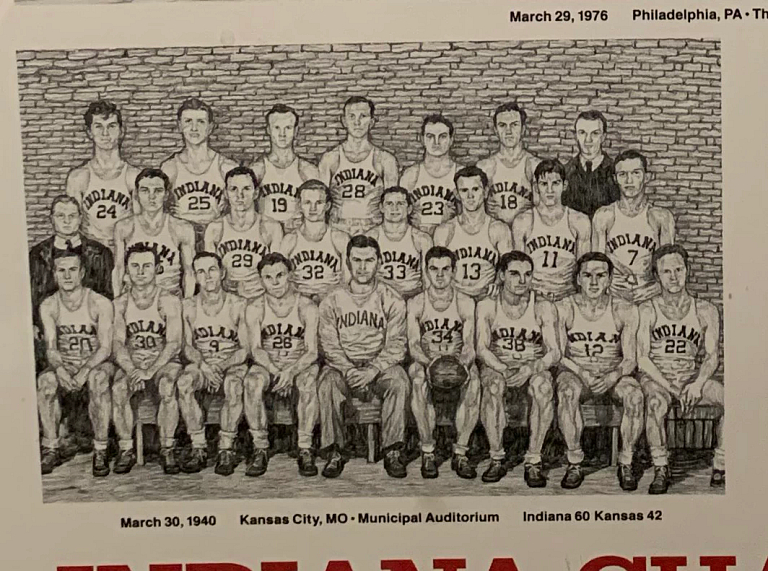 Bloomington is filled with special memories for Wiethoff and his family.
Rob's grandfather, the late Clifford A. Wiethoff, played on the Hoosiers' first NCAA Championship team in 1940. He laid the foundation for generations of future Hoosiers, as over 20 family members graduated from IU.
For Rob, it was a given. He had considered a career in aviation, but the pull of Bloomington was supreme.
"I should've gone to Purdue, but there was no way I was going to do that. So I guess, I won't be a pilot," he said, laughing.
With deep family ties and a familiarity with campus from visiting his sister and cousins while he was in high school, he fondly remembers coming to campus as a student.
"When I walked to my first class, I was so proud," he said. "I walked there with the biggest, nerdiest smile on my face. I was there, and it was real. It meant so much to me."
That love for campus did not dissipate after he graduated in 1999 with a degree in general studies. Although he spent almost a decade in Los Angeles, he eventually returned to his hometown of Seymour. When he and his wife, Tayler, welcomed twins in 2012, they frequently found themselves driving 45 minutes from Seymour with a double stroller to take in campus's beauty. When the Wiethoffs have visitors, they take their guests to Nick's English Pub or Yogi's and show off the college town.
Cliff – or "Poppy," as his family called him – was the one to instill a love of IU and Bloomington for the Wiethoffs. Cliff was mainly a reserve player in the championship year, but a game against Michigan left an impact. He scored six points in the win but also suffered a broken jaw and spent the remainder of the season with it wired shut.
After two seasons, legendary coach Branch McCracken told Cliff he was in line for more playing time in his junior year. But Cliff's father wanted him to make a decision: be a basketball player, or focus on becoming a doctor. Cliff picked medicine, a choice he jokingly admitted regretting while watching IU games from his reserved seat and leading the family discussion.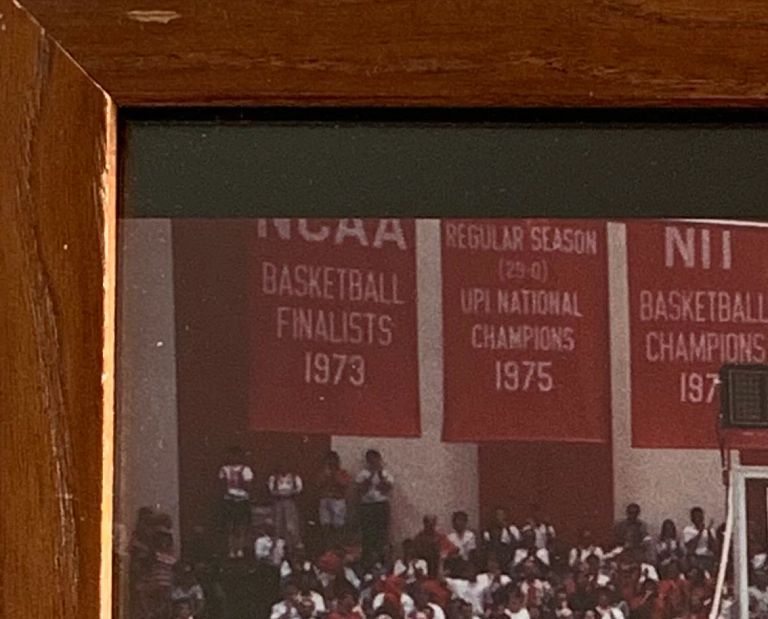 In the late 1980s, the 1939-40 championship team was honored at halftime of a game against Illinois. The family had T-shirts made that read, "I'm Cliff Wiethoff's grandson," " I'm Cliff Wiethoff's daughter," etc., and he received a plaque that was always proudly displayed.
Shortly before he passed away in 2010, Cliff spoke with then coach Tom Crean at an alumni event. When Crean discovered Cliff was on IU's first championship team, Crean wanted to have Cliff sit on the bench for a game as an honorary coach. Unfortunately, Cliff's health deteriorated before he was able to do so, but he and the family were honored by the gesture.
Cheering on the Hoosiers continues to be a cornerstone of the Wiethoffs' lives. They love tailgating before football games and watching games together.
"Our whole family has jumped in on loving IU sports and being there at games and partying and celebrating," Wiethoff said.
Heading west
As a student, Wiethoff enjoyed the diversity of his classmates. While he loves his hometown of Seymour and the people there, at IU Wiethoff interacted with people from across the country and world. He relished the opportunity to find similarities and differences in people from diverse backgrounds.
After he graduated with a degree in general studies, Wiethoff was unsure of what to do next. Having visited Los Angeles on vacation and curious about the possibilities, the frigid gray Indiana winter helped push him to make the leap from Seymour to Hollywood. The exposure at IU of diversity opened his eyes to life outside of southern Indiana.
"I don't know if I would've had the guts to move out to LA if it weren't for IU," he said. "I learned so much about myself and about life from going there."
Unsure of what he wanted to do, Wiethoff decided to give acting a shot and landed a commercial agent. Enjoying a life of being young and single, he was bartending at night and doing commercials during the day.
In what can be a ruthless town for careers, Wiethoff said he was fortunate to have jobs as well as money in his pocket. But after nearly 10 years in Los Angeles, an audition for an "untitled video game project" arranged by his agent would change Wiethoff's life.
In the one acting class he took in Los Angeles, he learned that when in an audition, give it everything. If they want you to be mad, be as mad as you can be. "Don't leave the putt short," he described.
Wiethoff landed the role. But he was unaware of the world he was about to enter.
Rock star grad gets job with Rockstar Games
With narratives comparable to top cinema and literary storytelling that combine with cutting-edge technology and visuals, video games provide an unmatchable immersive experience for the player. In video games, the audience is empowered to be an active part of the story and influence what happens.
"There is so much freedom in being able to decide what you want to do as a player, and I think that's a beautiful thing for everyone to experience," she said.
Lawson-Vilches was hired by Rockstar Games just after the start of the pandemic and has worked remotely since. She moved to San Diego in August and will be based out of Rockstar's studio there.
When she was hired, Lawson-Vilches still needed a couple of classes to complete her degree in media arts and science. The hybrid format of classes, and understanding from Wood, allowed her to complete her education while working full-time.
Wood's confidence in Lawson-Vilches was based on his experience watching her. She had established herself as a relentless student who went above and beyond to expand her skill set and build an impressive portfolio during her formative years. She pushed the technical limits and artistic vision of all of her assignments to continuously be improving. All students have assignments, but she had those along with an equal or greater amount of portfolio work.
"She knew what she wanted to do and, unlike many other students, she knew what that meant," Wood said. "She was doubling up on everything to make sure she got what she wanted as soon as possible. It's a special mindset that I'd love to see in more students."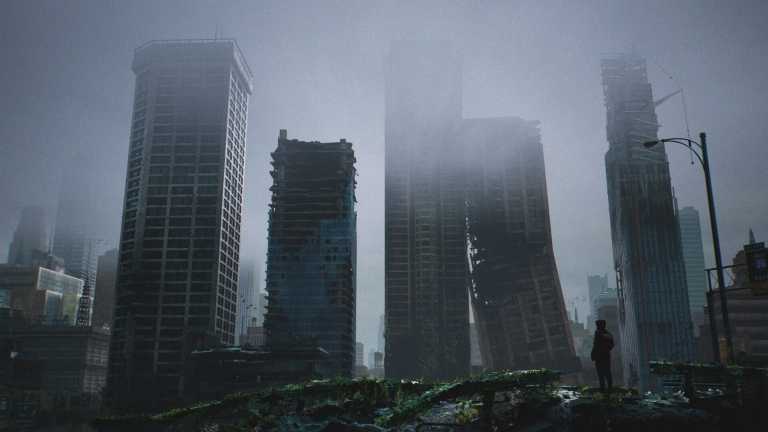 One of her more impressive portfolio pieces is inspired by The Last of Us: Part II, a post-apocalyptic game in which the world has been overrun by "the infected" (zombies). She spent around 100 hours creating a hauntingly beautiful and detailed dilapidated cityscape from scratch.
Lawson-Vilches served as president of IUPUI's chapter of SIGGRAPH, a global organization for computer graphics professionals, and was also a frequent colleague of Jordan Barriger, a fellow December 2020 graduate from the School of Informatics and Computing. The duo had a passion project titled Halcyon, for which they explored using the Unreal Engine to develop a short film – a first at IUPUI. The Unreal Engine is an industry-leading game-design tool that uses real-time technology for special effects; it's also been used in Disney+'s series "The Mandalorian."
For their work, Lawson-Vilches is responsible more for the visuals, and Barriger is the mastermind on the technical side. It's a balance that made the two natural collaborators.
"Our different areas of expertise have brought us the ability to learn from one another and be able to bridge what we want from a project," Barriger said.
Now that Lawson-Vilches has officially graduated, it's just a matter of time before her first project is released.
When a player finishes a game, credits for those who produced it appear onscreen, similar to television shows and movies. Someday soon, Lawson-Vilches' name will be one of those digitally etched in video game lore.
After she completed Red Dead Redemption 2, Lawson-Vilches watched the 30-minute credits scene and read the 3,000 names of those who worked on it.
Now, those names are peers.
She says her co-workers have been welcoming and kind as she embarks on a career and works to help create more blockbuster content from Rockstar Games.
The incalculable time, effort and creativity by Lawson-Vilches and the support of her friends and family led her to a dream job where she has to regularly pinch herself and express gratitude.
"Knowing that I'm part of this cog of a machine that breathes so much life into these characters and worlds that people find so much comfort in is so rewarding to me," she said. "It's been heightened because of COVID-19, but people are really looking for that comfort and space to lose themselves in. It's what drives me every day."