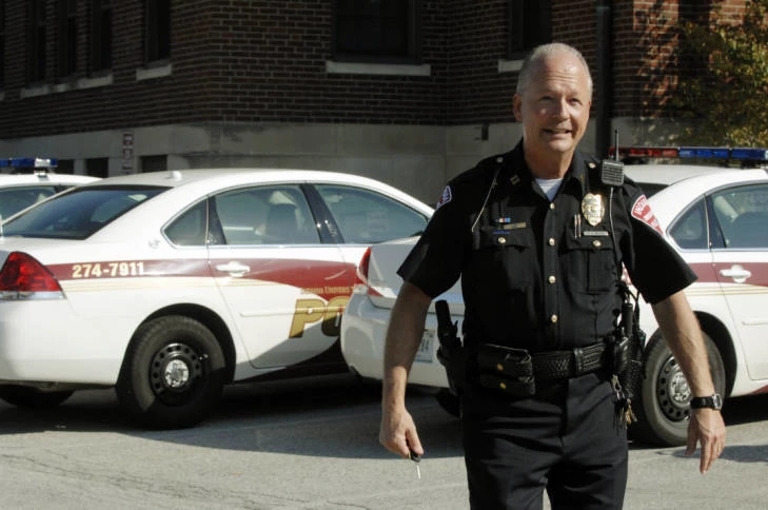 After protecting and serving IUPUI in six different decades, Bill Abston is calling it a career.
The deputy chief of police of the IU Police Department at IUPUI is retiring Jan. 30, concluding his 43-year law enforcement career with the university.
It's been a tough decision Abston has wrestled with for the past year. He's been a fixture on campus for nearly half a century, and there's an immeasurable bond that comes from working for only one institution for the entirety of your career.
"It's not been an easy decision, to say the least," he said. "You spend 43 years, and it's really your life."
Labeled by his co-workers as a servant leader, Abston has always had one goal in mind: the safety and security of IUPUI's students, staff and faculty. He's described as even-tempered and a constant and steady voice of reason.
"Bill's an all-around great guy and a family man," Capt. Kevin Figg said. "His character is solid – they don't come any better than him. He's a man of faith and has high moral standards."
Figg, who has been with the department since 1988 and is also retiring Jan. 30, celebrated Abston's great sense of humor and willingness to be the butt of a joke. Co-workers frequently poked fun at Abston's handwriting, describing it as hieroglyphics.
"I could sit here for an hour and say good things about Bill," Figg said. "That's the kind of guy he is."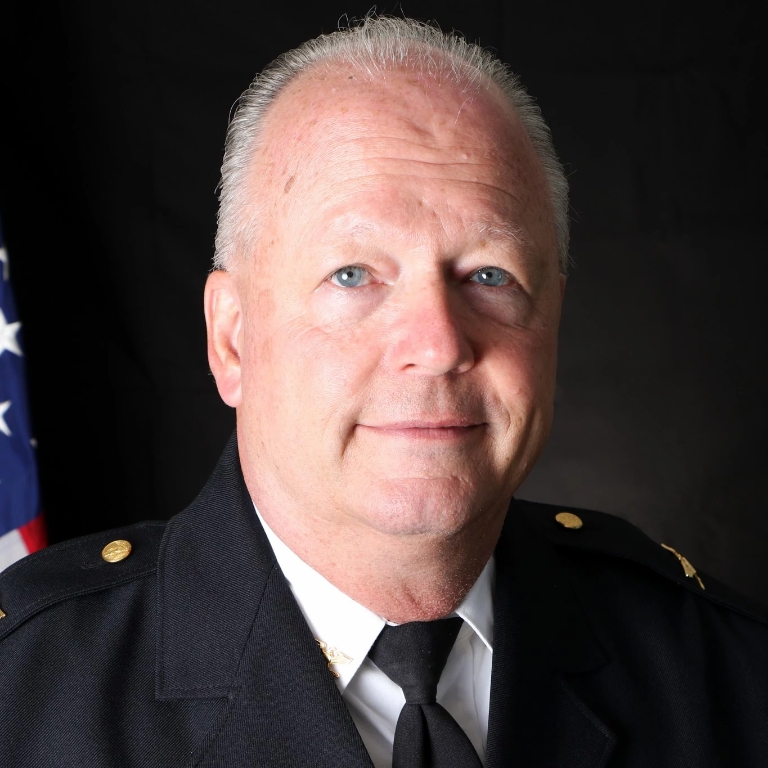 Abston joined the IU Police Academy cadet program in 1977 after a classmate in a political science course mentioned the university's police force. Having already considered a career in law enforcement, Abston was intrigued by the small department, and he enjoyed IUPUI. He was hired in 1978 and found his professional home for over 43 years.
Outside of a few buildings – like Cavanaugh Hall, Taylor Hall, and the Engineering and Technology Building – that remain, the IUPUIs of 1977 and 2021 are starkly different, Abston says. He remembers students having to physically trek throughout Cavanaugh Hall to register for classes.
New parking lots and parking garages frequently bloomed to account for the growing student body. Expansive warehouses were replaced by the quality sporting facilities of the IU Natatorium and Carroll Stadium, which have regularly hosted Olympic qualifying events. The beautiful multistory, semi-transparent Campus Center replaced the simple brick exterior of the Bowers Building, which previously housed the IUPD IUPUI headquarters.
"Just to see the growth over the years has been pretty amazing," Abston said.
When Abston first started on the force, the radios were barely dependable to maintain a signal across campus. With the expansion of the department and evolution of technology, officers now have body cameras and radios that can talk throughout Marion County and beyond.
He's seen IUPUI in the 1970s, '80s and '90s and the 2000s, '10s and '20s and moved through the ranks to lieutenant, captain, deputy chief, interim chief and back to deputy chief. But the lasting takeaways from Abston's time at IUPUI is the people. He's proud of the reliability, comfort and safety that he helped provide. If there was a safety or security issue, people knew they could call Bill.
"I've made a lot of good relationships over the years, and hopefully I made the campus safer," he said. "I also worked to help engage the police department with the university community."
Vice Chancellor Camy Broeker has been a close partner of Abston's in working to keep campus secure. Broeker has seen the impact Abston made and describes him as having a heart of gold.
"It's difficult to put into words the tremendous positive impact Bill has had on the IUPUI campus," Broeker said. "At every hour of every day for decades, he has helped provide leadership and vision for our IU Police Department at IUPUI, and I have personally counted on him as a colleague and a friend. Ours is a better campus thanks to his service here."
With a department totaling around 50, Abston is also proud of the quality of those working on the force. He says it's vastly improved from when he started.
"I'd put our department up against anybody in terms of capabilities," he said. "When I first started … let's just say the quality of people has improved greatly. The campus community should be very confident that its safety is in good hands."
One of the more memorable moments of Abston's career occurred in April 1979, soon after he joined the force. He was the early car of the evening shift and was patrolling during roll call when he received a call of shots fired at the toxicology building, next to the Medical Science building.
When he arrived, he saw an Indianapolis Police Department officer running to the scene from Wishard Hospital. Together, they went in the building's north entrance. They heard shots from the south end of the building and made their way toward the danger. The pair saw someone with their legs on fire and with a bullet wound to the mouth and rendered first aid.
An investigation revealed the injured person was a disgruntled employee who was upset with his boss and had shot her, shot himself and set the building on fire. Unfortunately, the supervisor was found deceased. The man was transported to the hospital and later charged.
"It's a brave man who will go into a burning building where there was a shooting and not know who the shooter is," Figg said.
Over the years, Abston recalls a few highlights, including working dignitary protection for visitors to campus such as former Vice President Dan Quayle, former Secretary of Education William Bennett and former ambassador Jeane Kirkpatrick as well as attending the FBI National Academy in 2002, the spring after 9/11, and visiting Ground Zero.
Abston has a lot of great memories from working at IUPUI over the past 43 years, but he's looking forward to spending time with his four grandchildren and has made plans to cycle with friends.
Feb. 1 will be an odd day for him. When something happens, he'll miss being able to head to the scene and make a difference. He'll miss the relationships with people in the department and around campus.
It's been an emotional roller coaster for Abston. He reflected on how IUPUI recently celebrated its 50th anniversary and that he's served the university for much of its existence.
"I've grown right along with it," he said. "Hopefully, I've made an impact."