Although things looked a bit different from past years' capstone events, students at the IU School of Informatics and Computing at IUPUI recently closed out 2020 with a traditional end-of-semester celebration – despite the challenges of physical distancing due to the pandemic.
Hosted on the popular game-streaming platform Twitch, the event saw students and faculty come together from living rooms, bedrooms and kitchen counters across the state to participate in the 2020 Virtual Capstone, a showcase to highlight the hard work and creative endeavors resulting from their efforts of the past several months. The event, which ran about four hours into the evening on Dec. 11, featured dozens of creative student projects, including video game designs; electronic arts, such as digital lighting, sculpting and character creation; videography; and web development.
The event was only the second time the capstone has been held online, with the virtual format giving prospective students the opportunity to discover what the school's programs offer and hear directly from the individuals who created the works on display. A small squad of student moderators, led by faculty member Travis Faas and multimedia technician Mike Lulgjuraj, kept the event running smoothly in the background on Discord, a popular chat application.
"What's amazing about our school is that we not only have people who research real-world issues and help save lives through health research, but also people who enhance the quality of lives with games, comics, and 3D art and websites," said Mathew Powers, a lecturer in media arts and science who served as co-host of the event, along with Zebulun Wood, co-director of the Media Arts and Science undergraduate program at the school.
"We have programs focused on library science, health, biology, human-computer interaction, media arts and science – a whole spectrum of specializations," Powers said. "We're a holistic school; we want to help our students gain experience by helping our community in state and around the world."
Following are five projects from the event – a few examples of the talents on tap.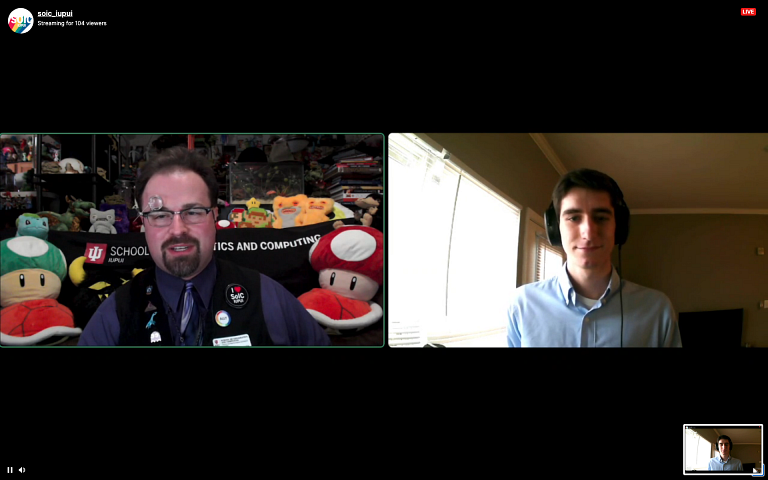 Robert Burita
Video game: Puck Dungeon
"My project, Puck Dungeon, is a video game I created over the course of the semester," Burita said. "I got the idea after my Intermediate Game class with Travis Faas.
"The main tool I used for creating the project is Unity, which has been the main focus of my education at IUPUI, and there have been multiple classes here that have helped cultivate that focus. I have also used countless practices and techniques for creating art, engineering sound, editing video and designing experience."
The description from the game's itch.io page reads: "Craft a deck of carefully-coordinated spells, fight a multitude of dangerous monsters, and slingshot your party of puck-based heroes through the many floors of the Puck Dungeon!"
Puck Dungeon is available to download and play for free at itch.io. Burita's mentor on the project was Faas, a lecturer in media arts and science.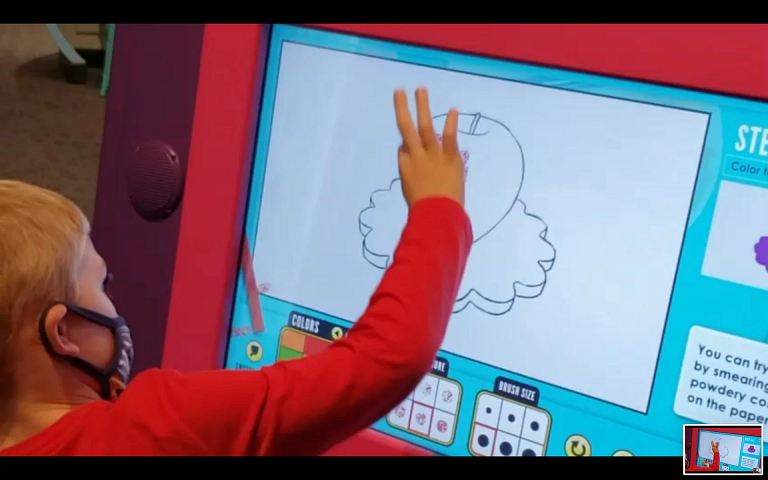 Hannah Duthie
Interactive media internship: The Children's Museum of Indianapolis
"During my time at the museum, I was given the role of developing digital interactives for visitors to enjoy," Duthie said. "I worked closely with the museum's staff to create artwork for current and future exhibits.
"Each week, I would meet with the head of the museum's departments to discuss the media I was assigned to create, and then I would plan, sketch out ideas and check back to ensure they were accurate. After the sketches were acceptable, I would move on to to coloring and drawing, checking frequently to make sure I was moving in the right direction. When the illustrations were complete, I would submit the files and begin my next assignment.
"Over the course of my internship, I created over 50 illustrations and graphics, including some used in two exhibits on display now and two for exhibits that will be on display next year."
Duthie's mentor on the project was Criss Clark-Gray, an adjunct lecturer at the School of Informatics and Computing.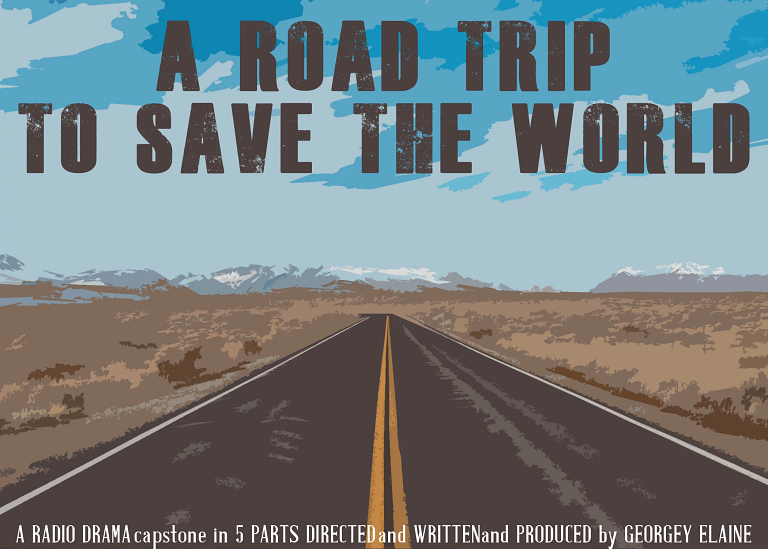 Georgey Elaine
Podcast drama: 'A Road Trip to Save the World'
"'A Road Trip to Save the World' is a five-episode audio series/podcast story/radio drama starring three siblings who take a cross-country road trip to avert the apocalypse but also to reckon with their father, who happens to be an absentee father and evil scientist," Elaine said. "I really pulled from a ton of different classes over the years for this project, including courses on website design and graphics, storytelling, and audio and video production. I used everything I learned at IUPUI to create this magnum opus."
The complete audio of "A Road Trip to Save the World," along with a blog, a promotional video and artwork, is available online at savetheworldroadtrip.com. Elaine's project mentor was Rodney Smith, a lecturer in media arts and science at the School of Informatics and Computing.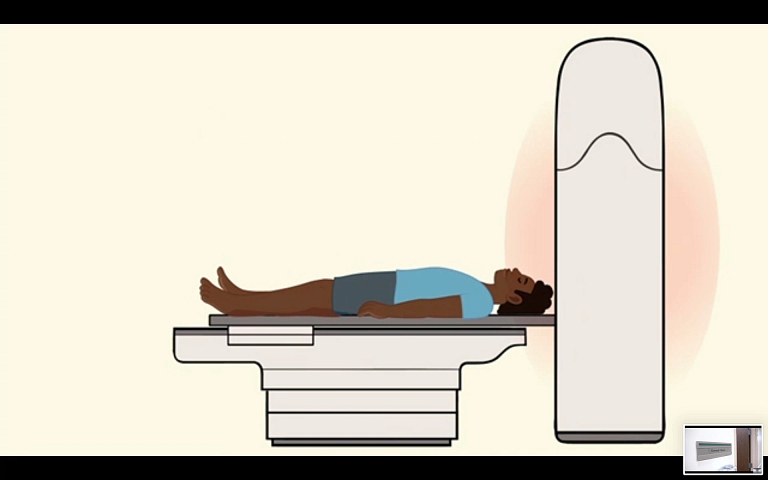 Laura Galliher
Video: 'Journey To Healing,' Department of Radiation Oncology, IU Health
"Our client was Brian Overshiner, a radiation therapist at IU Health, who wanted to make a video that would alleviate the fears of patients who were about to go into a pretty scary situation: treatment for cancer," Galliher said. "The video covers some high-level topics – from consultation to survivorship – with a mix of live-action film and animation.
"This project was especially important to me because my father passed away from non-Hodgkin's lymphoma about two years before I came back to school, which meant I came into the project as someone who understands what it's like to be scared about the process of cancer treatment. I wanted to be a part of something that helps make a scary experience a little less scary."
Galliher's technical contributions to the project focused on sound design. Other contributors were Steven Durham and Adam Anderson for video production and Dauson Poole for animation and art design. Zebulun Wood served as Galliher's mentor on the project.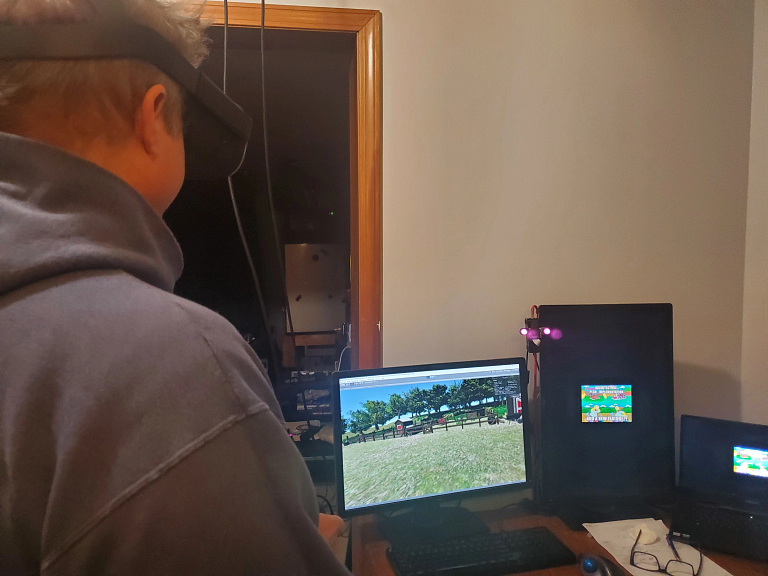 Emma Overmyer
VR game: Happy Farming
"My project is an agricultural education simulation game that aims to help educate children and adults about common farm animals," Overmyer said. "I was raised on a 24-acre hobby farm and have been taking care of different animals my whole life – chickens, ducks, turkeys, sheep, donkeys, pigs, goats, horses, even raccoons. But when I came to school in Indianapolis, I was surprised at how many people knew nothing about farm animals.
"As a VR game, Happy Farming allows players to experience what it's like to care for farm animals properly. They can perform tasks on a virtual farm, study 'care cards' and learn fun facts about these animals. For my capstone, I focused on creating the modeling, texturing and building the different scenes and animals needed for the game. Everything I created on this project I learned from IUPUI. I could not have done it without the skills and knowledge I learned from the many amazing faculty and staff on campus."
Zebulun Wood served as Overmyer's mentor on the project.