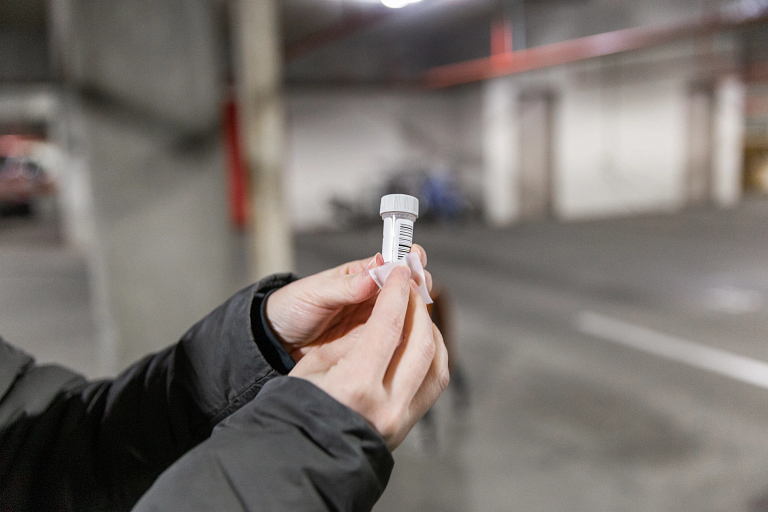 Students, faculty and staff feeling under the weather with COVID-19 symptoms can now be tested right on campus. Each Indiana University campus has a dedicated location for symptomatic testing, and all test sites are drive-up or walk-up. Tests are being conducted outside, weather permitting, to help ensure the safety of all involved.
To schedule a symptomatic test, students, faculty and staff should start with IU's new COVID-19 symptom checker. The online tool will ask about the person's symptoms and determine whether they match typical COVID-19 symptoms. If so, a link will be sent to the person's IU email address to schedule their test, which will be completed at the campus of their choice. The tests are the same PCR (saliva) tests that are used in IU's mitigation testing.
This new option replaces the IU Health virtual visits app that students, faculty and staff have been using since summer.
"We're thankful for the partnership we've had, and continue to have, with IU Health, and are proud to now be able to offer this same service on each IU campus," said Cole Beeler, director of symptomatic testing, assistant professor of infectious diseases at the IU School of Medicine and medical director of infection prevention at IU Health University Hospital. "I believe this will further help those in our IU community who are experiencing symptoms of COVID-19 and allow them to get the answers and care they need quickly."
Common symptoms of COVID-19 include fever or chills, cough, shortness of breath or difficulty breathing, fatigue, muscle or body aches, headache, new loss of taste or smell, sore throat, congestion or runny nose, nausea or vomiting, or diarrhea. Anyone experiencing any of these symptoms should isolate away from others until they can be tested and know their COVID-19 status.
Students, faculty and staff can expect a link to their symptomatic testing results 24 to 72 hours after their testing appointment. Results will be reported as detected (positive), not detected (negative) or inconclusive, which means the person would need to be retested.
If a test is positive, the individual will receive a call from IU's contact tracers within 24 hours. The contact tracers will instruct the person to isolate and ask for information about the person's close contacts so they can be notified and quarantine for the appropriate amount of time.
Starting March 8, IU will also have daily symptom monitoring, called IU COVIDcheck, via text message and email for those in quarantine and isolation. The service will check in daily to ask about symptoms and any worsening of symptoms to help guide the person to any additional medical care that may be needed. It will also provide a release notification at the end of the individual's isolation or quarantine.
"We're confident in the process and services we've been able to establish through the guidance of our Medical Response Team and the fantastic teamwork throughout the university," Beeler said.
More about symptomatic testing and the steps to scheduling a test can be found on IU's COVID-19 site.