As students begin to arrive back on Indiana University campuses across the state for in-person classes, members of the IU Board of Trustees heard updates about the spring semester at their February meeting.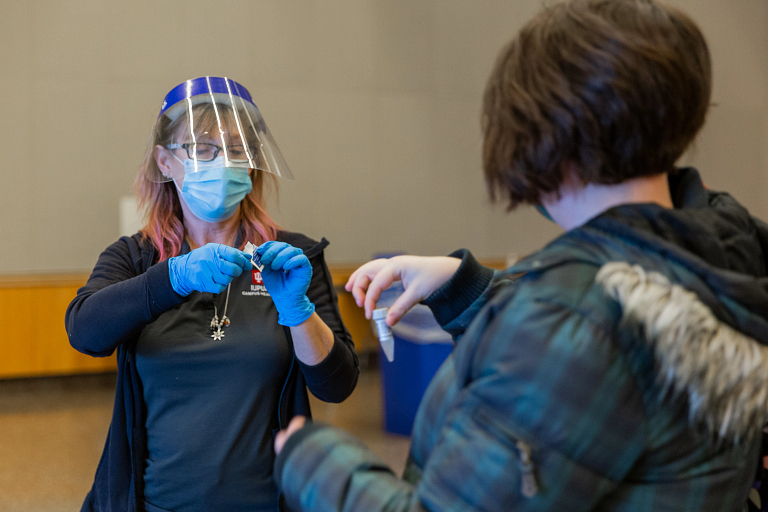 The presentation was given by Executive Vice President for University Academic Affairs John Applegate, IUPUI Chancellor Nasser H. Paydar and IU Bloomington Provost Lauren Robel.
"We were able to have a successful fall semester thanks to the hard work of our entire Indiana University community, including students, staff and faculty," Applegate said. "We are continuing to employ these strategies in the spring semester and have every confidence in our processes to ensure the health and safety of all those who come to one of our campuses."
Updates included the following topics.
Arrival testing
Arrival testing is required for IU Bloomington, IUPUI, IU South Bend and IU Southeast students who will live on campus this spring. This includes all students who live in residence halls as well as those who live in Greek housing on the Bloomington campus. More information can be found on the covid.iu.edu site.
Spring semester
Classes are remote-only until Feb. 8, after which they will be a blend of remote and in-person through the end of the semester. And just like in fall 2020, there will be a mix of class types, dedensified classrooms, and tailored precautions for laboratories and studio classes, plus the use of outdoor and repurposed instructional space. For example, the IU Bloomington campus will continue its Open Air Venues initiative, which repurposes outdoor space for various events.
There is no spring break this year, but all of the campuses have instituted "wellness days" or other measures to help reduce student stress.
Mitigation testing
To help keep campuses as safe as possible during the pandemic, IU is conducting ongoing, required COVID-19 testing for upwards of 50,000 students, faculty and staff across the state each week.
Mitigation testing is essential to IU's ability to safely offer in-person education because it is the only way we can identify and isolate asymptomatic cases of COVID-19 before they spread the virus to others.
Continuation of health and safety measures
Best practices haven't changed from the fall semester. We can all help slow the spread of COVID-19 by limiting travel, physically distancing from others and wearing masks in public.
More guidance is available for visitors to campus and how to interact with physical spaces on campus, as well as those planning events or conferences.
Vaccine efforts
Each state makes the decision on who is eligible for the COVID-19 vaccine. IU has no say in which groups are made eligible. However, several campuses are involved in the state's response. All who are eligible are encouraged to be vaccinated for the health and safety of the campus communities.
As of Jan. 11, IU Southeast has been serving as a host site for the Floyd County Health Department to administer doses of COVID-19 vaccine to Floyd County.
IU Bloomington, in coordination with the Monroe County Health Department and local government officials, has initiated plans to open a public site on the Bloomington campus from which to administer free COVID-19 vaccines to eligible recipients.
All IU campuses will continue to be in ongoing conversations with their local health departments as vaccine distribution and associated needs evolve.
Dashboard revisions
IU's dashboard shares results from the COVID-19 testing the university has implemented to help keep students, faculty and staff safe by monitoring the spread of the virus on all campuses.
A new version of the dashboard launched Feb. 3 to include new and expanded testing results and feature a more data-forward design. It will continue to be updated every Wednesday.