Free software tools support research and scholarship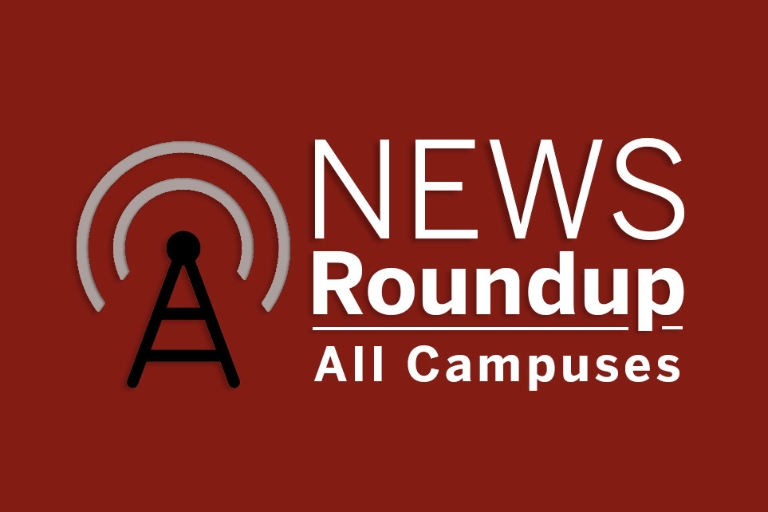 UITS offers statistical and mathematical software on all of its central systems, including IUanyWare, in the Student Technology Centers and on UITS' high-performance computing systems, to support research and scholarly activities. The software includes Mathematica and Statistical Analysis Software.
All of the statistical and mathematical software titles remain available at no cost on central systems, and UITS will continue to sell licenses at a discount for installation on laptops and workstations.
Go to Knowledge Base for more information and a list of software titles available at IU.
Grand Challenges roundtable focuses on health research, treatments
A webinar on the Precision Health Grand Challenge initiative will take place at 11:30 a.m. Feb. 19. It is the latest in a series of virtual roundtables to share progress and impact from research empowered by IU's Grand Challenges program.
Discussion will include new treatments available to Hoosiers, thanks to the Precision Health Initiative, with special attention to advances made in the area of triple negative breast cancer.
Panelists include IU experts in the medical field. The roundtable will be followed by a moderated question-and-answer session.
Register for the virtual roundtable, hosted by the Office of the Vice President for Research.
OnyxFest 2021 to provide funds to produce Black playwrights' scripts
Black playwrights who live in Indiana are invited to submit one-act plays – between 45 minutes and an hour – to receive royalties and stipends to have their scripts produced at OnyxFest 2021 in Indianapolis. Plays will be accepted for consideration up to midnight Feb. 28.
OnyxFest 2021 is sponsored by the Africana Repertory Theater of IUPUI, a program of study offered by the School of Liberal Arts, School of Education and Office of Community Engagement at IUPUI using theater to document and artistically reflect the history, cultural life and politics of people of the African diaspora.
Playwrights will receive royalties along with stipends to pay actors, directors, lighting assistants and sound technicians. The grant will include funds for set design, props, costumes and makeup, as well as the complete cost of theater rental for both rehearsal and performances.
Women's Philanthropy grant cycle deadline approaching
The Women's Philanthropy Leadership Council 2021-22 grant cycle closes March 1. All Indiana University students, faculty and staff with the vision and capacity to manage and effectively use a grant are encouraged to apply. Awards range from $2,500 to $25,000.
Applications should articulate the ways in which the grants would impact diverse constituents, particularly those with historic disadvantages, and the ways in which grant outcomes would contribute to building a more equitable and inclusive environment at IU and beyond. Current focus areas are to:
Improve public health.
Create service-learning experiences.
Support leadership initiatives.
Promote and advance the STEM disciplines of science, technology, engineering and mathematics.
Provide educational and cultural enrichment for the benefit of others.
Develop a culture of philanthropy.
Apply for a Women's Philanthropy Leadership Council grant through the Indiana University Foundation website.
New grants, revised programs help faculty with international engagement
Although the Office of the Vice President for International Affairs has temporarily suspended internal funding programs that support inbound and outbound travel, because of the COVID-19 pandemic, it has added new grants and revised some existing programs to support faculty in contributing to international engagement on IU campuses and via remote means.
These opportunities include:
Global Classroom Initiative: Faculty can add an international dimension to their existing classes by pairing with a class taught at a foreign partner university to engage students in a collaborative project.
International short-term visitors grants: This funding will be used to support modest honoraria for international guest speakers who participate in virtual events for the benefit of IU faculty and students during the spring semester.
Language learning grants: Faculty on all campuses who are interested in improving their foreign language competency should consult with the appropriate IU language coordinator or department chair to see if any course offerings would help them meet their goals.
Faculty exchanges: Because the pandemic has disrupted international travel, applications will be accepted on a rolling basis for IU's Short-Term Exchange Programs for the 2021-22 academic year, with participation between July 2021 and June 2022. Exchange positions may be offered in Brazil, China, Germany, India, Italy, Japan, Mexico, Poland, Russia and Thailand.
Have COVID-19 vaccine questions? Consider these resources
If you are wondering about who can get the COVID-19 vaccine and when, and what that means for faculty, staff and students at IU's campuses, check out IU's COVID-19 vaccine website, or participate in upcoming "Ask Aaron" webinars, which are virtual question-and-answer sessions with Dr. Aaron Carroll, one of the leaders of IU's COVID-19 Medical Response Team.
The next webinars for all campuses are Feb. 10, 17 and 24. If you are unable to tune in live, watch the recordings at broadcast.iu.edu.
Participate in summit on women and technology
The Center of Excellence for Women & Technology on the Indiana University Bloomington campus is preparing for its eighth annual Statewide Summit on Women & Tech. This year's summit will take place virtually on March 4, 5, 6 and 8.
It's open to students, faculty, staff, IU alumni, corporate sponsors or anyone from the general public, of any gender, who wants to attend the free event.
The 2021 Statewide Summit on Women & Tech will run from noon to 5 p.m. each day and will include at least one keynote speaker during the day.
The Center of Excellence for Women & Technology's goal is to celebrate women and technology, and to share, learn, engage with and experience tech across a variety of skill levels and topics.
'Megajeff' on display at Indiana State Museum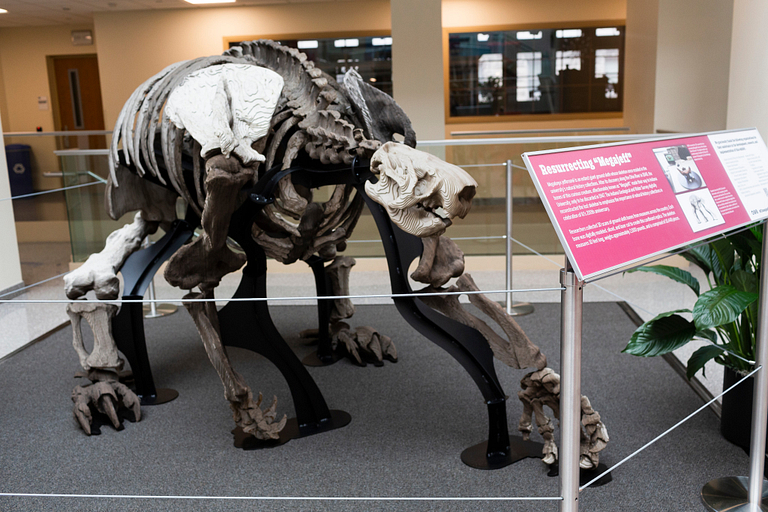 Geologists from IU's Indiana Geological and Water Survey installed "Megajeff" at the Indiana State Museum on Feb. 2. The live-size reproduction of a giant sloth can be viewed with other specimens and artwork in the "State of Nature" exhibit.
The exhibit was conceived and curated at Indiana University Bloomington by Betsy Stirratt, director of the Grunwald Gallery of Art, and Distinguished Professor Roger P. Hangarter.
Researchers from the Indiana Geological and Water Survey digitally reproduced the nearly complete Megalonyx jeffersonii skeleton that was housed at IU in the late 19th and early 20th century.
It was reintroduced at a reception in The Commons at Franklin Hall as part of the IU Bicentennial celebration.
Academic Media Production Space adds cutting-edge technology at IU Northwest
Even before COVID-19, students across northwest Indiana needed online learning tools to continue their education and be successful.
Indiana University Northwest has been at the forefront of virtual education for years, but the opening of the Academic Media Production Space, the campus's new state-of-the-art production studio, will boost those efforts.
Located in the John W. Anderson Library/Conference Center, the space was designed with both students and instructors in mind, offering innovative features and tools.
IU institute helping cities with green projects
Through a partnership with Indiana University, nine Indiana cities and towns will be carrying out projects in 2021 to reduce local greenhouse gas emissions.
The initiative represents the third stage of a program pioneered by IU's Environmental Resilience Institute to help Hoosier communities measure and manage heat-trapping gases that contribute to climate change.
Projects will focus on lowering barriers to solar development, creating electric-vehicle-friendly communities and efficiently treating wastewater, commonly one of the largest sources of emissions in local government operations.