Fil Menczer has been an active academic for 30 years. A Distinguished Professor of informatics and computer science in the Luddy School of Informatics, Computing and Engineering at Indiana University Bloomington, his list of funded research projects over the decades include grants from the National Science Foundation, the U.S. Navy and the James S. McDonnell Foundation, among others.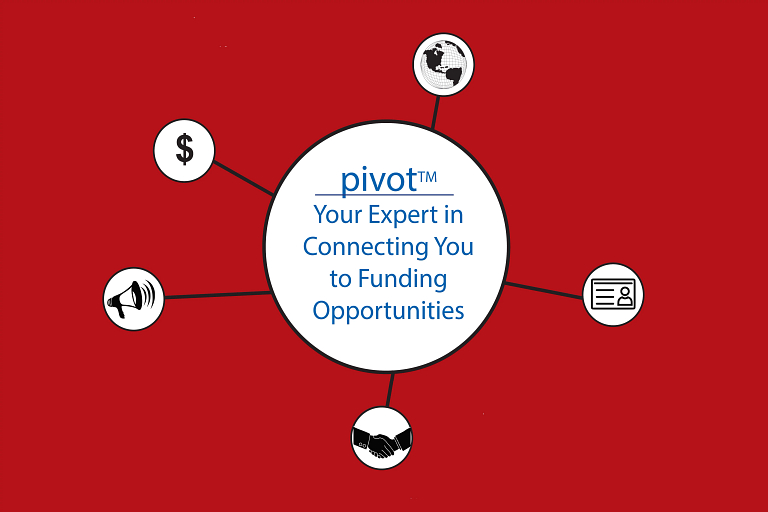 What's one of the main tools he uses in his funding search efforts? Pivot.
"I read my Pivot Funding Alert email every week," Menczer said. "It includes funding notices that match my personal profile and a custom query. For most of the grants I apply for, I first learn about those opportunities through Pivot."
Pivot is a funding search tool, said Chris Herring, assistant director for research development in IU's Office of the Vice President for Research.
"The Pivot funding search engine is very comprehensive, with funding opportunities totaling billions of dollars in it," Herring said. "It allows users to save customized funding searches, receive alerts and identify individual funding opportunities that are really tailored to their interests."
While Pivot has been available to IU researchers for a number of years, the Office of the Vice President for Research has recently invested new resources into supporting and promoting the benefits of the database for faculty. Over the past year, for example, training workshops have increased for faculty across IU's campuses.
Monica Solinas-Saunders, an associate professor in the School of Public and Environmental Affairs at IU Northwest, said that while she's had a Pivot account for a while, she was unfamiliar with many of the tool's features before she took what she calls a much-needed training.
"The trainers helped me set my profile and add keywords based on my research interests, and now I receive a weekly notification with information about new funding opportunities from multiple sources that are specific to my research interests," she said. "The Pivot training changed the way I think about funding opportunities, grant writing and collaboration."
Eka Putra, a Juris Doctor candidate in the Maurer School of Law at IU Bloomington, agreed that Pivot's power to fine-tune a funding search is beneficial.
"I used Pivot to help me to find fellowships that support my dissertation research," she said. "My research interest is pretty specific, but Pivot guided me to the right fellowship to apply for."
The power of Pivot to curate opportunities is one of its biggest benefits, said Alicia Gahimer, programs and operations manager at IUPUI.
"Pivot offers many tools to precisely search for opportunities, and that automated curation process really allows researchers to make the best use of their time," she said.
Pivot has benefits for researchers at all points in their careers, said Joseph Wallace, an associate professor of biomedical engineering at IUPUI.
"Pivot was important early in my career," Wallace said. "As I was trying to establish myself, I knew about some general opportunities, but Pivot gave me weekly notifications and reminders about others that were not on my radar. This helped me diversify where I was submitting proposals and gave me practice in honing my message for diverse audiences, which ultimately made me a better writer."
Pivot demonstrations and trainings are available to faculty on all IU campuses and are archived on the IU Research Kaltura channel. For example, an Introduction to Pivot session was offered virtually to faculty at IU Northwest.
Workshops for IU schools, departments and centers, as well as individual training sessions, will continue throughout 2021, by request. To schedule a specialized training for your department or unit, email iupivot@iu.edu.