Tyron Cooper, director of the Archives of African American Music and Culture, was looking for a unique way to bring archive materials to life over the summer and to creatively engage with audiences. He wanted to inspire students educationally while highlighting the legacies of contributors to Black music and culture. With the help of the Office of the Provost's multimedia team, a documentary series was born, despite the challenges of the pandemic.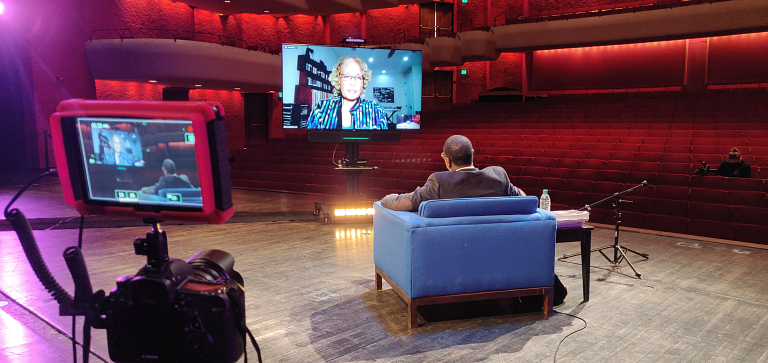 "Tyron thought, 'What if we could find a different way to engage with people who are actively a part of the archives and present them to audiences through conversations?'" said Ethan Gill, multimedia specialist for the Office of the Provost at IU Bloomington and co-director of the project. "Then that idea of just recording conversations in a more cinematic way expanded into full-fledged documentaries on each of those people as a way to cinematically represent the archives and its holdings."
Cooper's ideas took shape in the form of a five-episode documentary series, "AAAMC Speaks," centered on the legacy of Black music and highlighting materials from the archives. Each 20-minute episode features an interview with a different musical pioneer, scholar or industry professional who has contributed to the Black performance community.
"We try to weave a story through what archival materials are present in the archives, so that kind of motivates the conversation questions that we ask the different people," Gill said. "We'll say, 'We found this in your archives, where does this fall into your story, or your legacy?' and we ask people to kind of build upon those archival materials."
The goal of the series is not only to draw attention to the wide array of unique holdings in the archives but to inspire students to use it as a tool for music education, Gill said.
"Each episode is only 20 minutes," he said. "We don't really get a chance to see the full extent of their legacy, but just having this glimpse into things, we hope that that inspires people to continue exploring the stories."
Viewers can expect to see rare, unique items in each episode that they might not have known existed in the Archives of African American Music and Culture.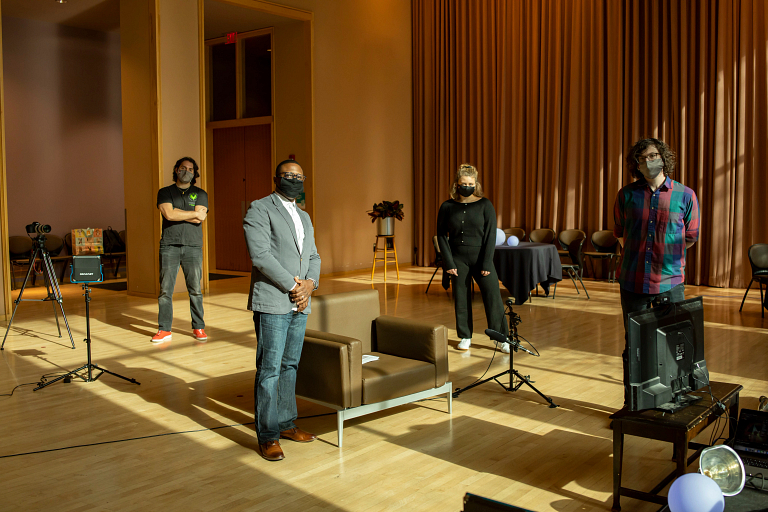 "The range of materials found in the archives is extensive," Gill said. "There are awards, first album pressings and research materials. AAAMC has family photo albums, where Evelyn Simpson-Curenton went through and preserved letters that she's received from the White House, and programs of events that Eddie Gilreath promoted as a record executive."
The first episode, which features a conversation with Eddie Gilreath, debuts at 7 p.m. Feb. 12 on the IU Bloomington YouTube channel. It will be released as a live premiere to inspire the feeling of a gathering, where viewers can live chat with the multimedia team as the episode plays. The video will then live on the YouTube page, accessible to anyone at any time.
Gilreath is one of the first Black executives in the industry, doing sales, marketing, promotions and distribution for top record labels. Throughout his 50-year career, he has worked across nearly all genres with popular artists such as The Jackson Five, Ray Charles, U2, Aerosmith, George Benson, Al Jarreau, Bob Marley, Kitaro, The Staple Singers, Curtis Mayfield, Pat Matheny, Bonnie Raitt, Tracy Chapman, Meatloaf, George Clinton and James Taylor.
"I suppose that one might say my destiny was always going to be in the music industry," Gilreath said. "Like all young juveniles during those tender years, our music came from an AM radio or 45 rpm record. Now, not to get ahead of ourselves, all of the kids in my neighborhood thought they could sing or wanted to play an instrument. The musical artist that we heard on the radio became our heroes."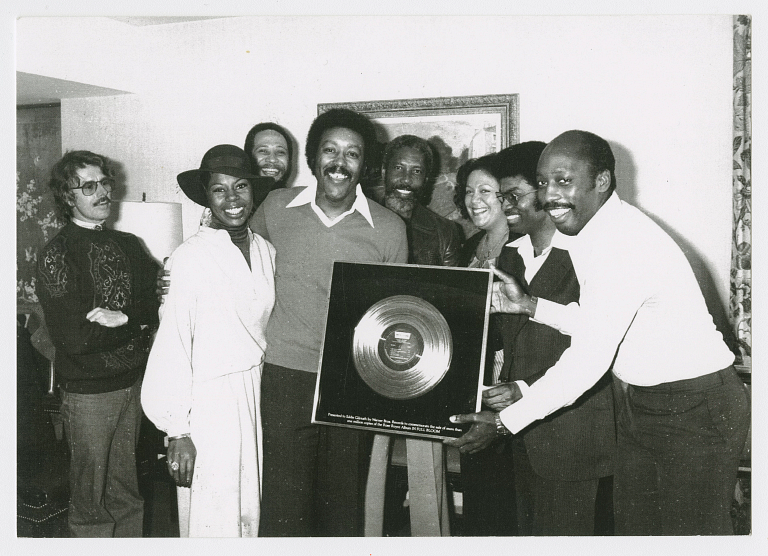 His mother gave Gilreath and his sister, Vivian, a choice of what instrument they could play. From then on, he felt there was always something or someone helping him take the next step in his musical journey.
"Two years ago, as the last chapter was being written culminating more than a 45-year career, I find that I wasn't quite finished as of yet," Gilreath said. "I found myself in a discussion with Portia Maultsby, and she suggested that I get in touch with Tyron Cooper at Indiana University. As my conversations with Mr. Cooper grew and he was exposed to my history, he asked if I would become part of Indiana University Archives."
Gilreath, impressed with the treatment of collections in the Archives of African American Music and Culture, decided to let his history live in the collections.
"The collections that they have been able to gather for 'AAAMC Speaks' will be a program that will not only inspire but educate future generations on some of the music industry's most salient artists and those responsible for exposing them to the population at large," Gilreath said.
One of the highlights in Gilreath's episode is a brief conversation about a letter he received from Frank Sinatra asking for help with marketing.
"We get to see the actual letter, and it's neat that on the Bloomington campus we have Frank Sinatra's autograph," Gill said. "I just think that's such a neat representation of Eddie's impact on American culture."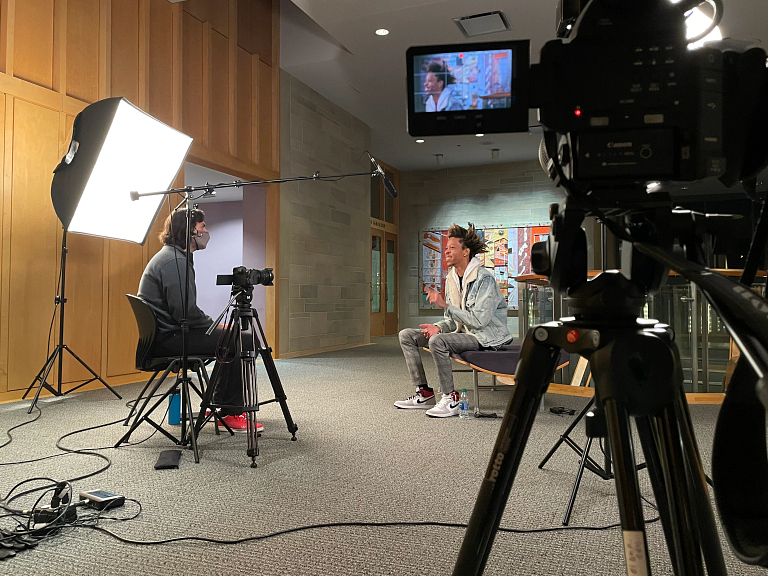 All of the "AAAMC Speaks" guests were interviewed in a unique hybrid format to make the conversation more personal, while factoring in the challenges of COVID-19. The episodes were filmed in-person with Cooper in various locations on and off campus as he converses with each guest through a large screen.
"We wanted to make sure that Tyron, while he was having this conversation, that it felt like that person was in the room with him and that they could fully get to make that human connection in the conversation, which was our utmost priority," Gill said. "I think that the chemistry comes through surprisingly well."
The multimedia team exercised precautions to protect themselves against COVID-19, enforcing strict physical distancing of the crew, multiple tests leading up to shoots and following mask policies.
"I'm just so proud of the multimedia team and the archives for this creative solution to telling these stories, and I can't imagine what the documentary would've looked like had there not been a pandemic during the production," Gill said. "I think that when people watch this, the work, creativity, passion and understanding of these stories will show."