EDITOR'S NOTE: This story was updated on Nov. 22, 2021, to reflect the current status of the building.
We're not on a golf course anymore, Toto.
Today, the site that once held IU's driving range is now the proud home of the IU Regional Academic Health Center, which includes a state-of-the-art academic building for many of IU Bloomington's health sciences programs as well as a new hospital built for the future of health care.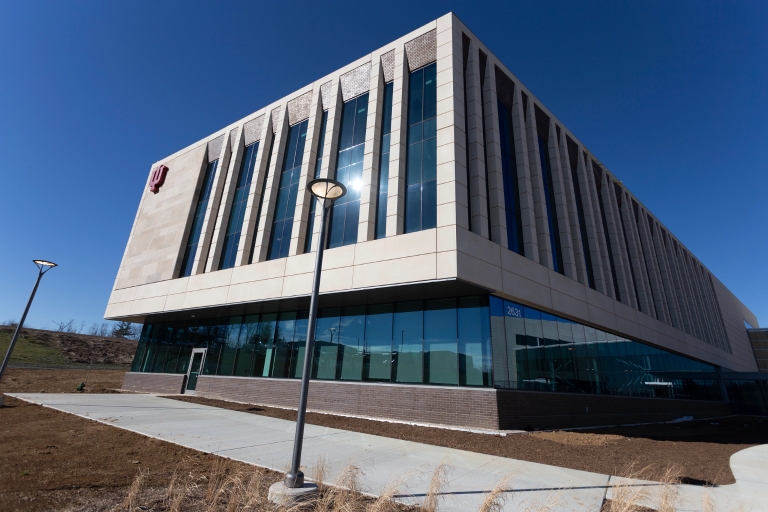 Announced in 2015, construction started on the project in 2018 following a groundbreaking ceremony that January. Over the past four years, the site has transformed into a health care campus that will serve not only as a space for teaching, learning and research, but also for hospital and trauma care for Indiana's south-central region.
"This all started from IU's strategic plan and the vision of President Michael McRobbie and Provost Lauren Robel to join IU Health's project and our plan for new space for IU Bloomington's health sciences programs," said David Daleke, vice provost for graduate education and health sciences at IU Bloomington. "It's truly a transformative project for how we're educating future health care providers as well as how health care is delivered."
The IU Health Sciences Building is open on the site, with the hospital starting to care for its first patients in the new facility on Dec. 5, 2021.
Moving day
Many of the health sciences programs moved into the new building in December 2020. The IU Hearing Clinic and IU Speech-Language Clinic are seeing patients there, and the School of Medicine, School of Nursing and School of Social Work are in their new homes and teaching classes in the building.
"The classroom technology is outstanding and a huge leap in the quality of our educational spaces," Daleke said. "The new Health Sciences Building ups the quality and capacity for health sciences education in Bloomington."
Daleke said the Department of Speech, Language and Hearing Sciences has already reconfigured its research labs to allow for more collaboration among researchers, and the School of Nursing continues to increase the number of students in its bachelor's degree program.
"It's been interesting to see how it's all worked together," he said. "In addition to the collaboration I've seen between IU schools and departments, the collaboration with IU Health has brought us closer together as organizations as well."
The why
One of the biggest benefits of having an academic facility as neighbor to a hospital is the opportunity for interprofessional education opportunities.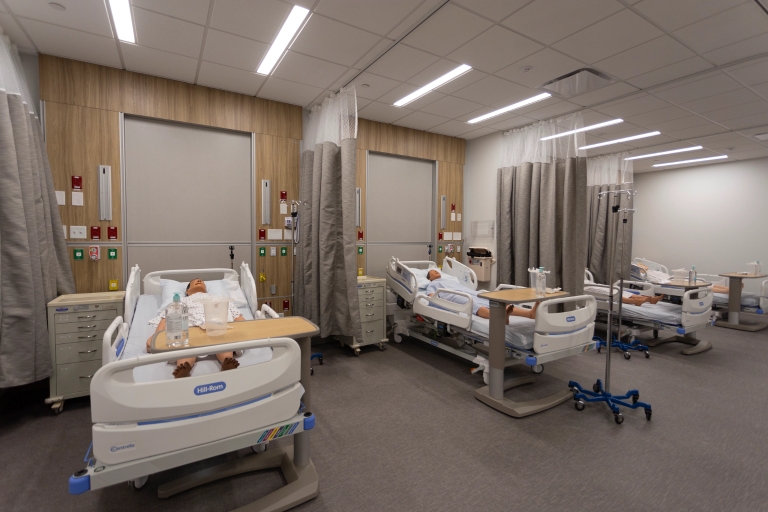 Health care workers are always working with others in disciplines aside from their own. Physicians working with nurses, nurses working with social workers, therapists working with physicians – the combinations are endless. Having a facility that not only allows for, but encourages and is built for, interprofessional education is what makes the Regional Academic Health Center special.
"When students feel like they're being trained in a hospital, it has a powerful effect on their understanding of the career they're pursuing," Daleke said. "The excitement within the programs to be in and use the new space is palpable."
A shining example of the space available for students and IU Health professionals to work and train alongside each other is the new Simulation Center. The center space is shared between the IU School of Nursing, IU School of Medicine and IU Health Bloomington Hospital. The university uses it for training and educating students, while the hospital plans to use it for training and onboarding.
The new center is larger than the current two centers put together and features patient rooms, doctor rooms and a home environment for training in any number of situations.
As construction wraps up on the IU Health portions of the campus, IU faculty and staff are ready and excited to welcome their IU Health colleagues to the Regional Academic Health Center.
"It's been a long road with a lot of hard work from a lot of people," Daleke said. "It's extremely exciting to come to this point and see physically all the thoughts and ideas come to life. I am very happy to see students in the building. It's thrilling."