Charles Sykes ends his staff meetings with two words: Be safe.
The message isn't one that's limited to wearing a mask and social distancing. Sykes is executive director of the African American Arts Institute at Indiana University Bloomington, where many of the staff and students know other dangers intimately: racial violence and injustices that have long existed, and that sparked worldwide protests over the past year.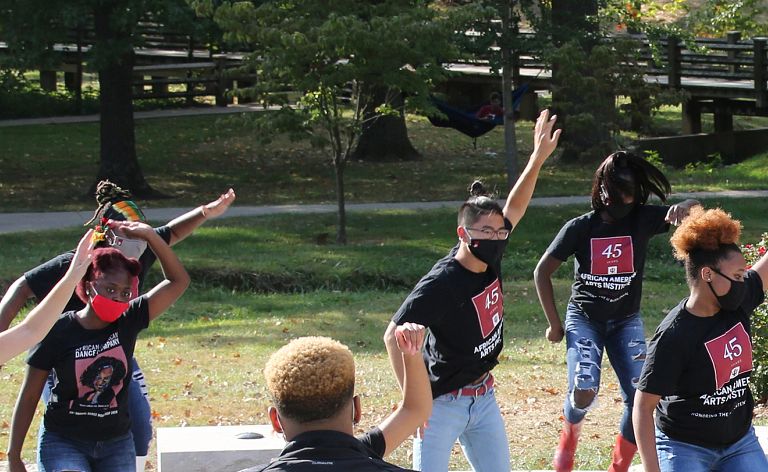 "There's hardly a Zoom meeting with our staff that doesn't lament over things going on, or comment on things that we would advise each other to do," Sykes said.
Those conversations have spilled over into classrooms and rehearsals at the institute, where students have channeled their feelings into their art. The music and dance they've created during the pandemic will be showcased at 8 p.m. Feb. 28 during "Reimagining Potpourri: A Black Performance Virtual Experience."
The live event is in partnership with IU Auditorium for Black History Month and will feature a conversation with ensemble directors and students, which will be moderated by Maria Hamilton Abegunde, visiting lecturer in African American and African diaspora studies and founding director of the Graduate Mentoring Center. The ensemble performances will be available to view on the institute's website through March 24.
Putting the showcase together has been a challenge. Ensemble directors had to find special masks and creative ways to safely bring dancers and musicians together for rehearsals. Stafford C. Berry Jr., director of the African American Dance Company, said many performances before the COVID-19 pandemic involved travel, so he had to rethink how to reach audiences using video. Recording performances allowed students to still share their work with an audience while also maintaining a sense of connection with each other that has been crucial throughout the pandemic.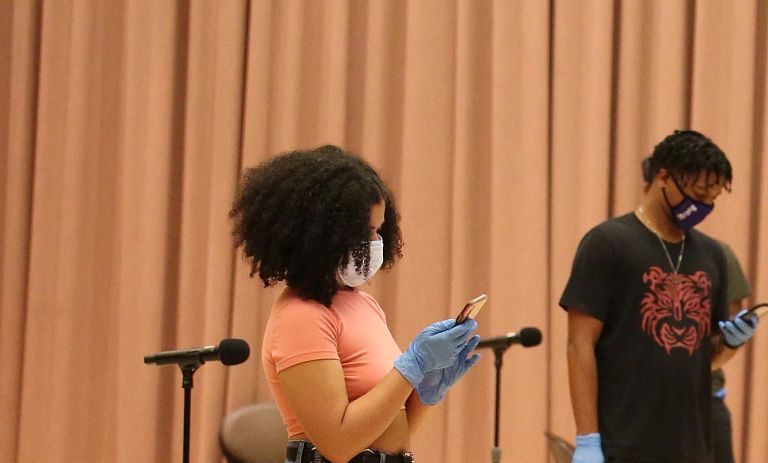 "Art for humanity is one lifeline mechanism to other people, to cultures, and to human activity and engagement," Berry said. "So being able to perform still reassured us, comforted us at times we needed it, but also gave us new inspiration and ways of communicating with people that we would have not otherwise maybe considered."
The African American Dance Company will debut two new traditional-based dances during the virtual showcase.
Many of the other performances were inspired by some of the challenges facing the country. In addition to a gospel performance of the national anthem that aims to be more inclusive, the African American Choral Ensemble will share two works that directly address COVID-19 and social injustice.
"We're trying to figure out how does the ensemble become a group that inspires during this challenging time?" said Raymond Wise, director of the African American Choral Ensemble.
IU Soul Revue, which celebrates its 50th anniversary in academic year 2021-2022, will share its recent studio recordings of Earth, Wind & Fire's "Fantasy" and John Legend and The Roots' "Shine."
"'Shine' is from John and the Roots' collaboration album 'Wake Up!,'" said James A. Strong Jr., director of IU Soul Revue. "This song was a part of a collection of songs they wrote in 2008 that were geared toward social themes of awareness, engagement and consciousness. I felt this couldn't be a more appropriate song for us under the circumstances of the current social environment."
Sykes said art is one form of talking, so he's hopeful the event will help document what's going on during this time and help communicate people's unique experiences.
"What the arts can do is it can bring people together," he said. "Whether you're coming together in an auditorium or over the internet, it allows us to take a moment to pause and gives you that opportunity to learn."