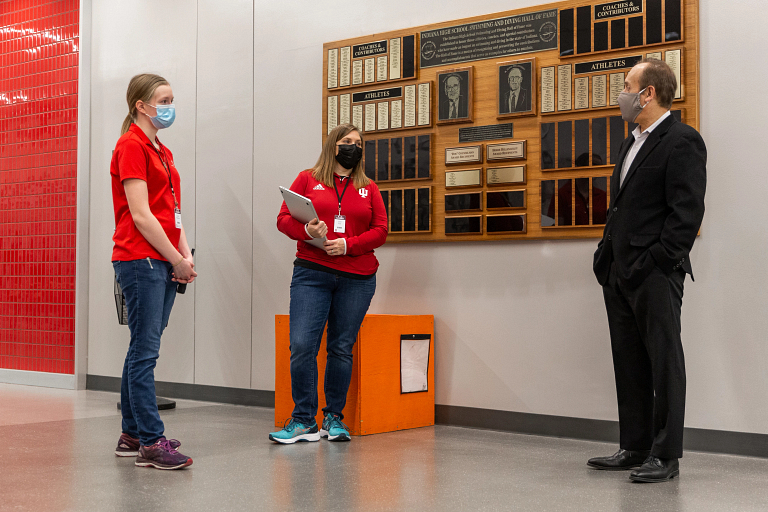 As we begin the new year and semester, here are some of the frequently asked questions – and answers – from the January town hall meeting with IUPUI Chancellor Nasser H. Paydar and campus leaders.
Question: Will mitigation testing continue to be in the Campus Center? What about arrival testing?
Answer: Mitigation testing will move back to Tower Garage upon the completion of the elevator project that started in the fall. All analysis of mitigation test results is now conducted by in-house laboratories, which will allow for approximately 10,000 tests per week to be conducted at IUPUI. Plans include continued mitigation testing for IUPUI faculty, staff and nonresidential students, with students living in on-campus housing tested twice weekly. On-arrival testing for those students started Feb. 1 in the Natatorium.
Q: When will IUPUI faculty, staff and students be eligible for the COVID-19 vaccine?
A: The state of Indiana is making decisions about age requirements and timing related to the phased vaccination distribution plan. More information is available online. The distribution plan in Indiana is age-based, and the university is bound by the state eligibility guidelines for vaccinations. At present, there are two vaccination sites on campus: Riley Hospital for Children and Eskenazi Health. Statewide vaccine locations can be found online.
Q: If you have been vaccinated, are you still required to participate in the university's mitigation testing?
A: After people receive their vaccination, the requirement for mitigation testing on campus will not change. According to Dr. Cole Beeler, this is because we don't currently have evidence that the vaccine is protective against infectivity. We know it protects against developing symptomatic disease, but we are not sure yet if it protects you from infecting others. This data is currently being collected, and once we have that information, we will address the implications for mitigation testing. With this in mind, it's very important that people on campus continue to participate in regular mitigation testing to help limit the spread of COVID-19 on our campus.
Q: Will the vaccine be required for IUPUI faculty, staff and students?
A: According to Chancellor Paydar, the university is waiting to make this decision until we have more information available, but it is possible that vaccinations will be required for faculty, staff and students. Watch your email as well as other communications from the campus for further information.
Q: Will the university continue to allow for opt-in COVID-19 testing?
A: Yes, faculty, staff and students are eligible to participate in opt-in/voluntary asymptomatic testing. Go to One.IU and search for IUPUI COVID-19 Asymptomatic Testing Schedule to make an appointment.
Q: What is the schedule for opening buildings on campus as face-to-face classes begin next week?
A: Starting Feb. 1, we changed the status of buildings to be unlocked during the day. This will assist with faculty and staff as they return – as needed – to prepare for the start of the in-person portion of the spring semester.
Effective Feb. 8, buildings will return to their normal building hours, although we may continue to adjust the hours based on the usage and needs for the spring semester. There are medical buildings that will retain their current restricted access based on the needs of the facility.
If you have questions regarding access to your particular building that are not addressed within your unit, you can email vcfiad@iupui.edu for assistance.
Q: Will university staff continue to work from home for the spring semester?
A: Campus staffing and operations will be very similar to the situation we had in the fall semester prior to Thanksgiving. Those staff members who are able should work remotely to help reduce the campus population as units continue to meet the face-to-face needs on campus. Each school/unit/department has different and unique staffing needs, so it is critical that supervisors communicate their expectations to staff.
Q: Any update on commencement?
A: We are developing scenario plans for commencement so we can honor our graduates while still promoting health and safety for our students as well as their family and friends. We expect an announcement closer to the time we typically celebrate this great milestone.
Q: Can I get a replacement IUPUI mask?
A: The Division of Finance and Administration coordinated a mailing of masks to new spring semester students at IUPUI, IUPUC and IU Fort Wayne. For replacement masks, email vcfiad@iupui.edu.
Q: Will campus operations return to normal in fall 2021?
A: The many unknowns at this time make it difficult to speculate what to expect for the fall semester. Our IU Medical Response Team is working with campus and university leaders on a daily basis to analyze the factors that will affect this decision-making so that science and facts will continue to drive our planning efforts.