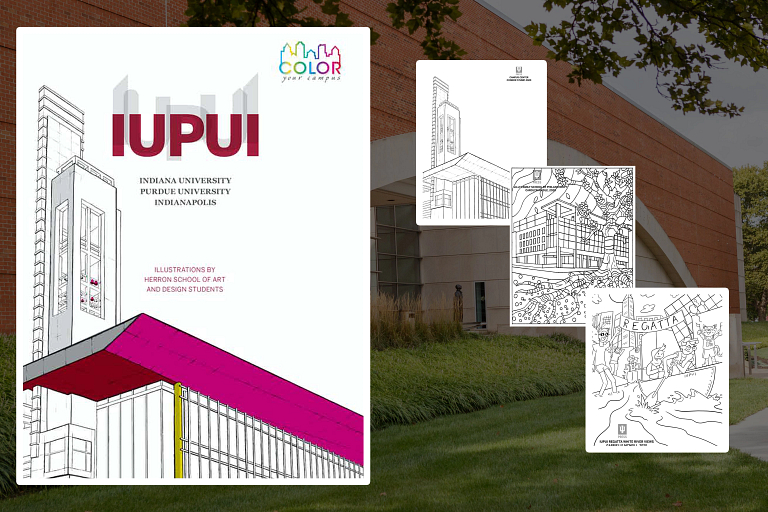 Through a collection of black lines and white space, students, staff and faculty at the Herron School of Art and Design collectively and creatively brought IUPUI's energetic campus to life in a coloring book.
"Color Your Campus - IUPUI" is an 88-page coloring book filled with 44 illustrations from juniors at Herron. It was published at the beginning of February by IU Press and is available for purchase for $14 from IU Press, Amazon, Barnes & Noble, Bookshop and Books-A-Million.
In the fall 2020 semester, juniors in three Intermediate Illustration I (HER-A 303) classes, taught by Lowell Isaac, Kyle Latino and Jingo de la Rosa, were given the assignment.
The faculty didn't want a cookie-cutter approach. Because the project was a coloring book, there needed to be a lot of empty space for people to fill in. Students were tasked with illustrating different campus buildings, areas and themes. The project parameters required use of the location's realistic qualities and recognizable elements mixed with creativity.
"It was a bit interesting working with images of the campus and trying to turn them into something that was more of an experience and less of a building on its own," said junior Sophie Sample, a drawing and illustration major.
In 2016, IU Press published a popular "Color Your Campus" adult coloring book for Bloomington that was illustrated by a sole artist, Melissa Mueller. Herron is proud that "Color Your Campus - IUPUI" showcases the work of a group of students and displays their distinctive artistic styles.
"It's exciting to see how each person not only took on the assignment, but how they took a subject and decided to communicate it in a single image," said Greg Hull, the Herron School's interim dean. "Sometimes a building wasn't the best way to highlight campus. It was exciting to see how students solved that problem and how they rose to the occasion."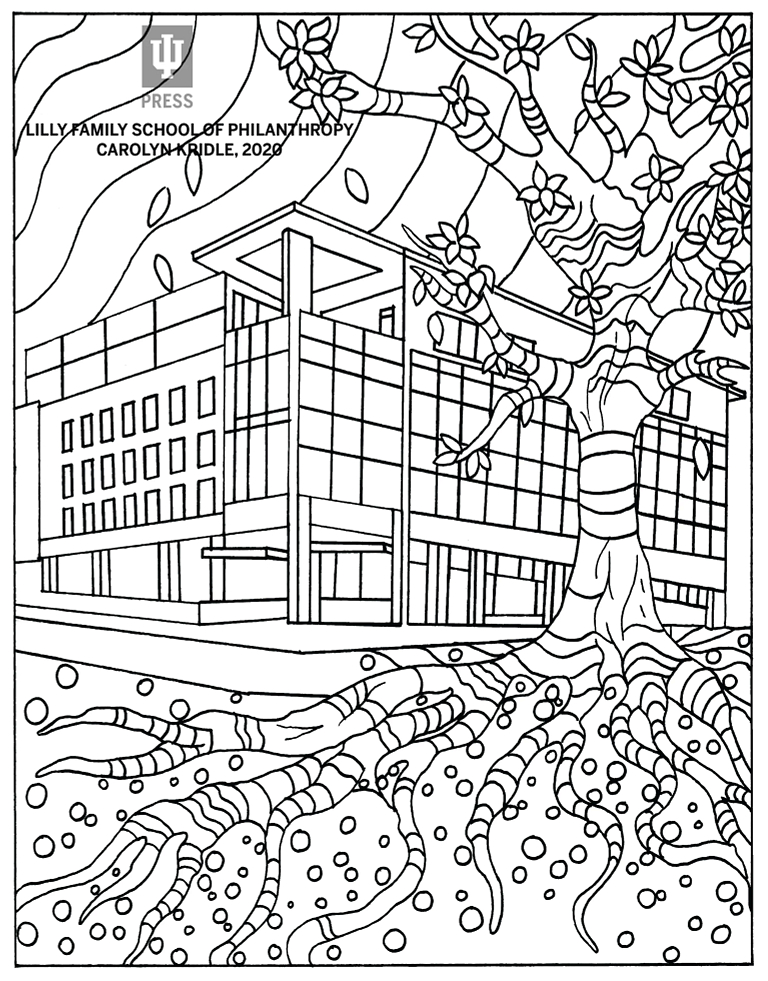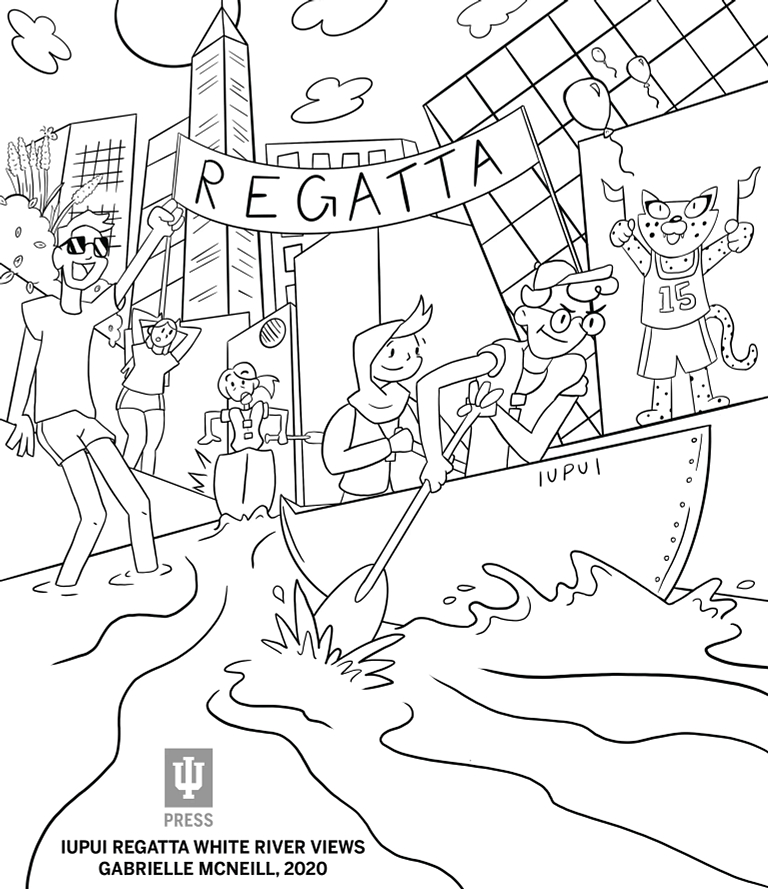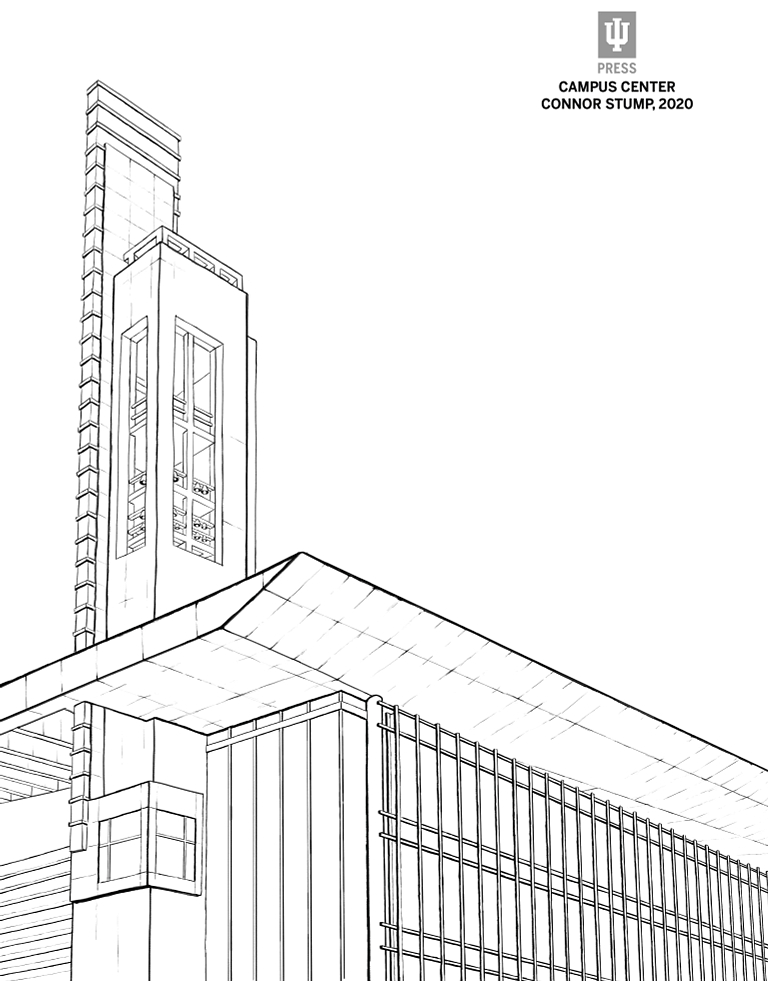 Approaches to the International Festival at the Campus Center, the Cavanaugh Hall Commuter Tube and views from campus housing were imaginative illustrations that expanded outside of an actual scene or image.
Isaac enjoyed when students were able to inject aspects of their personality into the illustrations. The variety of interesting characters, details and/or distortions is part of the charm and talent of using the group of students' work.
"This variety is a great asset to the book, and frankly our program as a whole," Isaac said. "We're interested in bringing out the unique point of view of each student and helping them enhance their craft to express it as effectively as possible. As you can see from this book, even with the form and content being somewhat constrained, the illustrator's voice can shine through brightly."
With diversity, equity and inclusion a cornerstone of IUPUI, Herron's fine arts department's chair Vance Farrow felt this project is a visual representation of those values. Students of different races and backgrounds contributed the artwork, and more than one viewpoint is displayed.
"You're seeing parts of campus and the city from a wide spectrum of perspectives," Farrow said.
Farrow and the Herron leadership were proud of the businesslike approach the students took to the project. Isaac applauded his students for producing polished work on a deadline, having good attitudes and being flexible. The end result is validation for these students, as well as a resume-builder to have their work featured in a published book being sold on Amazon and in other outlets.
"I just can't thank IUPUI enough for the opportunities and resources they've given me, it has made life a lot easier," Sample said. "I feel like those who have taught me at Herron have helped me open up both artistically and socially. I wouldn't be where I am now without all of my educators."
In the book's foreword, IU first lady Laurie Burns McRobbie is credited with suggesting the project. Chancellor Nasser H. Paydar; his wife, Niloo Paydar; and his cabinet were recognized for their encouragement and recommendations. Special recognition is also given to Vice Chancellor for Community Engagement Amy Conrad Warner and Herron staff members Maureen Malone-Reed, Amy Hollrah and Whitney Yoerger for their oversight in bringing together the project. Farrow, Latino, de la Rosa and all of the students are thanked for the "engaging, creative and educational experience."
Describing the project as black lines and white space is an oversimplification of a creative, detailed process that empowered students to uniquely illustrate how they view campus. While Herron is mainly responsible for the book, the school hopes the finished product is a point of pride across IUPUI.
"We hope this is good for the campus," Hull said. "Herron was heavily involved in making it, but our goal was to use the in-house talent to support the campus."