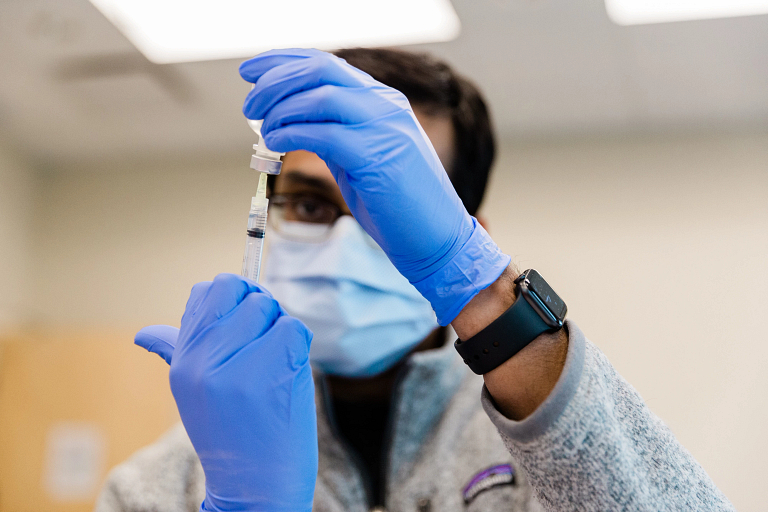 Following the recommendations from the Centers for Disease Control and Prevention, Indiana University is updating its quarantine guidance for those who are fully vaccinated against COVID-19.
Under the new guidelines, anyone who is fully vaccinated and has reported their vaccination to IU will not have to quarantine after being identified as a close contact or exposed to COVID-19. "Fully vaccinated" means the person has received all doses of the vaccine at least two weeks prior.
"Now that we have more data on how effective the vaccines are, and with the CDC's recommendation, we feel that now is the appropriate time to update IU's guidelines for quarantine as well," said Dr. Adrian Gardner, director of contact tracing, associate dean for global health at the IU School of Medicine and director of the IU Center for Global Health. "Getting the COVID-19 vaccine is a great step forward in helping to end the pandemic, and we're hoping that this is additional good news that will help spur people to take action when they're eligible."
Gardner said that research continues to determine how transmissible the SARS-CoV-2 virus is from those who have been fully vaccinated. The CDC notes that, so far, it looks promising that the vaccine prevents symptomatic cases and likely transmission of the virus, and more data from clinical trials is expected in the coming months.
Want to learn more about the COVID-19 vaccine?
Even though those who are fully vaccinated do not need to quarantine, they still need to self-report being a close contact (if notified outside of the IU system) and monitor for any COVID-19 symptoms. To help this group note any changes in their health, they will be enrolled in IU's own daily symptom monitoring system, COVIDcheck.
"Anyone who is fully vaccinated yet has been identified as a close contact will automatically be enrolled in COVIDcheck," Gardner said. "This will allow our contact tracing team to stay in touch with these individuals in the 10 days after the exposure to ensure that they continue to feel well and remain asymptomatic."
Through COVIDcheck, individuals will receive a daily text message and email with a link to complete a daily symptom monitoring form. If a person reports new symptoms, IU's COVID nurse line will reach out with instructions on how to isolate and can provide additional guidance for the next steps in their care, including being tested for COVID-19.
The university still requires those who have not been fully vaccinated to quarantine for 10 days if they are identified as a close contact or have been exposed to COVID-19. And, even if fully vaccinated, anyone with a positive COVID-19 test must still isolate for 10 days from the start of symptoms or the date of the positive test, even if the person is asymptomatic.